LPGA
Tight race for 2021 U.S. women's Olympic golf team adds intrigue to tour season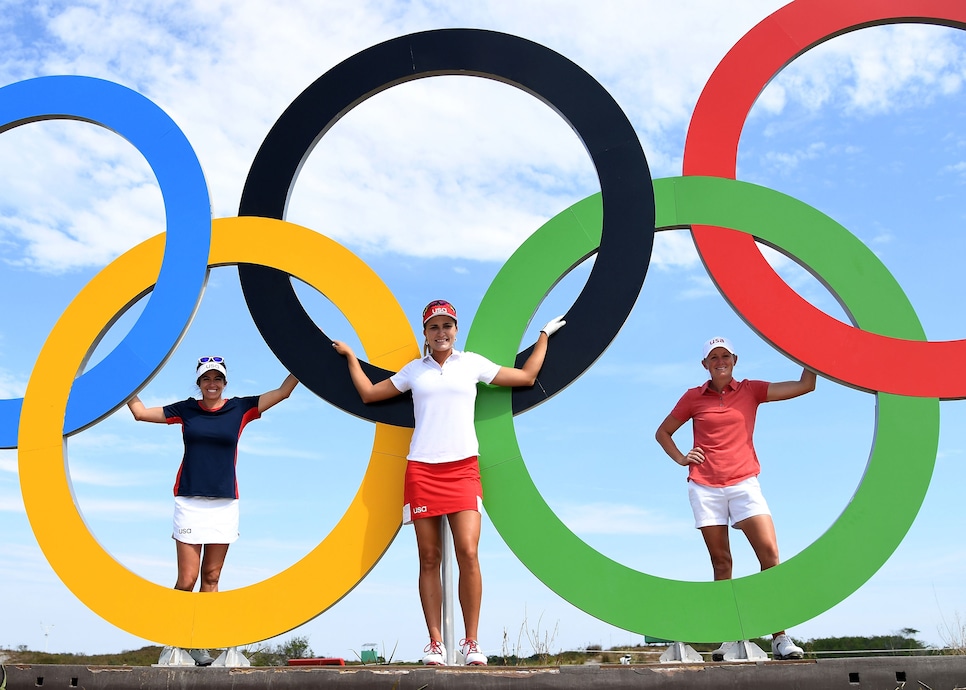 Gerina Piller, Lexi Thompson and Stacy Lewis played for the U.S. at the Rio Olympics. Only Thompson is qualified right now for the 2021 team that will play in Tokyo.
Ross Kinnaird
Less than seven weeks remain until qualifying for the Olympic women's golf tournament ends. If you're an American trying anxiously to earn the right to play in Tokyo, that's either a lifetime away or all-too-rapidly approaching, depending on where you stand in the rankings.
No other country has quite as tight a race as the United States, with six players among the top 17 in the Olympic Rankings. Under the rules of qualifying, any player in the top 15 earns a spot, but only up to four from a given country.
As it stands after the Honda LPGA Thailand, Nelly Korda (fourth), Danielle Kang (sixth), Lexi Thompson (ninth) and Jessica Korda (14th) are currently the American qualifiers. But just a few spots back are Austin Ernst (16th) and Jennifer Kupcho (17th). And not too much farther behind are Amy Olsen (27th) and Ally Ewing (30th).
If you think the American are apathetic about competing in Tokyo, think again.
"The Olympic Games are very important to me because it's one game where the entire world gets together," Kang said last month. "They are just there for one purpose: to compete. Sometimes it's really hard to find peace in this world with a lot of things going on everywhere and different countries, different issues, but Olympic Games, it's the truest games of all. … It's a dream for a lot of people, to even watch and witness, and to compete as an athlete is a dream of mine."
Whoever ends up in the fourth highest spot still has to compete with the rest of the world to stay within the top 15 overall, and the competition isn't slowing down. Thailand's Patty Tavatanakit is 11th after T-3s at the Honda LPGA Thailand and HSBC Women's World Championship, along with her win at the ANA Inspiration. Australian Hannah Green's three straight top-seven finishes puts her comfortably in 13th. South Korea's So Yeon Ryu is in 15th after three consecutive top-six finishes. Korda, Ernst and Kupcho limited their opportunities by not playing the last two weeks in Asia.
The only other country likely to send four golfers to the Olympics is South Korea, which has four players inside the top seven in the rankings: Jin Young Ko (first), 2016 gold medalist Inbee Park (second), Sei Young Kim (third) and Hyo Joo Kim (seventh). Kim's victory two weeks ago at the HSBC Women's World Championship, however, created some separation from Ryu, the fifth-ranked Korean golfer.
Representing Korea has plenty of meaning for everyone on the team. Ko had the Olympic rings as her phone's background for two years as a daily reminder of her goal. And the Olympics is one of Park's favorite memories in a Hall of Fame career.
"I think it's just such a one of a kind experiences that I experienced in 2016. We never really got to experience anything like that," Park told Golf Digest. "Once every four years, and you get to represent your country. It's a lot of responsibility and different atmosphere."
MORE: Up-to-date Olympic rankings and who would make both the men's and womens fields
If Jessica Korda qualifies for the American team with her sister Nelly they will make Olympic history. They would be the first sisters to don the red, white, and blue together in women's golf, and the second set of family members competing in the same games. Mary and Margaret Abbott, mother and daughter, played in the 1900 Olympics in Paris, Margaret winning the gold medal.
The Kordas also would be following in some family footsteps as their mom, Regina, represented Czechoslovakia at the 1988 Olympics in tennis.
Six events remain on the LPGA schedule between now and the June 28 cutoff. Given how close things are, even just one standout tournament from a chaser can change everything. A victory for either Olson or Ewing brings them right up to Ernst and Kupcho, who are already putting heat on Jessica Korda.
Even more important is the fact that two of those events are major championships—the U.S. Women's Open and the KPMG Women's PGA Championship—providing the potential for even more volatility in the rankings. And that includes movement from players who currently don't look like they're in contention for spots. Consider what Mirim Lee did when she won the 2020 ANA Inspiration last September. The win vaulted her from 94th on the world to 21st.
Similarly, Sophia Popov jumped from 304th to 24th with her victory at the 2020 AIG Women's British Open. A Lim Kim surged from 94th to 30th after winning the 2020 U.S. Women's Open. Tavatanakit put herself into Olympic position with a leap from 103rd to 13th after winning the ANA Inspiration this season. That jump allowed her to pass Ariya and Moriya Jutanugarn and become the top Thai player in the world.
The KPMG Women's PGA is the last tournament before the field locks at the end of June. The major at the Atlanta Athletic Club is set to have extra meaning as the last chance to book your flight to Tokyo.