News
Tiger Woods was asked about President Trump and his answer was pretty much what you'd expect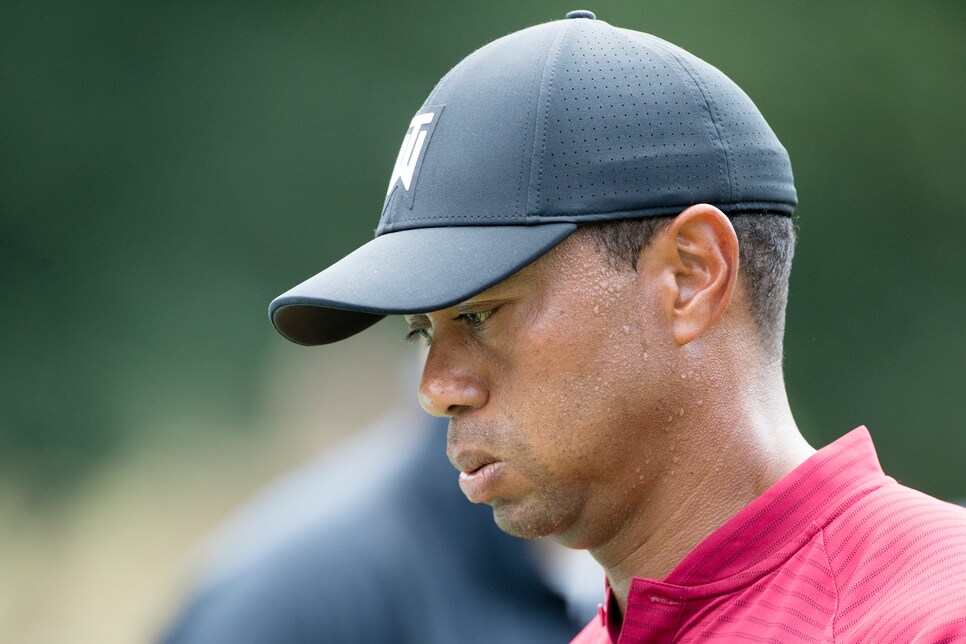 What to make of Tiger Woods' brief utterances about President Trump following his final round in the Northern Trust? It has all the makings of a juicy story—the world's most popular athlete, its most polarizing leader. Depending on which side of the political spectrum you occupy, it could be chopped up and digested any number of different ways, as the president himself has already proven.
The full exchange, with a New York Times reporter, was barely a minute long. Asked about his relationship with Trump, Woods reflected on their history playing together (including most recently last Thanksgiving weekend): "We've played golf together. We've had dinner together. I've known him pre-presidency and obviously during his presidency."
Then Woods was asked about whether his relationship with Trump was an implicit endorsement of Trump's policies toward immigrants and people of color? Treading cautiously, Woods said he felt compelled to respect the office. "He's the President of the United States. You have to respect the office," he said. "No matter who is in the office, you may like, dislike personality or the politics, but we all must respect the office."
Lastly, Woods was given the opportunity to comment broadly on Trump and the state of race relations in the U.S. In characteristic fashion, Woods punted. "No," he said. "I just finished 72 holes and (am) really hungry."
That was it. A few more questions followed—on tournament winner Bryson DeChambeau, on next week's tournament in Boston, on the upcoming Ryder Cup—and then he was gone. For those keeping score, Woods' three answers about Trump, immigration, and race relations—all topics that will surely fill shelves of libraries one day — amounted to 71 words. Asked about DeChambeau's approach to biomechanics, he blew well past that mark without even trying.
And therein lies the real lesson from Sunday in New Jersey: In even the best of circumstances, Tiger Woods doesn't say much. Give him a comfortable chair, air conditioning, and a bottle of water, and he's still likely to skate around the periphery of anything even remotely controversial (asked in 2002 about Augusta National's then all-male membership, Woods said the club was "entitled to set up their own rules the way they want them"). Put him in a scrum of reporters minutes after shooting one-under par in midday summer heat, and you get 71 stilted words that could roughly be translated as "I really don't want to talk about this." Even as other athletes at the height of their sport have ventured into choppy political waters, Woods, be it out of self preservation or genuine indifference, has remained comfortably on shore.
It's worth debating whether that's understandable or regrettable given Woods' stature and influence. Woods has indeed emerged as a more sympathetic and approachable figure in this latest chapter of his career. But to have expected anything else from his answer Sunday is to not have been paying attention.