Equipment rewind
British Open 2023: The clubs Tiger Woods and Rory McIlroy used to win their championships at Royal Liverpool
Tiger Woods tees off on the fourth hole during the final round of the 2006 Open Championship.
Andrew Redington
After the final round of this year's Open Championship, we'll be looking at the clubs used by the winner of this year's tournament. Seeing as that is a few days away, however, we take a look back at what was in the bag of the last two winners of the Open at Royal Liverpool Golf Club, who happen to be two of the game's best: Tiger Woods in 2006 and Rory McIlroy in 2014.
Interestingly, both players took their 5-wood out of the bag for the week, replacing it with a lower-flying 2-iron. For Woods, it was all part of a pre-determined strategy to avoid Hoylake's deep fairway pot bunkers.
"As I was playing the golf course, I would hit a couple of drives, and the driver would go 350, 370 yards," Woods said in 2006. "How can you control that out here? You can't control that. The fairways are hard enough to hit as it is, and you add driver and they go that far, now how hard is it to hit? I just felt in the end if you stayed out of the bunkers this entire week and had just a decent week on the greens, I felt that I would be in contention on the back nine [Sunday]."
The plan worked to perfection as Woods hit but a single driver all week, where he blasted one on the downwind 16th hole in the first round over the bunkers with his Nike Sasquatch driver.
"I really wasn't supposed to do that," said Woods. "I was trying the entire week to use 2-iron or 3-wood off that tee. But with the wind being down, I could fly the bunkers. It felt like it took the bunkers completely out of play, and it did."
That was the outlier, however. More importantly, by using a combination of his Nike Forged Blade 2-iron (the first time he had it in the bag since the 2005 Dunlop Phoenix event) and Nike Ignite T60 3-wood off the tee, he did not find a fairway bunker all week, led the field in driving accuracy at 85.71 percent (while only ranking 53rd in distance) and resulted in a two-shot win over Chris DiMarco.
What Tiger Woods had in the bag at the 2006 Open Championship
Ball: Nike One Platinum TW
Driver: Nike SasQuatch Tour 460 (Mitsubishi Diamana Whiteboard), 8.5 degrees
3-Wood: Nike Ignite T-60, 15 degrees
Irons (2-PW): Nike Forged Blade
Wedges: Nike Pro Combo (56 degrees); Nike Forged Blade TW (60 degrees)
Putter: Scotty Cameron by Titleist Studio Stainless Newport 2 TW prototype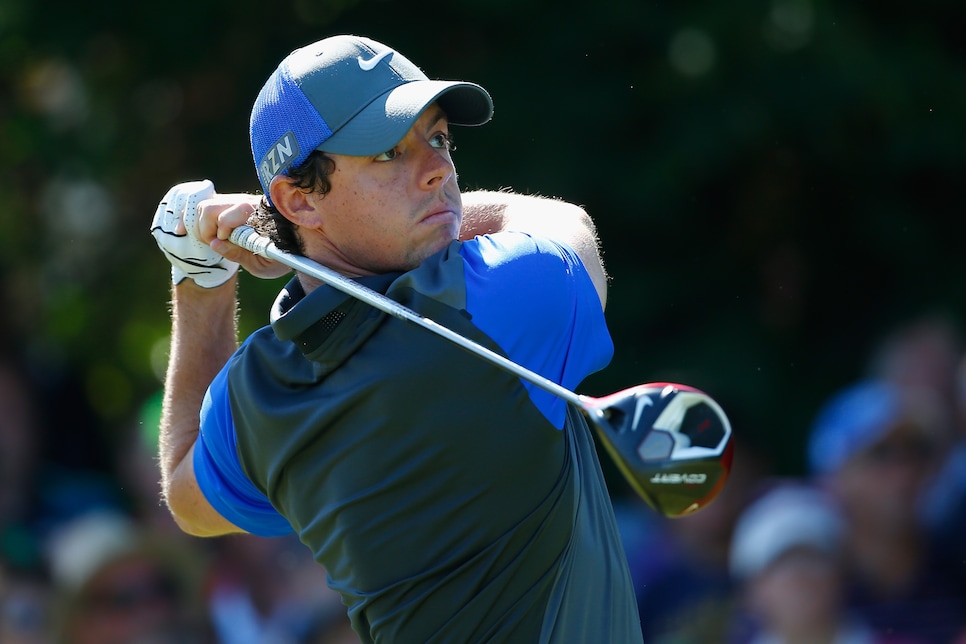 Rory McIlroy hits his tee shot on the fifth hole during the first round of 2014 Open Championship.
Tom Pennington
Like Woods, McIlroy opted for a 2-iron (Nike MM protoype) instead of his 5-wood prior to the 2014 Open Championship at Royal Liverpool. Unlike Woods, however, it was not to be his primary weapon off the tee, but rather a supplement to his driver.
"I'll use it a bit," McIlroy said. "I'll use it on the first two holes, definitely. I think it will be an important club. I might use it like four or five times during the round. I'll probably use a 2-iron just as much as I'll use the driver. I'll hit the driver four or five times and the 2-iron about the same. … I think that the driver, it is one of the best clubs in my bag and I do hit it well, and when I'm on, I can take advantage of that length and make golf courses pretty short for myself."
Nowhere was that more apparent than the end of Saturday's third round when McIlroy put his stamp on the Open Championship by making eagles on two of the last three holes, set up with drives of 329 and 314 yards. The blows were struck with Nike's red-colored VRS Covert 2.0 Tour driver, a 460cc club with a cavity-back design that was re-inforced to help deliver faster ball speeds.
For the week, McIlroy led the field in driving distance at 327.8 yards with the club in a two-shot win over Rickie Fowler and Sergio Garcia.
What Rory McIlroy had in the bag at the 2014 Open Championship
Driver: Nike VRS Covert 2.0 Tour (Mitsubishi Kuro Kage XTS 70X), 8.5-degree
3-wood: Nike VRS Covert Silver, 15 degrees
Irons (2): Nike MM Proto (3-9): Nike VR Pro Blade; (PW): Nike VR Forged
Wedges: Nike VR Forged (54, 59 degrees)
​​Is it the British Open or the Open Championship? The name of the final men's major of the golf season is a subject of continued discussion. The event's official name, as explained in this op-ed by former R&A chairman Ian Pattinson, is the Open Championship. But since many United States golf fans continue to refer to it as the British Open, and search news around the event accordingly, Golf Digest continues to utilize both names in its coverage.