News
Tiger Woods 'played like crap,' falls 11 shots off WGC-Bridgestone Invitational lead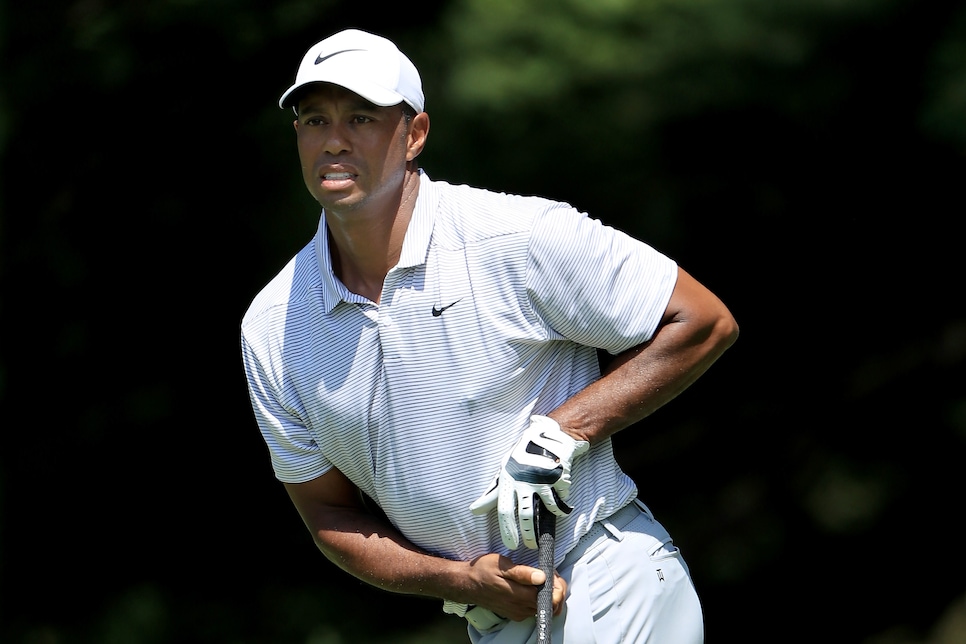 AKRON, Ohio – As he reached for a beverage from the refrigerator in the Firestone Country Club locker room Saturday afternoon, a sweat-soaked Tiger Woods sighed and said, "can you believe I've been coming here for 21 years?"
"You're old," a bystander chided.
"I know," he replied, smiling.
That fact must have been on his mind after a lethargic performance in the third round of the WGC-Bridgestone Invitational. Amid sweltering heat, Woods saw his game go cold on Firestone's South Course, the place he has owned to the tune of eight victories. Unable to muster more than one birdie, Woods carded an unmemorable 73 that eliminated him from contention for an 80th PGA Tour title.
Though he looked stiff and a bit fatigued, he didn't blame his performance on anything but the quality of his game.
"I'm fine. I just played like crap," Woods said with frankness after he fell from the top-10 to T-28 with a 3-under 207 aggregate score, 11 off Justin Thomas' lead. "I didn't warm up very well, I didn't hit the ball crisp or clean. Very similar to, you know, [to] the first day. The difference is, I made everything the first day. Today, I didn't make anything."
Indeed, a putting performance composed of 29 whacks was no way to save a round that featured seven fairways and nine greens in regulation. He had his worst day in proximity to the hole, averaging 28 feet, 6 inches on approaches. There just wasn't much to commend it, not even the 231-yard approach over water to the 16th green or the 346-yard drive at the home hole.
Three of his four bogeys came at one of the most difficult stretches at Firestone, at 11, 13 and 14. He birdied the par-3 12th from 12 feet to avoid a shutout, but it simply was not enough as Woods recorded his highest third round of the year. In fact, it was the first time he failed to break par on moving day.
"Yeah, I hit some good shots today, but also I didn't feel like I was in control of the golf ball," Woods said. "And then I had some putts where, you know, I had some good looks at it to turn it around, build some momentum, I didn't make anything. Just one of those days.
"I just feel like I really couldn't turn it around today. Just felt off," he added. "I had a little bit of a pull, a little bit of a block, a little here, a little there. Just wasn't as sharp as I needed to be, especially with everyone making a bunch of birdies. I needed to go get it today and I didn't do it."
Perhaps he can get it tomorrow for the last roundup for the tour at Firestone - at least for the foreseeable future. The place has been good to him, good for him. Can it be kind to him one more time as he looks to straighten out his game with an eye towards next week's final major, the 100th PGA Championship at Bellerive Country Club in St. Louis?
"Just try to go out there and shoot a low round tomorrow," he said of his game plan. "Just try and build into Thursday and get some positive momentum going into next week."
That would be nice. For old time's sake.