News
Tiger Woods' opening tee shot sets tone for indifferent round of one-over 72 in Dell Technologies Championship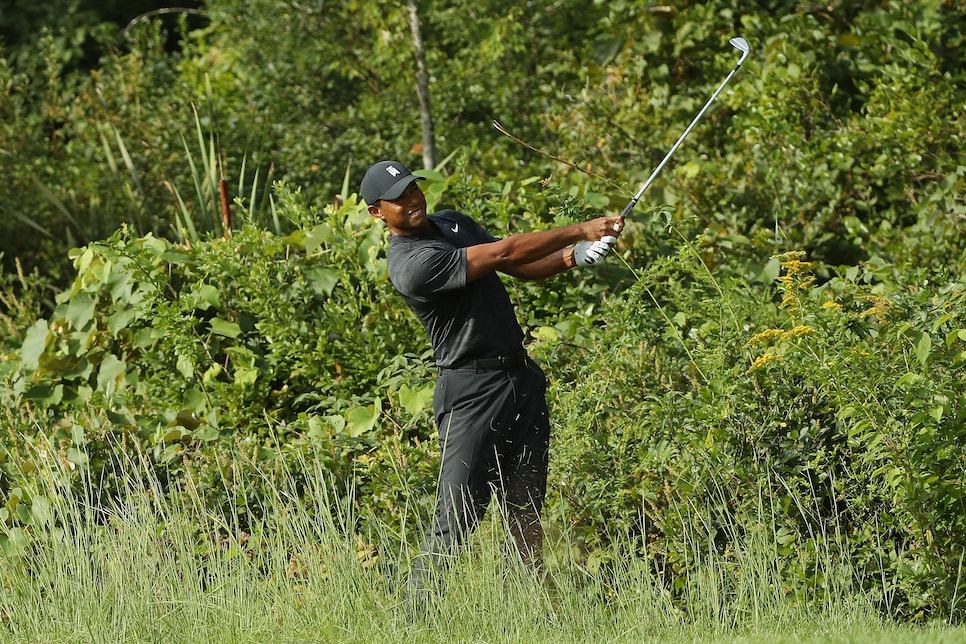 NORTON, Mass. -- Tiger Woods settled in to hit his opening tee shot Friday morning on TPC Boston's narrow, 434-yard par-4 10th hole when he suddenly backed off. A camera click? A cell phone? Nope. He'd grabbed the wrong club because the headcovers got mixed up.
"Yeah, that was pretty funny, actually," Woods said. "I thought 3-wood was out. And -- well, not we, Joey [LaCava, his caddie] had put the wrong head cover on from the range, so I had a 5-wood out, which I put down there, and like, I can't hit it that far in the wind, I need a 3-wood. I went back to 3-wood."
And then sniped it left, the ball landing a few feet into the hazard. Bogey.
Much of the rest of the day didn't go a whole lot better for Woods, who still managed to grind out a one-over 72 in the first round of the Dell Technologies Championship, despite hitting just half his greens in regulation and at times not driving it so hot either.
"When I did miss it, I missed it in bad spots," he said. "I didn't have very good angles."
Sometimes even when he did it didn't go so well.
At the 450-yard 13th, Woods split the fairway with driver only to blow his next shot left and long into a greenside bunker, letting out a word that rhymes with "duck" loud enough to be heard from 100 yards away. Making matters worse was an awkward stance in the sand. Woods bladed the pitch across the green before rolling in a testy five-footer to save bogey.
On the 185-yard 16th, he threw his tee shot soaring into the air and at the flag on the back shelf only to have it go a little too far, the ball bouncing off the green to leave a tricky, short-sided chip. Woods tried to gently flop it but instead flubbed it before chipping on and making another nervy bogey save.
Not all was lost, though.
Woods mixed in three birdies, which included a nice downhill 10-footer on 17 and a tasty two-putt from outside 70 feet after reaching the par-5 seventh in two.
"I putted beautifully today, I really did," he said. "I hit a lot of good putts, and just have to give myself more looks out of them. I didn't hit the ball close enough today."
The putter of course was a hot topic. For 13 of Woods' 14 career major championship, a span that lasted longer than a decade, he used one putter. This summer, he's on his third.
Last month, Woods benched his longtime Scotty Cameron for a TaylorMade mallet-style putter. Initially, it worked well. Lately, though, that hasn't been the case – last week, he ranked nearly dead last in putting among players to make the cut, which prompted the change.
This week, Woods dumped the mallet putter for an Anser-style flat stick, a TaylorMade Juno putter with an insert. It was overnighted to him from the company's Carlsbad, Calif., headquarters and reached him in time for his Thursday afternoon pro-am.
A day later, he put it into play for real, taking just 26 putts overall, 10 of them one-putts. It was certainly an improvement from last week when he took 120 putts for the week, including 35 in the third round at Ridgewood Country Club.
"We have been working on this putter since about the [Quicken Loans] National time, the last couple of months, and trying to get a putter that looked exactly like my old putter, but it had the grooves in it to roll the ball better," Woods said. "We finally got one."
Now if Tiger can just find a solution to the other parts of his game, one of these days he might finally win one, too.