News
Tiger Woods makes it dramatic and makes it to the weekend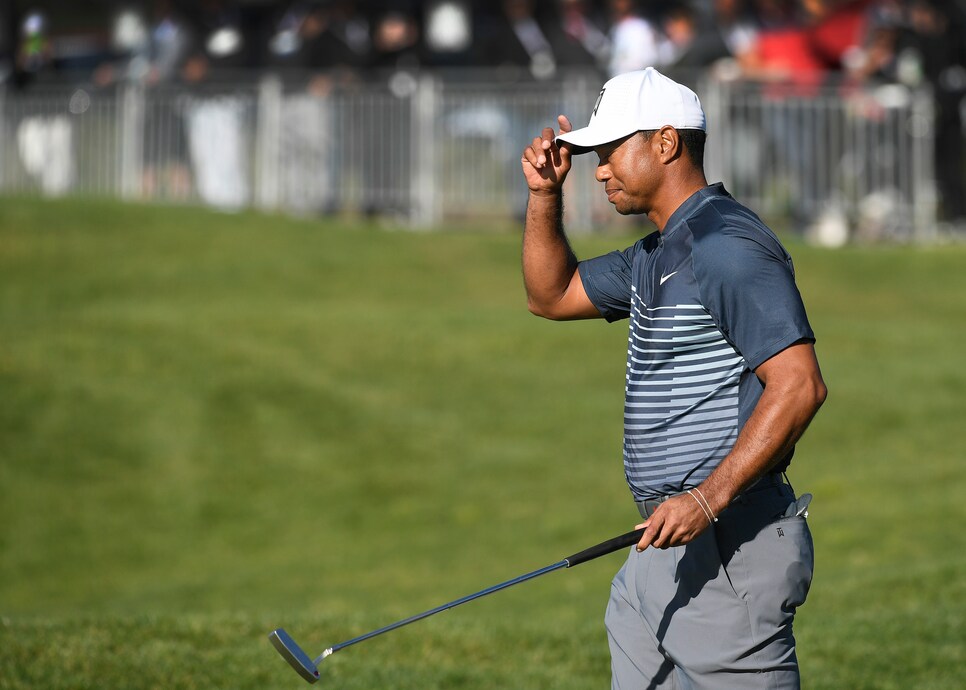 LA JOLLA, Calif. — Final-hole drama is the province of Sundays in golf, but it crashed a Friday here at the Farmers Insurance open, the only way it possibly could, with Tiger Woods directing.
Making the cut once was a foregone conclusion for Woods, who went years without missing one. He made 142 cuts in a row at one point. Tiger works weekends.
But there he was, staring at an abbreviated comeback in his first PGA Tour event in a year, only his second in the last 2½ years. An untimely bogey on his 17th hole required he make a birdie at his 18th to ratify his effort here as progress.
"I think it's important if he makes this cut," Charley Hoffman, one of his playing partners, said. "Cuts are big. It's not easy out here by any means. You've got to play good golf. One under, or if it gets to two under, that's golfing your ball on these golf courses to make it to the weekend."
Woods reached the par-5 ninth hole on the North Course at Torrey Pines, his 18th hole, in two shots, but had 80 feet to navigate in two putts to play the weekend at Torrey Pines. "It was a difficult little putt," Woods said. "I took a second look at it from the middle part of the putt, because I saw it went back up hill at the end. I'm actually glad I did that, because I would have left that putt short."
Woods expertly lagged it to within inches of the hole and tapped in to complete a one-under par 71, tying him for 65th.
A successful comeback remains an uphill climb for Woods. Recall his victory in the GTE Byron Nelson Golf Classic in 1997, when he infamously claimed he won with his C game. Here he needed what only generously could be described as a C game just to make the cut.
"Obviously it wasn't full on," Hoffman said. "But he had shots we don't. Like the shot he hit on 16 yesterday [nearly an ace]. I don't have that golf shot. Patrick Reed doesn't have that golf shot. It's a special golf shot. The guy hasn't really played competitive golf—he played in the Bahamas [the Hero World Challenge], but it's a little different in front of all these crowds here on pretty much what is a U.S. Open golf course. I think he played fine. I personally expect big things if he stays healthy."
Tiger began his round by hitting his drive 65 yards left of the 10th fairway on the North Course and nearly into a fairway bunker on the first hole of the South Course, golf's equivalent of a pilot landing at the wrong airport. It wasn't his last wayward effort.
"I had the pulls early," he said. "Actually more like a pull-flip, so it was even worse than that. And then after I hit I couple of those I went for the spinner out there and lost a couple to the right. Then I settled in and hit some good ones, but still not quite right. I need to fix that."
Woods hit his tee shot at 13 left and into a hazard, leading to a double-bogey 6. He played his front nine in two over, then began his back-nine recovery by holing a 30-foot birdie putt on his 10th hole.
"I was grinding my way around the golf course today," he said. "I didn't quite hit it as good as I would like to. I fought hard. I was trying to post a number, which I was able to do.
"These guys are going low and I haven't done that in a long time. I'm looking forward to progressing, just keep playing tournament and getting everything kind of situated headed to April."
Headed to April and Augusta.