News
Tiger Woods grinds for a 66 in the first round of the WGC-Bridgestone Invitational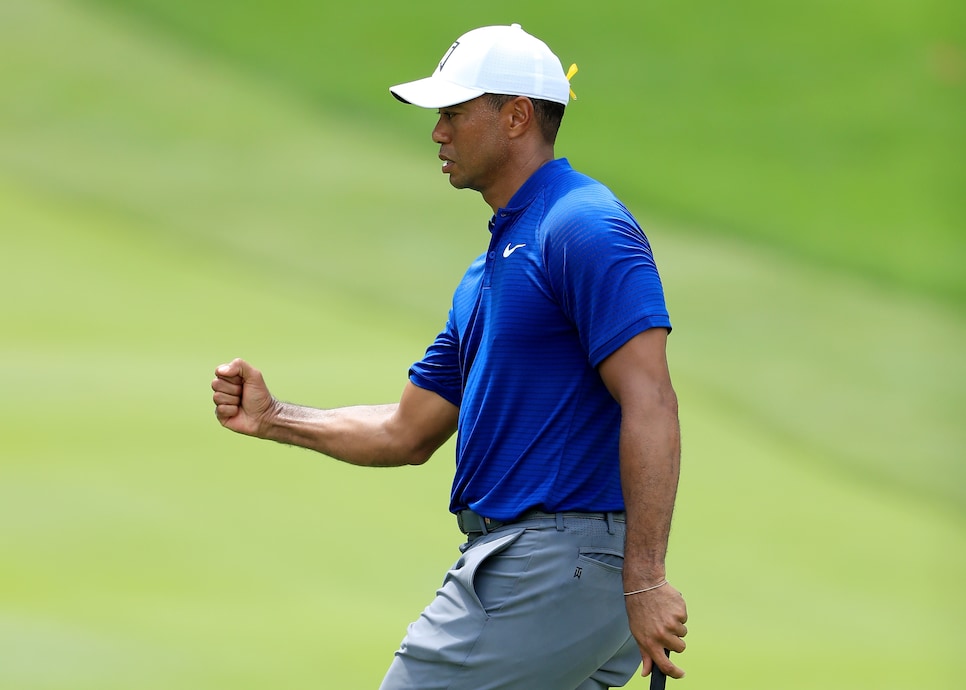 AKRON, Ohio – Seldom has the South Course at Firestone Country Club been as vulnerable as it appeared Thursday during the opening round of the WGC-Bridgestone Invitational, yet Tiger Woods struggled. That he still managed to stitch together a 4-under-par 66 was of some consolation that he readily seized upon.
"Wasn't exactly what I wanted to do today, but I ground out a score, which was good," Woods said after his first round at Firestone since 2014.
He drove it poorly most of the day. His irons weren't sharp, either. He was heartened a bit by 27 putts. Maybe memory took over to some degree amid the wrestling match with his swing. Woods twice has shot 61 on the South Course, equaling the course record. The second of those came in 2013 when he won here for the eighth time, the last of his 79 PGA Tour titles.
Soft turf and soft breezes allowed the 71-man field to light up the joint. Kyle Stanley's 63 included an opening 29. Rory McIlroy, Marc Leishman and Jason Day all cruised home in 65 among the early finishers.
Despite hitting only seven of Firestone's tree-lined fairways – and only one over his final 10 holes – Woods converted five birdies against one bogey, which came at the last, the par-4 ninth.
He can't say he left a lot of shots out there, words he has circulated often during his comeback season. Wasted shots have been a bane to him. But that is the good news of the day. Woods, 42, managed to ring a lot from his middling performance.
"I felt like today I didn't quite hit it as well as I wanted to, but I fought out a score," he said, noting how he had to "manufacture" shots, a task with which he has familiarity.
"It's nice to shoot rounds like I did at the Open [at Carnoustie, an even-par 71] and like I did today, put together rounds where I may not feel the best but I'm able to post a score," Woods added. "That's how you win golf tournaments. You're not going to have your best all four days and it's a matter of that bad day being two, three under par instead of being two, three over par. And then everyone has their hot days. When you go hot, you can shoot eight, nine under par, but it's your off days. And today certainly wasn't as sharp as I wanted it to be, but I shot four under par today."
Day, his playing partner, who considers Woods a mentor – when they're not competing against each other – didn't see a fellow competitor who was struggling.
"No, no, he played good. It was good," the Aussie said "He missed a couple of easy birdie attempts, I think just either misreads or just didn't hit a putt well, but for the most part his iron play's off the charts. The distance control is nice. When he does miss it, it's not too far away, lands pretty much pin high or is around pin high when it finishes. He played solid today."
It will have to be better tomorrow. The PGA Tour's final tour of Firestone is going to be a shooting match. The question is, how much ammunition can Woods bring to the contest?
Another consolation: His best opening score of the year – and only his second in the 60s – doesn't leave him with as much of an uphill climb.
"Well, yeah, it is a little bit easier, but then again, there are so many rounds that are under par," he noted. "We're all bunched again and I believe there's over 20‑some odd guys already under par. So it's going to be one of those weeks, especially if it gets as hot as they're predicting, we're going to be bunched. At least this time I'm not as far back, but tomorrow, you know, I've got to go get it in."