News
Tiger Woods Friday live blog: Woods shoots 68 for share of Valspar Championship lead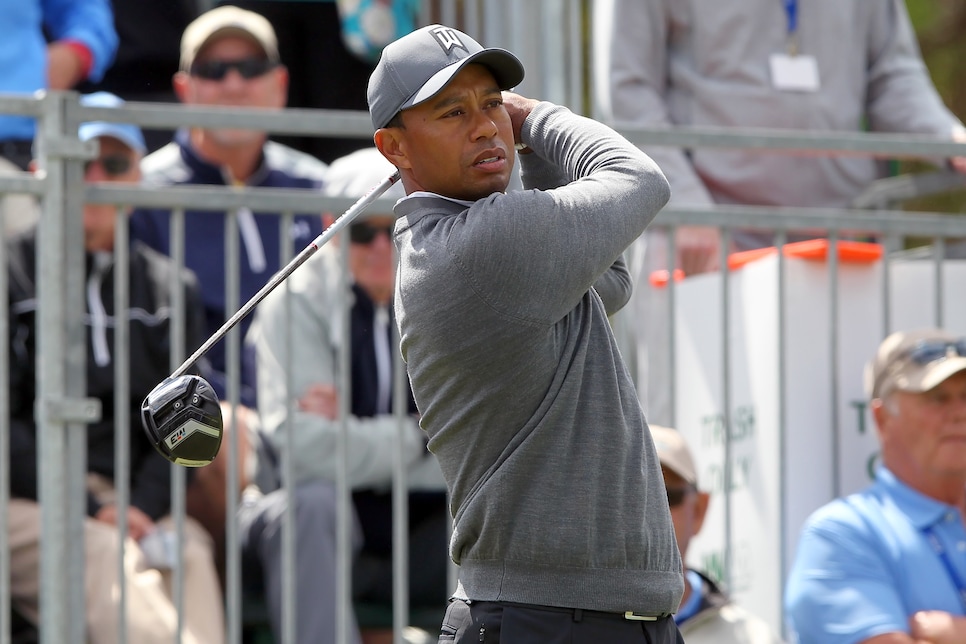 The Tiger Woods Hype Train is in full steam following the first round of the 2018 Valspar Championship. The 42-year-old turned in his first Thursday red number in his nascent comeback, a one-under 70 that left the 14-time major winner in T-8. It was far from an aesthetically pleasing performance, as Woods again struggled off the tee, ranking 71st in driving accuracy and 96th in sg/off-the-tee. But his short game was remarkably solid (11th in sg/around-the-green), and his five birdies were the second-most on the day.
As has been mentioned ad nauseam in this space, the barometer of success in Woods' latest return remains a clean bill of health for the Masters, with any signs of hope sprinkled in serving as sugar on top. However, following his promising and impressive play at the Honda Classic, Woods, like he's done throughout his career, has raised the bar.
Yes, it's important to remember just five rounds ago he was missing the cut by miles at Riviera, and he did make the cut on the number at Torrey Pines. But all reasonable observers acknowledge a return to formidability is a process. It's just most didn't think he'd be this far along in said progression so soon.
We'll see if Woods can keep trending upward throughout Round 2 at the Copperhead Course with a live Friday blog. Tiger tees off at 7:56 a.m. with Jordan Spieth and Henrik Stenson, trying to accomplish something that was once so familiar: head into the weekend on the leader board.
12:50 PM: The final numbers on Tiger: eight fairways (five on the back), 11 greens, just 26 putts. Currently fourth in sg/tee-to-green, tied for third in total strokes gained. With wind expected to pick up this afternoon, don't expect many to go lower than Tiger's 68 in the second wave.
12:38 PM: Tiger's chip comes out hot...only it runs into the flagstick to keep from gliding off the green. With six feet left, Woods...misses to the left, his first bogey of the day.
That makes it a three-under 68, a four-under two-day total that leaves Tiger tied for the lead.
12:27 PM: That short wedge just went soaring into the gallery. Appears he's short-sided himself; lot of work to bring it home at five under.
12:25 PM: On his final hole of the day, Big Cat breaks out the Smoke Wagon and sends it into a different dimension, one of his best drives of the day. Will have a short wedge left into the ninth.
12:18 PM: On the final par 3 of the day, Woods hits a nice approach, albeit a club too short. Still safely on the green, good opportunity to keep his card clean...which he does, lagging it to a foot. Just one hole to go.
12:11 PM: First short-game hiccup, as his chip flies by the hole toward the back fringe. Leaves Tiger 12 feet or so for par.
And he drops it to remain bogey-free. The man is putting on a clinic. In his heyday, Woods was hands-down the game's best grinders, and through 12 rounds in 2018, it appears that skill has returned with vigor.
12:07 PM: Wind throws a curve ball at Woods, as he leaves his approach from 167 well short. Stayed out of trouble, but a lot of meat between his ball and the hole.
12:01 PM: Tiger's been a fairway savant on this side, finding the short stuff once again off the tee with an iron. Somewhat far back from the hole, but staying out of the Innisbrook rough is half the battle.
12:00 PM: His birdie attempt just misses to the right. Mentioned below, Woods hasn't necessarily dropped many bombs. But he hasn't made any mistakes on the dance floors, imperative at a track like Copperhead.
11:54 AM: After backing off a few times, Woods lasers a shot through the wind to 20 feet at the sixth. Train continues to roll.
11:45 AM: Sorry, we momentarily passed out from excitement. Woods finds the fairway at the sixth. Group ahead is making a mess of things, keeping the Woods/Spieth/Stenson trio waiting.
11:30 AM: Despite the bounce, Tiger's driver ended up traveling 343 yards. His second rolls into the greenside bunker. From there, he puts it within three feet, which is all that remains for the outright lead.
Which he converts. Tiger Woods, 300 days after fusion surgery, is your solo leader.
11:25 AM: Tiger pulls out driver, which the PGA Tour Live crew calls "the smoke wagon" (easy, fellas), and sends it hurling towards the left gallery. However, it gets a fortuitous bounce back into the fairway, possibly giving Woods the greenlight to reach the green in two.
11:15 AM: His tee shot on the par-3 fourth finds the bunker, burrowing itself into a plug. Woods manages to blast it out to five feet, and his putter, which has been on fire the last five rounds, remains hot, sinking the sand save. Much will be said about today's round, but Tiger's work around the greens has been paramount.
11:03 AM: Tiger rolls his birdie to a few inches, taps it in for par. Nothing wrong with that.
10:58 AM: Woods hits a solid approach that's a tad too strong, runs away from the hole to about 30 feet. Result is more indicative of a tough pin position.
10:54 AM: Tiger takes iron off the tee and cuts the fairway in half. Did we mention he's co-leading? We did? Just making sure.
10:48 AM: Woods rams it home for birdie. Now at four under, tied for the leader. In a real tournament. In 2018.
10:35 AM: Stinger off the tee from Tiger, splits the fairway. That puppy was pure.
Though he's well back of his playing partners, Woods puts his approach from 160 out to about 10-12 feet and underneath the hole. Only 17 birdies on the week at the 2nd, but Woods has a good chance to add to that total.
10:29 AM: Not the best of efforts from Woods, leaving himself 25-30 feet for bird. In danger of his third par on the 5s today...a danger that becomes a realization after missing the putt. Will need to right that ship in a hurry if he plans to contend this weekend.
10:26 AM: Unable to reach the green from 270 yards out in the sand, Tiger's able to advance it a ways down the fairway. Has been ambitious and aggressive with his wedges thus far, should have the weapon in hand for this third.
10:20 AM: Woods rips a driver at No. 1, but it appears to catch the bunker. Hole is the easiest at Innisbrook; failing to make birdie here is giving one back to the field.
10:14 AM: Rundown of Tiger's first nine: Just three fairways hit, yet was dynamic with his approaches and short game. And though he didn't make any bombs with the flat stick, didn't make any mistakes, either. The front is the more "gettable" side at Copperhead; let's see if Woods can keep the good times rolling.
10:10 AM: Tiger takes a mighty lash from the deep stuff to get in on the fringe. Will still have a wedge in his hands, but at least it's uphill.
From there, Tiger puts it to three feet. Still some work to do, but should be able to make his par without incident.
10:05 AM: Starting to get a little wayward with the 3-wood, as this time his tee shot heads right. Appears to get a favorable kick.
10:00 AM: Not the best of efforts with the birdie try, but still is able to clean it up for par. Still two under on the day, three under for the tournament.
9:54 AM: Woods hit his shot on the 17th yesterday to tap-in range. Not quite as good today, but safely on at the 230-yard par 3. Has about 25 feet for birdie.
In a related note, Bob Estes, Jim Furyk and Jimmy Walker are all on top of the leader board. What the hell year is it?
9:46 AM: So about that challenging chip...all Tiger does it put it within inches. The short game continues to be stellar, as Woods snatches par from the jaws of bogey.
9:40 AM: First real mistake of the day for Woods. After finding the fairway off the tee, his approach misses badly, coming up well short of the green. Going to be a tough up-n-down from there.
9:33 AM: Burns another cup, although no shame in a 3 here. Heads into the teeth of Innisbrook, but will be in good shape if he can maintain even or one over through these next three holes.
9:26 AM: Very nice shot on the 200-yard par 3 from Woods, as his tee ball lands pin high, 12 feet left of the pin. It stays in the fringe, but a birdie look on one of the harder holes is nothing to scoff at.
9:20 AM: Tiger's wedge almost falls off the false front, but manages to stay on the top shelf. Won't be an easy birdie putt, about 15 feet, but at least gives himself a chance.
Alas, it falls just to the side, and Woods walks away with his second five of the day. Now two back of leader Jimmy Walker.
9:14 AM: Though he's just off the fairway, Woods is in the heavy stuff, forcing a lay-up. Puts his second in good position though, leaving himself a wedge shot for this third straight bird.
9:07 AM: For the first time today, Woods pulls the driver on the par-5 14th. Sails to the left, likely blocking any chance of getting home in two.
9:04 AM: Tiger converts for his second consecutive birdie. It's at this point we should mention the Snake Pit lies ahead, but if this start doesn't have the adrenaline pumping, there's a chance you're a cadaver.
8:55 AM: He's rolling, sports fans. At the 187-yard par 3, Tiger stiffs his approach to five feet. Will have that to get to just one back of the lead.
It's at this point we should note that, if you have any conviction whatever that Woods will capture his fifth green jacket this April, now's the time to jump on that premonition. At this rate, man's going to be at even odds by noon.
8:45 AM: From 140 out, Tiger sticks a wedge just underneath the hole. Just outside of gimme range, but excellent chance to get to two-under for the tournament. Shows what the man can do when he keeps it in the short stuff.
8:40 AM: Not much to the par-4 12th from the tee, weighing in at 380 yards. Woods goes with an iron and stripes it down the center.
8:31 AM: Lie was a doozy, and Woods is unable to get it anywhere near the hole. Par should be attainable, but a disappointment after a nice tee shot.
Tiger leaves his birdie attempt from 22 feet just short, and walks away with a 5.
8:25 AM: Woods was going back-n-forth with caddie Joe LaCava before his second shot, likely trying to get a handle on the wind. Clearly Woods wasn't comfortable, as he sent an iron sailing to the right. Lot of green to work with but looks to be a bad lie, although Woods was a magician around the dance floors yesterday.
8:18 AM: The 11th at Copperhead is a 575-yard par 5, yet Woods takes 3-wood off the tee. The move works, as he finds the fairway.
Given his struggles with the driver so far in his comeback, some have pushed Woods to favor the 3-wood a bit more a la Henrik Stenson. Though he hasn't reached that level of woe yet with the big stick, does appear he's being a bit more conservative thus far.
8:12 AM: Woods lags his putt from the fringe to tap-in range, a nice start to this day. Jordan Spieth, trying to bounce back from an opening five-over 76, misses a five-footer for bird.
8:08 AM: Blocked out by tree limbs, Woods is forced to punch-n-run, yet gets it up just off the green. A remarkable scramble from Woods, giving him a good chance to save par after a dreadful tee ball.
7:58 AM: Starting on the 10th hole, Woods goes with a 3-wood...and FORE LEFT. A nasty hook, but goes so far left he might be okay.
7:44 AM: Pretty nippy in Palm Harbor this morning, so cold that even Ollie Schniederjans is wearing a winter cap. However, for a venue that's notorious for wind, it appears the early part of the day—at least through the first nine—should remain relatively calm, giving Woods a chance to get off to a fast start.