Instruction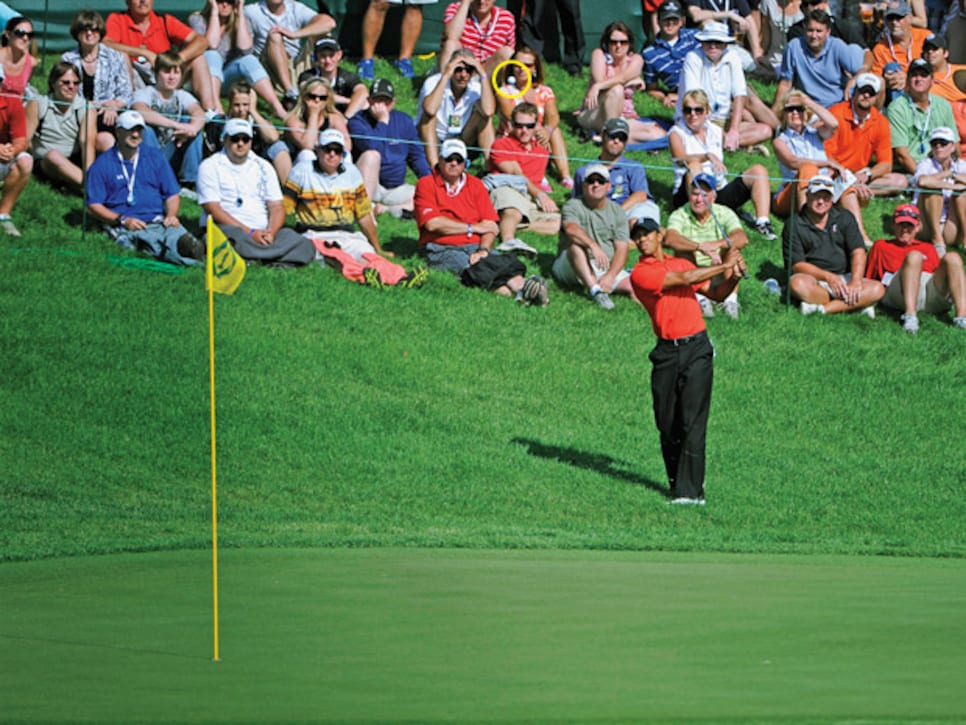 Facing a downhill lie in deep rough just off a very fast green to a downhill pin with water beyond the hole, what would you do? Cry? Pray? Proceed to the next tee? When Tiger Woods encountered this situation on the 16th hole during the final round of the Memorial Tournament in June, he instead executed one of the best shots of his career. He landed a lob wedge on the edge of the green, then watched the ball trickle down the hill and into the cup, leading to a two-stroke victory. Tournament host Jack Nicklaus said it was "the most unbelievably gutsy shot I've ever seen." I agree it was gutsy, but anyone can execute it if they copy how Tiger played it.
SETUP: Tiger took a narrow stance, his body slightly open to the target (aiming left). He opened the face of his lob wedge (aiming right) for even more loft. It's important to hit the ball considerably higher than a normal pitch so it lands as softly as possible. Ball position is also critical. Tiger played it just forward of center because the ball was sitting down in the rough. If the ball is sitting up in tall grass, play it farther forward in your stance to shallow your angle of attack and prevent the club from sliding too far under the ball. Finally, Tiger lowered the handle by bending his knees and dropping his hands. This posture helps the club skim along the ground and pop the ball up. If your downswing is too steep, you'll likely chunk or skull the shot.
SWING: Tiger hinged his wrists early in the backswing and released that angle through impact. He had to "cut" the shot using lots of clubhead speed, so he swung on a path along his toe line, his arms finishing well left. The club's trailing edge hit the ground behind the ball, sliding under it. Vintage Tiger.