Temp Work
Tiger's caddie Joe LaCava to loop for Patrick Cantlay at this week's Northern Trust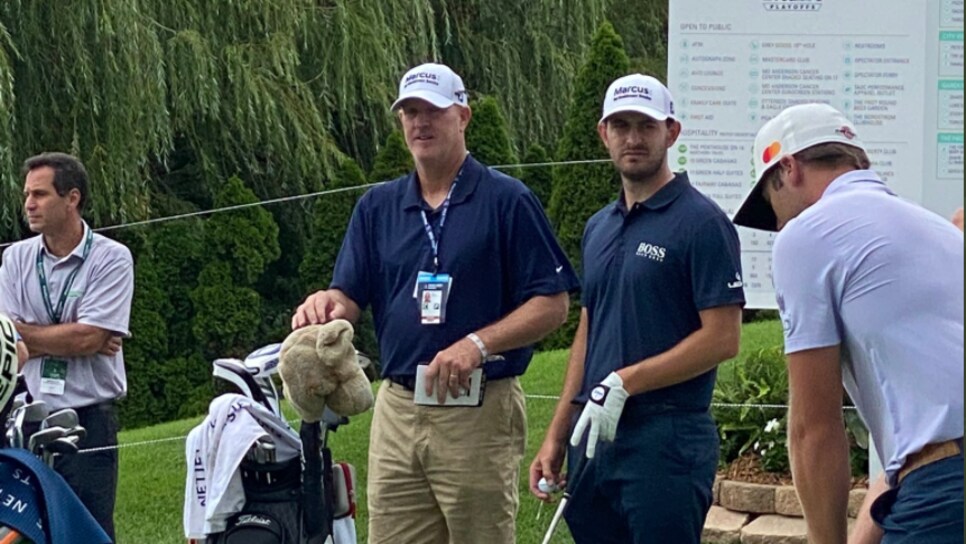 JERSEY CITY, N.J. — Joe LaCava lagged behind his new boss as he walked off the fifth green at Liberty National. He's rusty, after all.
"He's going to have to put up with the scrub caddie this week," LaCava joked.
Tiger Woods' caddie has picked up a substitute gig in Patrick Cantlay for this week's Northern Trust, the first of three FedEx Cup playoff events. It's a temporary gig for one week only as Cantlay's full-time looper, Matt Minister, is out after testing positive for COVID-19.
LaCava resides in Connecticut, which made the drive down to northern New Jersey rather manageable. He's staying close to the Meadowlands, home of his beloved New York Giants.
"It's getting me pumped for the season, that's for sure."
Woods, of course, remains sidelined as he rehabs from traumatic leg injuries sustained during a Feb. 23 car accident near Los Angeles. There is no timetable for when Woods might be able to begin swinging a golf club again. LaCava did say he recently visited Woods in South Florida.
Woods and Cantlay have grown close, with both holding memberships at Medalist Golf Club in South Florida. Woods also captained Cantlay during the 2019 Presidents Cup.
It's not the first time LaCava has picked up work since Woods has beeen out with injury. In June, he worked for his former boss, Fred Couples, at the Principal Charity Classic on the PGA Tour Champions. Couples finished tied for sixth.
Cantlay, the No. 9 in the World Ranking, enters this week in third place in the FedEx Cup points standings on the strength of two victories this season: the Zozo Championship last fall and the Memorial in June, when he beat Collin Morikawa in a playoff after 54-hole leader Jon Rahm was forced to withdraw due to testing positive for COVID-19.
There's no word yet as to how much of the $15 million grand prize LaCava would get should Cantlay catch a heater this week and go on to win the FedEx Cup. They'll cross that bridge if they come to it—and they'd love to come to it.