The Loop
He might not be at full strength, but Tiger Woods says he's ready to play again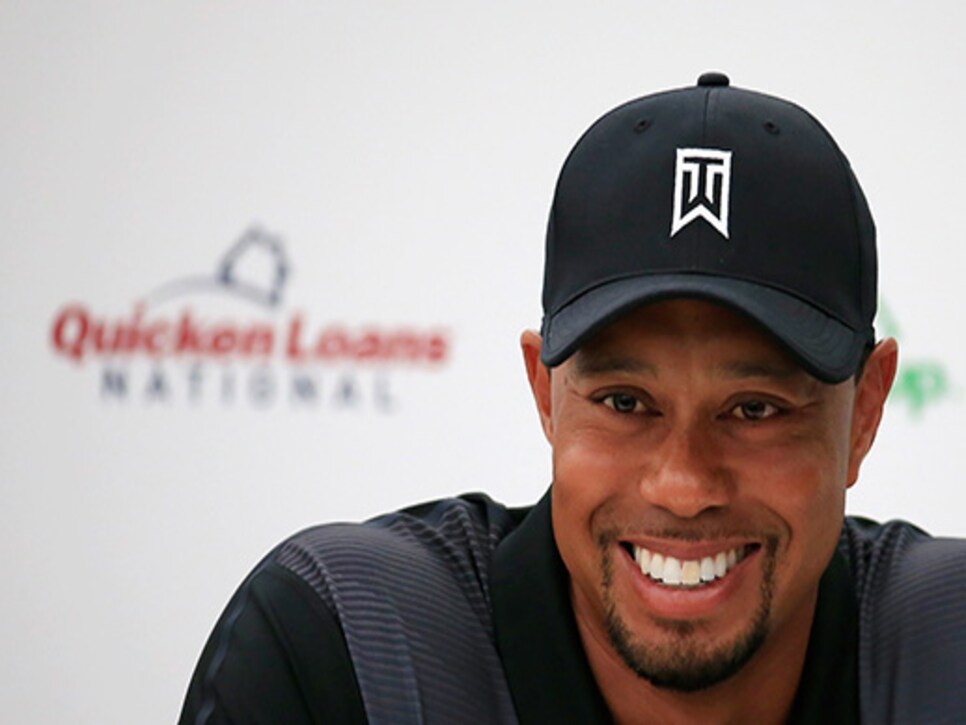 Restarting what had been a painful 2014 season after having microdiscectomy surgery to relieve nerve impingement in his lower back, Woods candidly admitted both that he probably wouldn't be playing this week if the tournament didn't benefit the Tiger Woods Foundation and that the risk of further injury to his back was slight. He also said he intends to play in the British Open at Royal Liverpool, where he won in 2006.
Woods gave an extensive description of his rehab following the surgery. "You can hop right out of the recovery room and, literally, you're OK to putt," Woods said. He wasn't OK to pick the balls out of the cups, however. So, he filled the holes on the practice green at his Florida home with sand. "I knew if the putt went in or not, but I never had to bend over and get balls out of the hole."
That lasted about two months. "Then it was chipping and pitching," Woods continued. "And then we added, basically, about 10 yards every day to two days depending on how I felt. That's how it went to the point where I was out there hitting drivers a couple weeks ago and then started playing golf."
His rounds sometimes included riding on the back of a golf cart, an idea he got from Fred Couples, who has suffered back problems nearly his entire career. "I think anyone who has had this procedure knows that probably the worst thing you can do is sit," Woods said. "I was able to get in more holes because of that."
Asked how he played, Woods replied, "I broke 50 for nine, first time, just like I was when I was 3. So, I'm sneaking up on it. My prime's coming up."
Though he said he's hitting his clubs to his usual yardages, Woods acknowledges he's not at full strength but also added that he didn't feel at risk for further injury. "Obviously, I'm going to get stronger as time goes on. But, the risk is minimal, just like it is with every round we play. [Any player] can hit behind a tree root and damage something. Awkward lies. I'm no different in that regard. I shouldn't have any issue because I'm going to hit every fairway and every green and I won't have a single problem," he joked.