The Loop
When the Masters long-drive competition was the early entertainment
We are used to the Par-3 Contest as the big event at the Masters on Wednesday, but prior to its start in 1960 (when Sam Snead won the debut contest) there were different forms of side entertainment for the patrons at Augusta National. They included an iron-play contest, alternate-shot event, Paul Hahn trick-shot show, teaching clinics, "approaching contest," and a long-drive contest.
The long-drive event began after the Masters was interrupted by World War II. Today's Throwback photo shows the setting for such a driving event in 1956: Spectators are around a tee location between the ninth and 18th holes, with a white-suited announcer in the back and, most prominently, captured at impact is the great Argentinian golfer Roberto De Vicenzo. The World Golf Hall of Famer, 12 years before he would be shut out for a green jacket by an infamous scoring error, is seen in all his glorious power. The long-drive contest took place on Wednesday. De Vicenzo didn't win in '56; the title went to Mike Souchak with a drive of 294 yards. That year there was also a short-game contest won by George Schneiter, who "won the approaching contest with three shots just 42 feet from pins at various distances," according to Golf World's report.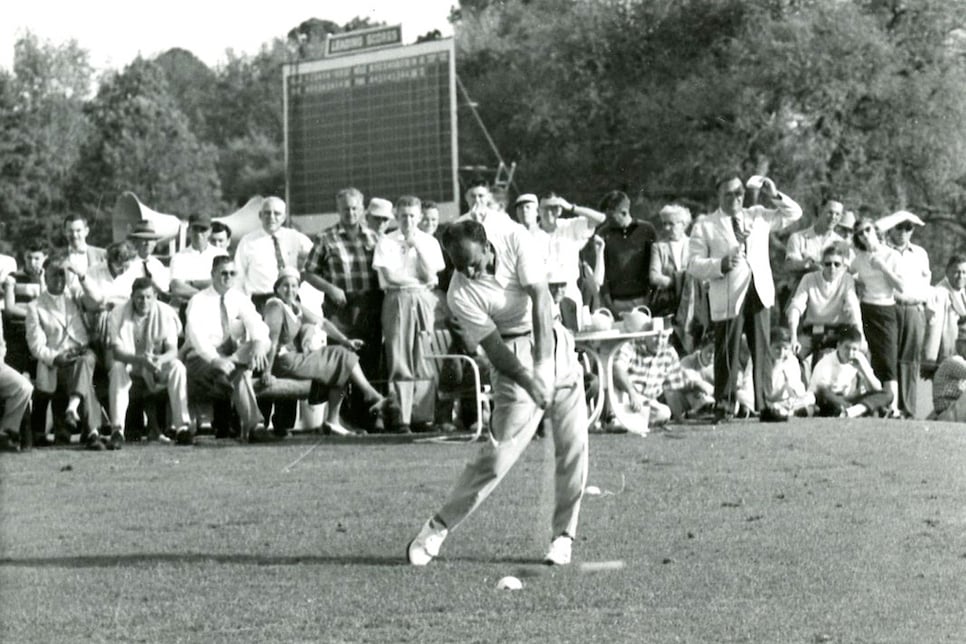 Some of the other long-drive winners were Sam Snead with a 290-yard drive in 1948, which beat players such as Chick Harbert and Jimmy Thomson. In 1954, fabled amateur Billy Joe Patton blasted a drive 338 yards and then passed up on his last two attempts, saying it was the best he could do, and no one else beat it. In the actual tournament, Patton almost pulled off an upset and missed a playoff by one shot.
In the final long-drive contest in 1959, George Bayer won with drives of 321 and 304 yards, with Frank Stranahan next at 294. A teaching clinic on Wednesday had an impressive lineup of pros: Ben Hogan, Snead, Dow Finsterwald, Lionel and Jay Hebert, Art Wall, Jackie Burke, Ernie Vossler, and Bayer, with Harbert as master of ceremonies.
Now that the long ball is in the game for good, would a long-drive contest fit back into the pre-tournament festivities?