The Loop
Throwback Thursday: The rare time a bad back got the best of Arnold Palmer
Because the 1960s were Arnold Palmer's glory days, we are just past halfway through celebrating all of the big moments as being "50 years ago in Palmer history." With the PGA Tour in New Orleans this week, it's time for another half-century-old memory, but this is not one of Arnie's happier moments and is part of the saga leading up to one of the most infamous weeks of his career.
Through the first few months of 1966, the King had been playing some exceptional golf. He had won twice on the PGA Tour, finished second twice, had a third, two fourths and a sixth. In his first 10 events, he hadn't been worse than 36th. Then came the Greater New Orleans Open, which in '66 was played in early May.
During the second round, Palmer wrenched a back muscle on the fifth tee and bent over in pain, a scene we saw with Jason Day earlier this year. "I was going to hit it a little bit harder, and when I got to the top of my backswing, something gave," Arnie said at the time. "It almost knocked me down. It felt like a knife stabbing me."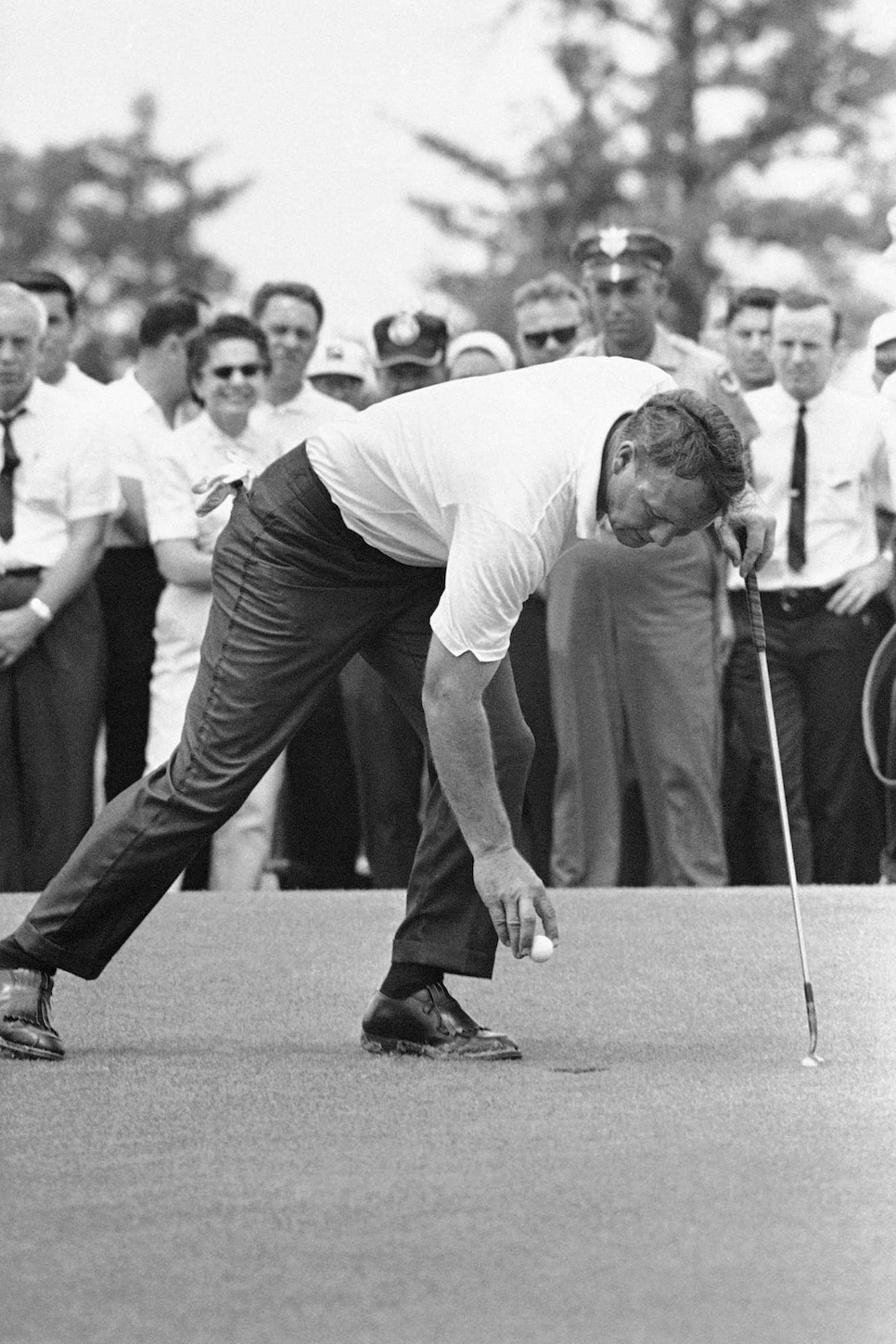 Not surprisingly, Arnie soldiered on for the final 14 holes, but he wasn't going for any pain pills. He first stopped in an on-course restroom and put on a corset that he had in his golf bag, which shows he knew what type of emergency item to have in his bag and/or had had back trouble before. After nine holes, he went into the golf shop and grabbed hold of overhead plumbing pipes to try and stretch his back muscles. Despite not being able to use his back or hips in hitting shots and mainly swinging with his arms, Palmer finished in pain and shot a 71. But he withdrew before the third round and said he was canceling all activity until the U.S. Open a month later at the Olympic Club.
Arnie wasn't the only big name who had an injury that week in the Crescent City. En route to the course before Round 4, third-round co-leader Jack Nicklaus suffered whiplash when he was in a minor car crash. "A car behind us bumped us and popped my neck," he told reporters. Nicklaus was able to play and tied for third, three shots behind winner Frank Beard.
As for Palmer, he did, indeed, skipped the next three tour stops, but he played the Buick Open the week before Olympic, his back healthy and his play on track with a T-8 finish. The following week at the U.S. Open, he had his back-nine meltdown and playoff loss to Billy Casper to lose the title.
Despite the crushing blow, the rest of 1966 stayed hugely positive for Palmer. Four more wins (two individual and two team) would come. His concerns about having rheumatic arthritis were allayed by a physical exam he had in the fall (the physician told him to "slow down or take a longer rest"), and in September, former President Dwight Eisenhower came knocking on his Latrobe, Pa., door to wish him happy 37th birthday.