The Loop
Throwback Thursday: That time Henrik Stenson stripped down at Doral and didn't get a tip
These days, Henrik Stenson is known as arguably the best golfer in the world never to have won a major championship. He's come a long way.
Not that Stenson wasn't in that conversation before his hot stretch in 2013 that culminated with him winning the FedEx Cup. Stenson won the 2009 Players and was ranked as high as No. 4 in the world before a brutal slump. But until recently, he was most remembered for, well, this: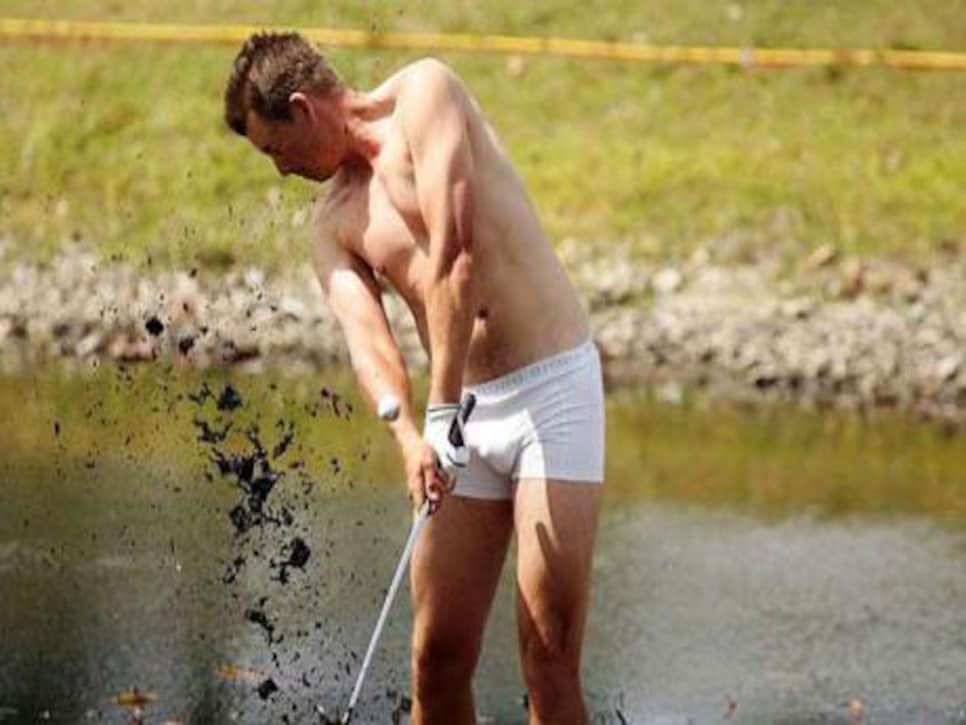 During the opening round of the 2009 WGC-Cadillac Championship, Stenson stripped down at Doral to hit his second shot from mud on the third hole. Professional golfers removing their shoes and socks to play such a shot is pretty common, but taking off their shirt? Their pants? That's all you, Henrik! Here, he talked about the decision to "save" his white trousers and yellow shirt:
Stenson's comments right after the round were just as entertaining:
"I'll probably take that to the grave with me. I don't think I scared too many spectators off the course...I hope," Stenson said.
"You never know, I might have a new endorsement with Playgirl or something like that."
As far as we know, that hasn't come true. But if you're a big fan of the exhibitionist Swede or bad golf tanlines, you're in luck. Autographed pictures of the impromptu strip show are still available.
Stenson is back at Doral this week and a part of the marquee pairing of the world's top three players the first two days. Hopefully, this time, if he winds up stealing the spotlight from Tiger Woods and Adam Scott, it's for his golf.