Bobby Nichols did not build a Hall-of-Fame caliber record, but his career is one of the memorable ones from the 1960s and '70s, when players had to compete against Arnold Palmer, Jack Nicklaus, Gary Player, Billy Casper and Lee Trevino on a continual basis. Born in Louisville 80 years ago today, Nichols won 11 titles on tour, the most memorable being his fourth: the 1964 PGA Championship. At Columbus Country Club, Nichols finished three shots ahead of Nicklaus (in Jack's hometown!) and Palmer. Nichols' 271 total held up as the four-round PGA record until 1994.
Nichols is reminiscent of the late Dave Marr, who won the 1965 PGA. For both, it was their lone major among multiple tour victories. Both were sons of the South with the pleasant but determined natures that can produce.
Nichols was the first tour pro I ever saw. He came to my hometown of Bloomington, Ill., on July 3, 1974, for Bobby Nichols Day. He was the head golf professional at Firestone Country Club in Akron, Ohio, for several years, and since Firestone had a plant in Bloomington, the company sponsored him to come play an exhibition and conduct a clinic at the muny course I played, Highland Park. I had only started to play golf a few years earlier, and seeing the 6-foot-2, 38-year-old play was mesmerizing to a 15-year-old. Here he was, playing holes I play! I looked up the article the local paper wrote about the day and it said 300 spectators were there, and the day was "blistering hot." I don't remember the heat, but I do recall being impressed by how Nichols carried himself, that he used a Cash-In putter, and I couldn't get over how well he placed his hands on the club. Looking back, I think it was the time I started really noticing little things like that about the swing.
Nichols had a 66 with seven birdies on the round. He had won the Andy Williams San Diego Open earlier in the year, and a few weeks after Bloomington, he won the Canadian Open by four shots. Incredibly, it was his last tour victory. At the 1975 Western Open, Nichols, along with Trevino and Jerry Heard, were the main pros affected by lightning strikes on the course. Nichols was in the hospital for a couple of days, and like the other two players, was not the same golfer afterward.
Nichols joined the Champions Tour in 1986, but didn't match his regular tour record, winning just one title, the 1989 Southwestern Bell Classic.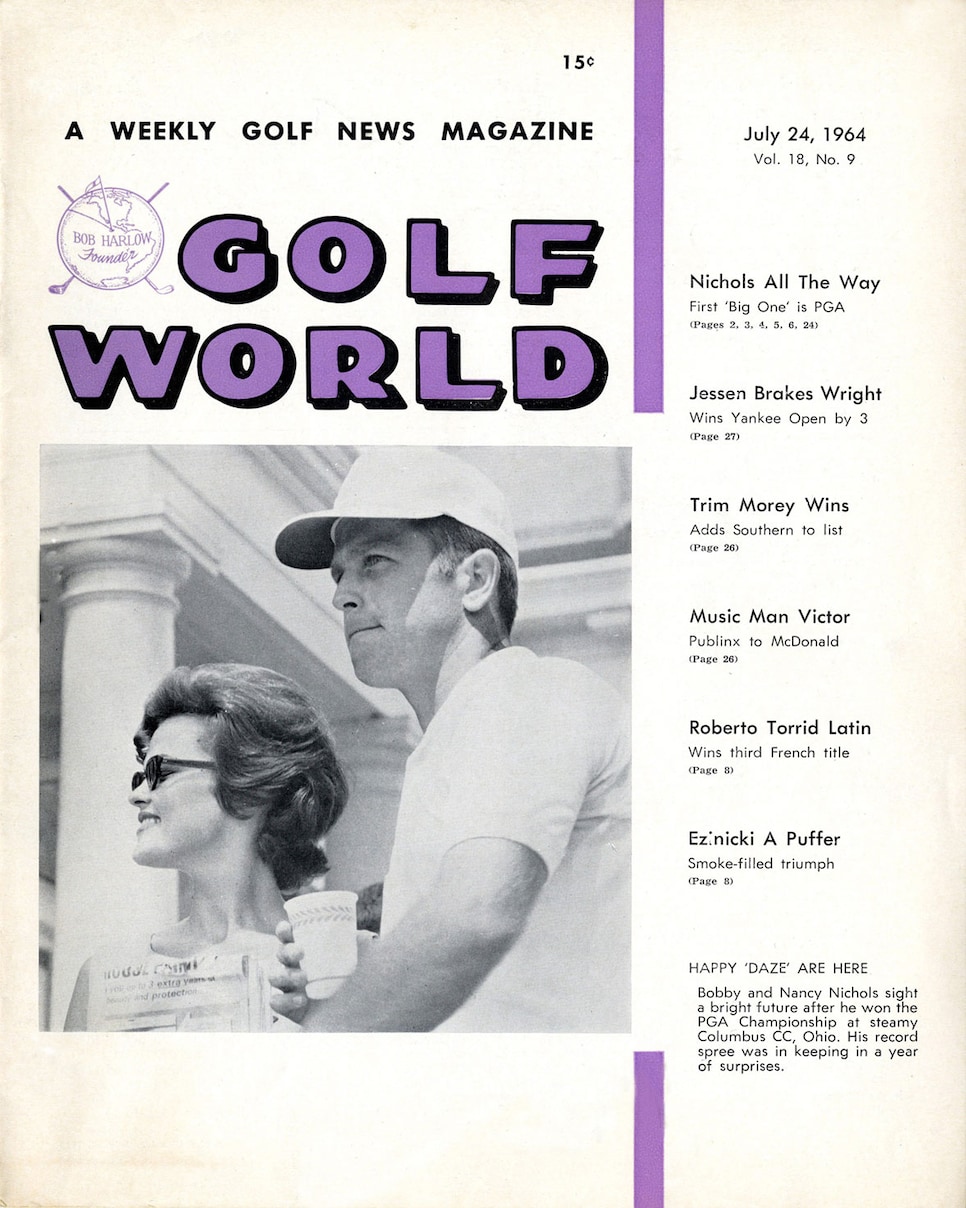 Other than the '64 PGA, Nichols' other big moment in the majors was a runner-up finish to Gay Brewer at the 1967 Masters, the year Nichols played in the Ryder Cup. Nichols also had a knack for winning the tour's big-money events (or what was big back in the day). He won the tour's first $200,000 event, the 1964 Carling World Open, and the first $300,000 event, the 1970 Dow Jones Open.
The lasting impression of Nichols, however, will be his determination in the face of horrible odds. He became a champion after surviving an auto accident in high school. At age 16, he was speeding along at more than 100 m.p.h. when he wrecked on a curve. He was in such bad shape that he was given last rites and was unconscious for 13 days. His injuries included a collapsed lung, broken pelvis, brain concussion, punctured spine, a bruised kidney and other internal injuries.
In a particularly down period in his bed-ridden state, a letter came to him from a famous wreck survivor and Nichols' golf idol, Ben Hogan, who had been asked to write. He wrote inspirational words that put Nichols back on track to not give up. He gained the edge on recovery, was released from the hospital after 96 days. He began excelling at golf as state high school champion, and after high school he was given a football scholarship by Bear Bryant to attend Texas A&M, where he played golf not football. Nichols graduated in 1958 as the Southwest Conference champion. He shared his story in the 1965 book Never Say Never, which is part instructional, inspirational and biographical and well worth finding at used-book sites.
The Hogan tie-in continued into Nichols' pro career. In 1962, he received the GWAA's Ben Hogan Award for his courageous comeback. At the 1964 PGA, with Nichols in his final-round group was none other than Ben Hogan.