The Loop
This can't really be Michelle Wie's 11th U.S. Women's Open, can it?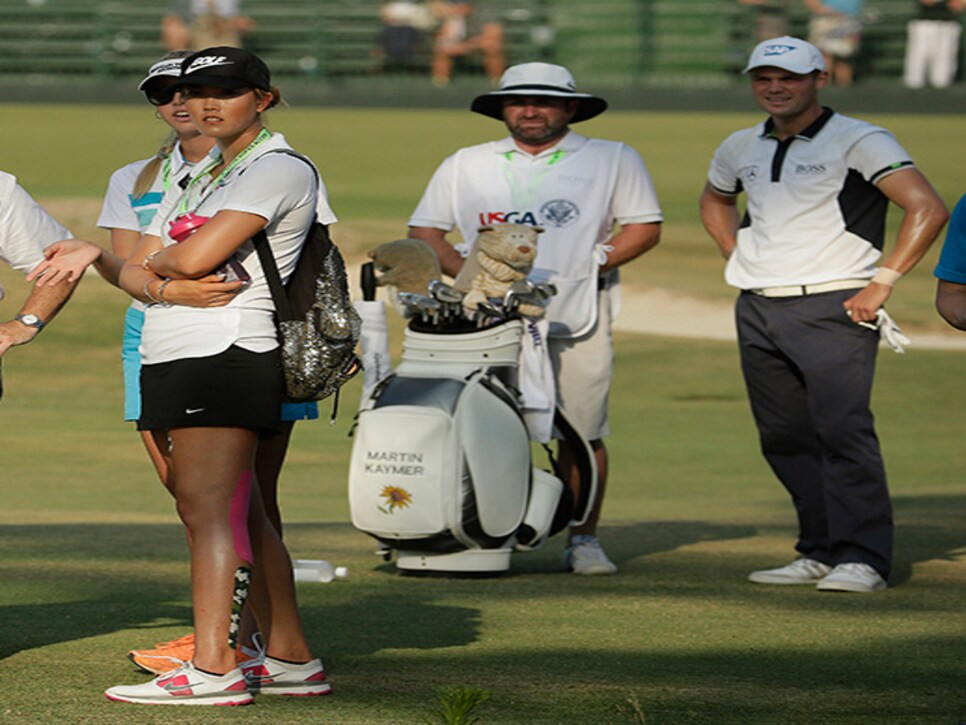 This is, if you can believe it, Wie's 11th U.S. Women's Open. But the 24-year-old has been on the national stage even longer than that, having come to the United States mainland from her native Hawaii in 2000 to compete in the U.S. Women's Amateur Public Links at Legacy GL in Aberdeen, N.C., nine miles from No. 2.
She was 10, and it showed.
"I remember I lost in the first round, and I remember crying all day," Wie said. "I would hit, wipe away tears. I would hit a tee shot, and I would cry again."
In sharp contrast to that experience, this has been a season of smiles for Wie. Her victory at the LPGA Lotte Championship was her third on the LPGA Tour and first since 2010. She dueled with Lexi Thompson in the final pairing Sunday at the Kraft Nabisco Championship, finishing second. She has eight top-10s in 12 events this year, displaying a new consistency and climbing to 11th in the Rolex Rankings.
"I really feel like I'm kind of starting the second part of my career," Wie told reporters Tuesday morning. "It's fun. It's a long journey. In a golf career, you're going to have ups, you're going to have downs. I'm in it for the long run."
Despite what she termed a "nagging problem" with her taped left knee -- "It's not that bad at all," she said -- Wie's recent form has her poised for her best national championship in a long time. Although she was T-3 at Newport Country Club in 2006, the event hasn't been kind to her since. In four of her last six Open appearances Wie has shot 80 or higher in the first round, and her best finish in that span was T-35 in 2012.
Wie got in the spirit Sunday by watching from inside the ropes as Martin Kaymer ran away from the men's field by eight strokes. "It was a cool golf-nerd experience," she said. Two PGA Tour friends from Wie's new South Florida base, Rickie Fowler and Keegan Bradley (along with their caddies), passed along their No. 2 yardage books.
"Definitely, knowledge is key around here," Wie said. "Just knowing where to miss it, where not to miss it. It's such a unique experience, just to kind of have the information. I think it's going to be very useful, and I'm thankful they gave it to me to use."
Wie's strength and her ability to spin iron shots more than many of her peers should be an asset on approaches into No. 2's convex greens, which gave the men so many fits. She is sticking with the extreme "tabletop" stance that has improved her putting. "I still need to get better," Wie said, "but I think I'm definitely on the right track. It may look funny, but it feels good to me. My dad always says, 'Oh, you can eat dinner on your putting stance.' "
For a golfer in the spotlight who flirted with major-championship victories as a teen but is still searching for her first major win after 37 attempts, this week could boil down to attitude for Wie. "I get really excited for the U.S. Open and I try not to put so much pressure on myself, but I always end up doing so," Wie admitted. "So this week, I'm trying to keep my stress levels down and the anxiety down. I just need to calm down and play."
A new child golf phenom, Lucy Li, is in the field at age 11, the youngest player to ever qualify for the U.S. Women's Open. "I would say just to have fun," Wie said of her advice for Li.
Wie has been there, a kid in an adult world, so many curious eyes trained on her expecting the girl to be as grown-up as her golf. Now the grown-up is writing a new chapter in a book begun long ago.
"I have played a lot of events," Wie said, "but I really feel like this is the beginning."