News
This 30-hole(!) U.S. Women's Amateur match included the most 'vagaries of match play' moment ever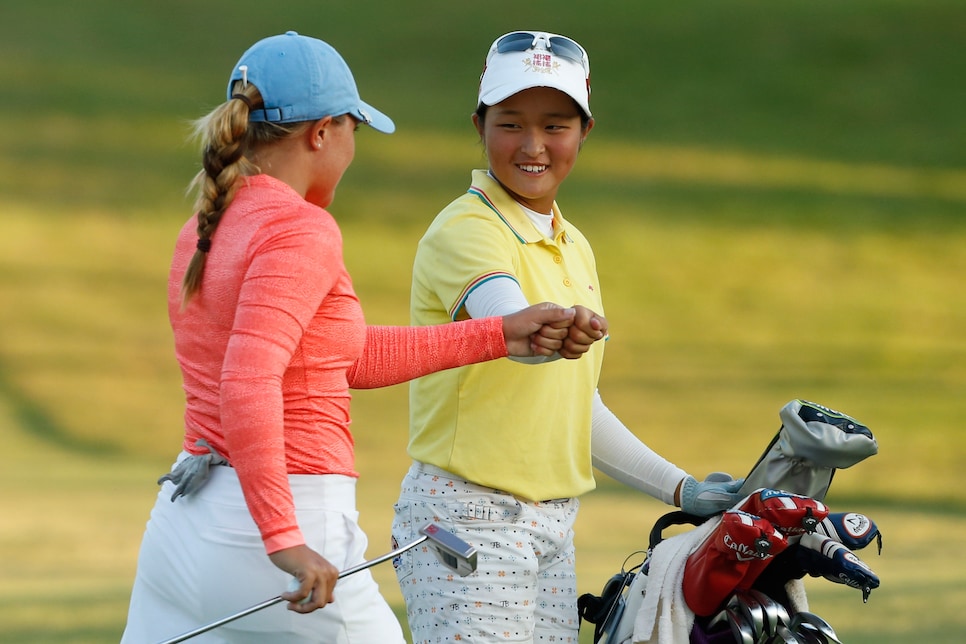 The U.S. Women's Amateur is already a marathon event, with the eventual finalists playing two stroke-play rounds, then five match-play contests before a 36-hole final. If Chinese Taipei's Chia Yen Wu gets all the way through, she'll have played even more thanks to her participation in the longest individual match in USGA history.
In her scheduled 18-hole quarterfinal match Friday at San Diego Country Club, Wu defeated Lauren Stephenson in 30 holes, breaking the USGA's previous record of 28 holes set at the 1930 U.S. Amateur and the 1960 U.S. Junior Amateur.
Not only was the match historic for its length, it had arguably the most "vagaries of match play" moment you'll ever see. On the 26th hole, Stephenson, an All-American at Alabama who made the cut at the U.S. Women's Open in July, hit her approach to three feet setting up a seemingly easy birdie. Wu, meanwhile, hit her approach just on the green, leaving her a desperation 75-foot birdie putt. Sure enough …
Wu then went on to make another impressive putt on the 30th hole for a par that won her the match.
Naturally Wu was all smiles after the match, youthful exuberance fueling her. At 13 years, 4 months and 17 days old, she is the youngest player ever to reach the semifinals. It was already an impressive week for her. She survived an 11-for-8 playoff to earn the 63rd seed, then defeated reigning U.S. Women's Amateur champion Kristen Gillman in the third round. She will face rising University of Texas senior Sophia Schubert in Saturday's semifinal.
As for Stephenson, well, she too was surprisingly upbeat for a woman who has every right to be beside herself with frustration.
"Usually in match play, you're kind of joking with yourself, you have to expect they're going to make it, but with her, I would tell my dad, I'm not kidding, every chip she hits or putts, I have to expect that it's going to go in because she's right on it every time," Stephenson said. "It stinks to lose, but at the same time, you're never going to experience something like that again, and we both played great all day, so you can't really be too upset about it. That putt, I mean, that's going to be on TV, and you're going to see that forever. That was crazy."