The Loop
Think Disney World is the friendliest place on earth? Try Erin Hills and Wisconsin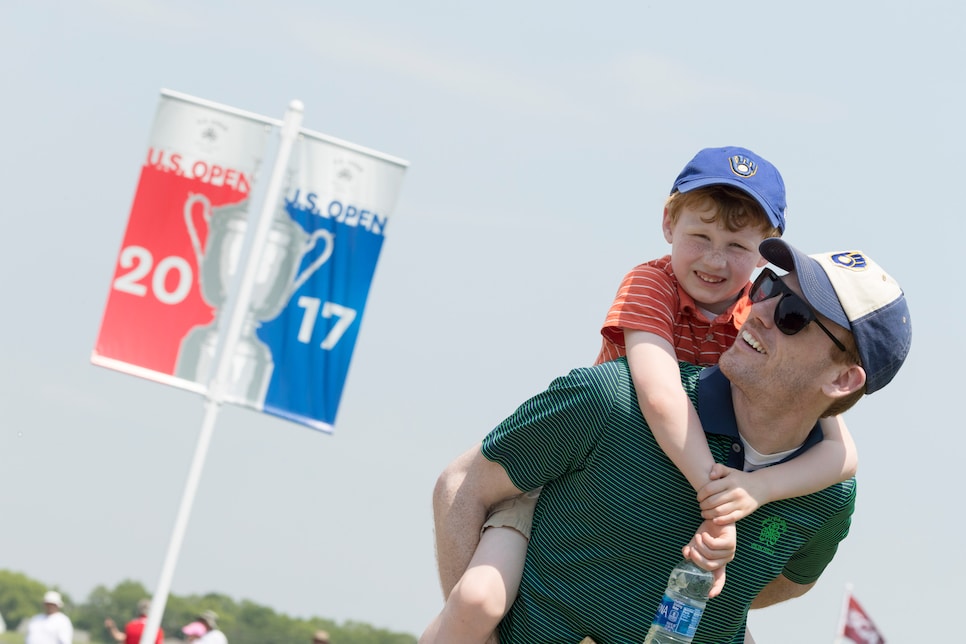 ERIN, Wis. — "Happy Friday, everybody!" bellowed a spritely young woman clad in the red-striped U.S. Open-logoed polo shirt. She stood by as spectators walked through an entrance at Erin Hills Golf Course, repeating the phrase every half minute or so. There was sing-song lint to her voice, cheery but hardly put on. It mirrored the smile on her face, as sincere as it was bright.
At the risk of sounding surprised or cynical, the people here in Wisconsin act a bit differently. At a basic level, you could say they're just plain nice folk, but that doesn't adequately convey their magnanimousness. It's a unique brew of friendly, courteous, compassionate and humble.
Take for example when I traveled through a crowded crosswalk heading toward the 18th hole during Wednesday's practice round. Herding alongside a few dozen people, I felt a little like I was back in Manhattan, riding the cramped subway I take to our Golf Digest office. As we moved along, I accidentally stepped on the foot of a gentleman walking beside me. Embarrassed, I apologized for my mis-step, only to have the man turn to me and insist that it was actually his fault. "I was getting too close," he said.
Too close?!? Everybody was too close! In that moment there was no such thing as too close.
Living and working around New York City, you often take for granted basic acts of civility. Or even worse, you look at them with a jaded eye. The wrong glance can contain all the vitriol of a four-letter word. And heaven forbid you actually make eye contact.
They were having none of that at Erin Hills, where you couldn't avoid the hospitality. Walking through the merchandise tent, I was stopped three times by people asking, Can I help you find anything? And not in a pushy, trying-to-make-a-sale kind of way. But an authentic, you-look-like-a-lost-northerner-who-needs-help kind of way.
(Mind you, it didn't just happen at the golf course. The previous night I stopped at a drug store and a book store and in both places was greeted the same exact way.)
The best test was with the on-course marshals, who at the majority of golf tournaments I've covered have all the charm and personality of DMV employees. (Seriously, why is it that you give somebody a lanyard and a "quiet please" sign and suddenly they turn into Captain Hadley from The Shawshank Redemption?) Yet the ones I watched fulfill their duties couldn't help but lay down the law almost apologetically. "Sorry folks, but you're going to have to keep back a couple more minutes," I heard one fellow say. "Promise we'll get you here are soon as we can."
Let not go too far here. I can't say that my visit has restored my faith in humanity, because I actually had never lost that. But what it did do was make me realize how one's own simple outward actions can have a ripple effect on others around them.
I went back to the Erin Hills entrance on Saturday morning. And there again was the spry young woman in the striped U.S. Open-logoed shirt.
"Happy Saturday, everybody!" she once again bellowed. "You all have a lovely day."
Thank you. I think I will.