The Loop
These Dallas Mavericks fans sitting courtside probably (definitely) bet on the game judging by their celebration
Betting on any sport in general is a dicey endeavor, but can have its perks if done properly. Betting on the NBA, specifically over/unders, however, is suicide. The totals are often frighteningly close, usually coming down to free throws or a garbage time layup by one team's 12th man. If you do take part, you'll find yourself not actually watching the game but constantly doing mathematical equations in your head of all possible outcomes. It's rarely fun, even if you do eventually win.
It was fun for a group of NBA fans on Tuesday night though, likely with the help of some adult beverages and the fact that everyone one clearly bet the same side. The over/under in the Dallas Mavericks-Orlando Magic was set at 215, and with the Mavs leading 114-99 with 10 seconds to play, the fate of over/under bettors came down to the final possession. When Dallas dribbled out the clock and sealed the under, cameras captured a group of fans celebrating courtside at the American Airlines Center. Any guesses as to which side they might have bet?
Look, we don't want to make accusations, maybe these guys are just diehard Mavs fans celebrating the fact they are now within 7.5 games of the eight seed. But this isn't just any pure jubilation, this is pure "holy crap we are going to hit this under by one bucket" jubilation. Look at this guy coaching up the boys to take the air out of the ball: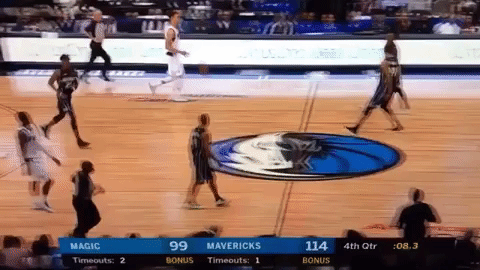 Then, the dad point/fist pump combo brought to you by Coors Light directed at the guy in the third row who bet the over. Take that -- guy in the third row!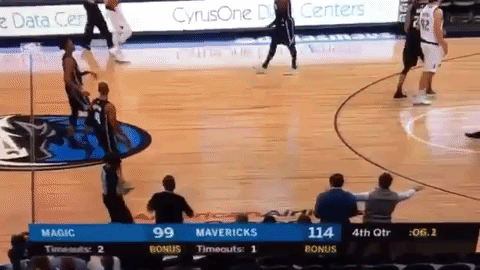 Truly a beautiful sight. Shoutout to Rob Perez (@World_Wide_Wob) for capturing the video. If you're an NBA fan, have a Twitter account and aren't following him, you're doing it wrong.