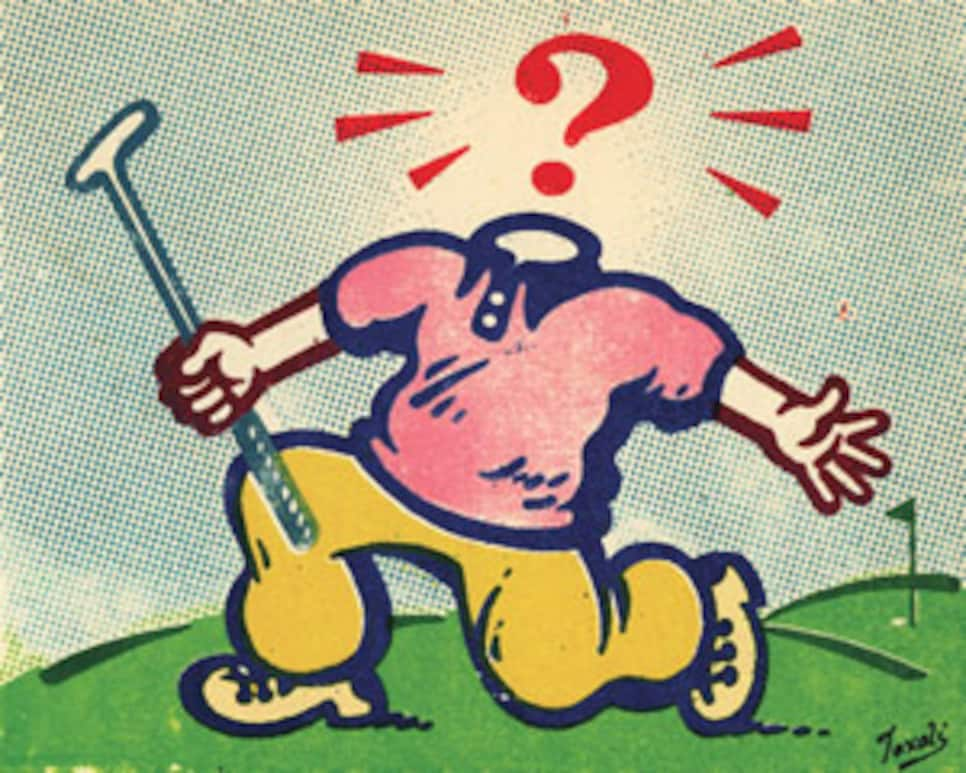 The lowest score ever shot on the PGA Tour is 59.
Al Geiberger did it in 1977, and four players have since equaled it. Time for another record. Why? First, 35 years is a long time for a sports record to hold up. Second, low scores are on the increase: 101 rounds of 62 or lower in the past three years. Third, two 59s were shot in 2010 (Stuart Appleby
), and last June an amateur, Patrick Cantlay, threatened with a 60 at Hartford.
So if this is the year, who will do it? Start with the guys who have gone low the most. Of the 175 players who have shot 62 or lower at least once in the last 10 years, 36 have done it twice; 17 three times; four players four times; two five times; and two players an astounding six times. (Shigeki Maruyama did shoot 58 in U.S. Open qualifying in 2000, as did Ryo Ishikawa in a Japan Tour event in 2010, but we're talking about the PGA Tour.) Here are the low-score leaders since 2002:
(6) Steve Stricker: 62, 61, 62, 61, 60, 62
__(6) Hunter Mahan: __All 62s
(5) Chad Campbell: 61, 61, 62, 62, 62
__(5) Adam Scott: __All 62s
__(4) Zach Johnson: __60, 62, 62, 60
(4) Pat Perez: 62, 61, 60, 61
(4) Joe Ogilvie: 61, 62, 62, 62
__(4) Briny Baird: __All 62s
Shooting a low score several times demonstrates the ability to break the record, but so does going super-low, so I would add three more players who have shot 60 in the last decade (Phil Mickelson, Justin Rose and Carl Pettersson). And let's not forget the 59s (Appleby and Goydos). Tiger Woods deserves a mention because he has shot 61 and 62 and doesn't even play the events that produce the lowest scores. I'd also include Rory McIlroy because he shot 62 on Sunday to win an event in 2010, and he's perhaps the biggest talent on tour right now.
You have to give Stricker and Mahan a good look because they've gone low six times. I'd give Stricker the edge because he has a 60 on his résumé. Adam Scott has five low scores, but none below 62. Zach Johnson is the only player to shoot 60 twice, so that keeps him in play. And I wouldn't count out Mickelson, who, in addition to his 60, shot 59 at the PGA Grand Slam of Golf in 2004.
To score low, you have to have a great ball-striking round and putt lights out. I looked at the stats for greens in regulation (GIR) and total putts for golfers who have recorded a 62 or lower--in the years they did it. Surprisingly, their average ranking was 84th in GIR and 82nd in putts--pretty average. In the group with four or more low scores, Stricker had the best combination (79th and 12th), and of those with fewer than four, Tiger's stats were the best (11th and 27th). After reviewing all this, what seems to matter most is the potential to have an extraordinary putting day.
Because stats are only part of it, you have to consider the courses. Here are the events that have produced the most 62-or-lower scores since 2002:
(35) Bob Hope Classic: All courses played
(31) Timberlake (Las Vegas): All courses played
(28) Valero Texas Open: La Cantera G.C.
__(11) Crowne Plaza Invitational: __Colonial C.C.
__(11) Sony Open: __Waialae C.C.
__(11) Wyndham Championship: __Sedgefield C.C.
__(10) Children's Miracle: __Network Cl. (Disney): All courses played
__(10) John Deere Classic: __TPC Deere Run
What makes these courses ripe for low scores? First, most of them are shorter than the average tour course. Second, the setups are generally easier, as are the greens. And third, they have a high percentage of short par 4s (420 yards or less). After par 5s, short 4s give up the most birdies. So the Nicklaus Course at the Bob Hope, for example, with eight par 4s under 420 and four par 5s, provides at least 12 "birdie" holes.
As you might guess, my pick for where the 58 will come, subject to playing schedules, is the Hope (now the Humana Challenge, Jan. 19-22). Las Vegas is my next choice; John Deere third. Why do I skip down to the John Deere? Because the two players I think have the best chance to shoot 58 play the Deere every year.
Five of Stricker's 62-or-lower scores have come at the Hope (two) and the Deere (three). So my pick is Stricker. Second choice: Zach Johnson.
Riccio teaches business analytics at Columbia University.