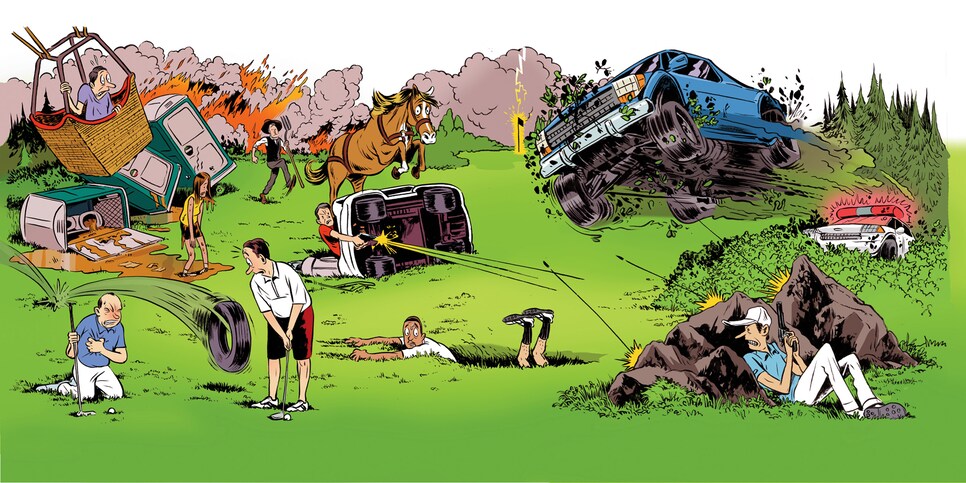 A golf course is a tranquil place we can go to escape reality, but sometimes what happens there is stranger than fiction. Nick Price once drove a golf ball that lodged in a pig's rear end. We asked Golf Digest's Twitter and Facebook followers to share their craziest on-course tales. We got some real surprises, like the unlucky golfer who sought refuge from a storm inside a Port-a-John, only to have the wind tip it over. We'll spare you those dirty details, but here are some others we found most amusing.
THE MEADOWS G.C., LITTLETON, COLO.
"I'm playing as a single. On the second tee, I hear this loud bang but see nothing. I continue lining up my shot, then I hear cursing and a voice scream, "For God's sake, look up!"
A hot-air balloon crashes four yards in front of my teed ball. I run to avoid getting tangled in the ropes. The man explains his engine had backfired and that he'd drifted over from the nearby mountains. Meanwhile, there's a gust and the balloon starts tumbling down the fairway. He hops in my cart and I drive him to where he can get it under control."
Jeremy Thee, Lakewood, Colo.
TORREY PINES G. CSE. (SOUTH), LA JOLLA, CALIF.
"Three of us are on the first tee when a guy rushes up to join us. He's visibly drunk. Flubs or whiffs every shot the first two holes. Then we get to the beautiful par-3 third. The man takes a pill bottle and starts dumping a sandy-looking substance onto the green. Turns out they're the ashes of his dead brother, who'd requested the act. The guy had taken an early-morning flight from Las Vegas after staying up all night. After he spread the ashes, he calmed down and played the next 15 holes quite well. And he turned out to be a pleasant man."
WHITE DEER G. CSE., MONTGOMERY, PA.
"The area has a large Amish population, so it wasn't odd to see a man in dark clothes fishing in one of the ponds on the course. But then we hear him yelling, and turn to see a horse sprinting down the third fairway, dragging a buggy. The horse even ran through a bunker on its way to the clubhouse, where it then just stood and waited for its owner. The course was crowded that day, so it was quite the spectacle."
Bob Koch, Williamsport, Pa.
CROSS CREEK PLANTATION, SENECA, S.C.
"It was the 2009 South Carolina Open. I'm waiting to hit my approach at the 14th when I look down and see one pant leg covered with fire ants. I rip off my shoes and pants right there in the middle of the fairway. I shake the pants violently, but not before I suffer about 15 to 20 bites. I put my stuff back on and play the shot. As we're walking off the green, a marshal comes up and gives us a slow-play warning. I tell him what happened, but he isn't interested and just tells us to keep it moving."
Benji Boyter, Charleston, S.C.
GREEN RIVER G.C., CORONA, CALIF.
"The course was playing firm and fast, and apparently what caused the fire was a cigarette butt tossed from a passing car. Huge flames raced up the canyon wall. Helicopters came within 15 minutes and started filling their huge buckets from the ponds on the golf course. This operation went on for several hours. Fortunately the fire was suppressed thanks to the ready source of water. Really fascinating to watch."
Clay Chadbourne, Garden Grove, Calif.
BOULDER CREEK G.C., STREETSBORO, OHIO
"The Ohio State Highway Patrol chased a car from the adjacent turnpike onto our golf course. The car's driver was shooting at the cops, and they were returning fire. He got away and hid in a drainage pipe. Several days later, his body turned up in a pond off the eighth hole. The worker who found him initially thought it was a dead muskrat--he threw a golf ball at what turned out to be the corpse. Another car chase ended in that same spot, so we might have to call it Dead Man's Pond from now on."
Joe Salemi, Northfield, Ohio
FAIRMONT HOT SPRINGS RESORT, BRITISH COLUMBIA
"We were playing the 15th hole on the Mountainside Course when we encountered a group of four bears near the green. Not uncommon in this area, but what happened after we chipped onto the green was incredible. One of the little cubs grabs the flagstick and starts shaking it and playing around, almost like he was pole dancing. His routine lasted over two minutes. Luckily, we had our phones handy--the YouTube video has more than 2.6 million views."
Pascal Van Dijk, Fairmont Hot Springs, British Columbia
LINGAN G. & C.C., SYDNEY, NOVA SCOTIA
"Some fellow groundskeepers and I were in the maintenance shed. There's an explosion. I'm knocked unconscious. I wake up to scattered glass and everyone yelling my name. A tire from a passing truck had come loose and rolled 250 yards before bursting through the shed window. It hit one guy in the chest, then ricocheted and got me.
My co-worker spent more time in the hospital, but he recovered, too. The truck's owner was an off-duty police officer who believed a criminal had loosened the lug nuts."
Dave Burns, Sydney, Nova Scotia