News
The troubled state of Scottish golf
Especially from a distance, it is easy to go all warm and fuzzy about golf in Scotland. Sepia-colored images of families in the long summer gloaming come to mind. Ah yes, the egalitarian ethos of golf's spiritual home epitomized by the presence of men, women and children from all walks of life out and about on some of the game's most famous and iconic links lands. It's a beautiful thing.
Beautiful but unrealistic.
As the eyes of the world turn to a currently sun-drenched Caledonia over the next few weeks, the state of Scotland's game leaves a lot to be desired. So as this month's Scottish Open, Open Championship, British Senior Open and Scottish Women's Open take place at three of the nation's most famous venues (Gullane, Carnoustie and St. Andrews), under that temporarily glossy surface, problems abound. From top to bottom, golf in Scotland and Scottish golf is in various stages of disarray.
In the professional game, despite recent signs of life on the European Challenge Tour where a small group of young Scottish pros are making some headway, prospects remain relatively bleak.
Only three Scots—Colin Montgomerie, Paul Lawrie and Stephen Gallacher—have been part of a European Ryder Cup team in this century. Only one Scot, Russell Knox, is currently ranked in the world's top 100. Just three more—Martin Laird, Scott Jamieson and Richie Ramsay—are part of the top 200. David Drysdale, the eighth-best Scottish golfer on the planet, is ranked 290th.
Knox, Florida-based since his late teens, has won twice on the PGA Tour in recent years, including the 2015 WGC HSBC Championship in China. But the Inverness-native remains the tartan-clad exception. Elsewhere, Scots are lagging behind. Way behind. More than three years have passed since Ramsay tasted victory at the Trophee Hassan in Morocco. Before Knox won last week's Irish Open, Ramsay, the former US Amateur champion, was the last Scot to win a regular European Tour event.
By way of contrast, 16 Englishmen have won 31 times during those intervening 40 months (there are currently eight Englishmen in the world's top 100). And, perhaps more pertinently given Denmark and Scotland's comparable population and weather, three Danes have won five times on their home circuit, as well as claiming the World Cup in Australia.
In the women's game, the picture is even more stark. The leading Scottish-born female golfer is Karis Davidson at 192nd. But even that is a bit of a misnomer. Davidson, an Australian citizen, emigrated Down Under from Innerleithen in the Scottish Borders at the age of eight. Next in line is the woman who has been Scotland's top-player for almost 25 years, former Women's British Open champion Catriona Matthew, who will be 49 next month.
In one way, Matthew's status is a commendable feat of longevity. In another, that very same pre-eminence is a shocking condemnation of the next generation. The Scottish No. 8 is Kelsey Macdonald, who is ranked a subterranean 510th. Not surprisingly, Matthew is the only Scot who has featured in the last four Solheim Cups.
The amateur game is no better. Ten years ago, Scotland's three-man side of Wallace Booth, Calum Macaulay and Gavin Deer won the World Amateur Team Championship at Royal Adelaide in Australia by nine shots from a United States squad made up of Rickie Fowler, Billy Horschel and Jamie Lovemark. Today, Booth is an occasional player on the third-division EuroPro Tour and his teammates are both reinstated amateurs. Their proud victory proved to be the ultimate false dawn.
So what's going on? Why is the nation where the game began struggling so badly to compete successfully at almost any level?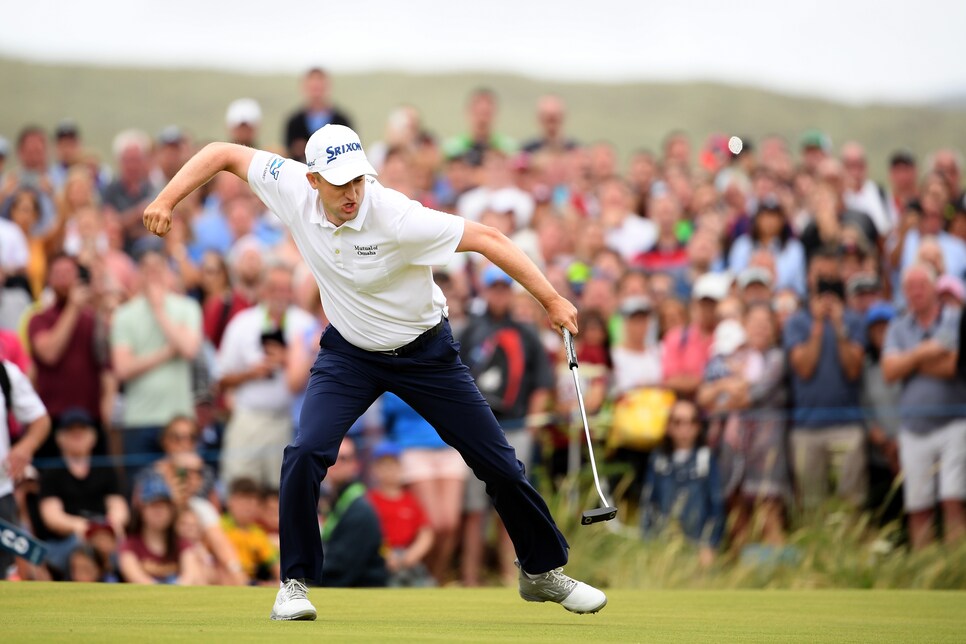 "We don't have a Rory," says Lawrie, who won the 1999 Open Championship at Carnoustie and is Scotland's last (male) major champion. "We don't have anyone who can get kids exited about playing golf. And it's been a while now since we have had anyone playing at the very top level. Colin Montgomerie was our last superstar. He was amazing in the Ryder Cup. Kids would sit at home and watch him play and think 'I want to be a golfer.' But we don't have anyone like him or Sandy Lyle now.
"Plus, golf is struggling generally at the moment. Scotland is not unique in that respect. We're not a big country. And there is no guarantee that, just because we are the home of golf, we are going to produce an endless stream of great players. Right now, we have a bunch of good players who are also good lads. Russell Knox is certainly one of those. But he is a bit detached living in America. We need someone who looks like he could win a major."
Lawrie's point is well made. Somewhere around 50,000 golfers have given up their club memberships in Scotland over the last decade. Almost 20 clubs have also disappeared, although—whisper it—none of their courses were actually any good (the real worry will come when better courses start to shut their doors).
The Golf Participation Report for Europe 2017 showed 192,533 registered golfers in Scotland in 2016, a fall of 6,711 during the previous 12 months. Only one other European country, the Czech Republic, also lost more than 2,000 golfers.
The amateur game in Scotland is administered by "Scottish Golf," which came into being on October 1, 2015 as a result of an amalgamation of the Scottish Golf Union and the Scottish Ladies Golf Association. But even that coming together was arrived at only after a lengthy period—three years to be exact—of disagreement and discord that did nothing but provoke widespread ridicule. An exercise in cooperation and bonding it was not. All it really did was underline the hard-to-dispute view that golf in Scotland is a game populated by a section of society largely out-of-touch with the modern world.
Scottish Golf, seemingly unsure of its "job description," has also failed to distinguish itself in its three years of its existence. Does it exist primarily to grow the game at grassroots level, or is it merely a financial crutch for up-and-coming amateurs with professional aspirations? One seemingly valid criticism of the new set-up is that too much time and money has been focused on elite amateurs and not enough on youngsters looking to take up the game. To many, the base of the golf "pyramid" has been neglected, just as too much attention has been granted to the pinnacle.
Even in that area, any success in the amateur game has only rarely progressed into the professional ranks. Former Amateur champion Bradley Neil and former Australian Amateur champion Conor Syme are two of those exceptions. Both are currently battling hard to hang onto their European Tour cards.
Elsewhere, however, the system—if there is such a thing—is failing. Former Walker Cup player and European Tour winner Raymond Russell is employed by Nike Golf as a "talent scout" and so spends much of his working life watching the game at the elite amateur level. Many things perplex the Scot when he sees his compatriots in action.
"The structure I see in many of the continental countries just doesn't seem to be in place in Scotland," he says. "Denmark is a great example. They get so many things right. Coaches who work with kids at club level go with them all the way to them turning professional. There is no pressure on a promising youngster to switch to a 'national coach.' They also use their tour pros as mentors for their best amateurs. That all creates close relationships and trust that builds over time.
"The Spaniards have also figured things out. They have a 'center of excellence' in Madrid, where kids and coaches go to talk and learn from each other. In Scotland, there seems to be a disconnection within the system. Every year they do the same things. They have a big trip to South Africa and they have a training camp in the Middle East. But that isn't working."
Russell makes a valid point, the case that Scotland's leading amateurs have been indulged and pampered to an unhealthy extent has obvious merit. On neither of the trips he mentions do the players have to do much logistical thinking. And, unlike many of their continental counterparts, the Scots only rarely play any of their golf on the lower-level pro tours. So they come to the bigger amateur events less battle-hardened, never having seen how good they are competing against guys with mortgages to pay.
As Russell says: "If I was involved with Scottish Golf, instead of organising trips for the leading amateurs, I'd stick them in a Spanish apartment for a month and let them learn the life skills that will benefit them on tour. Right now, they are not doing any of that subconscious learning."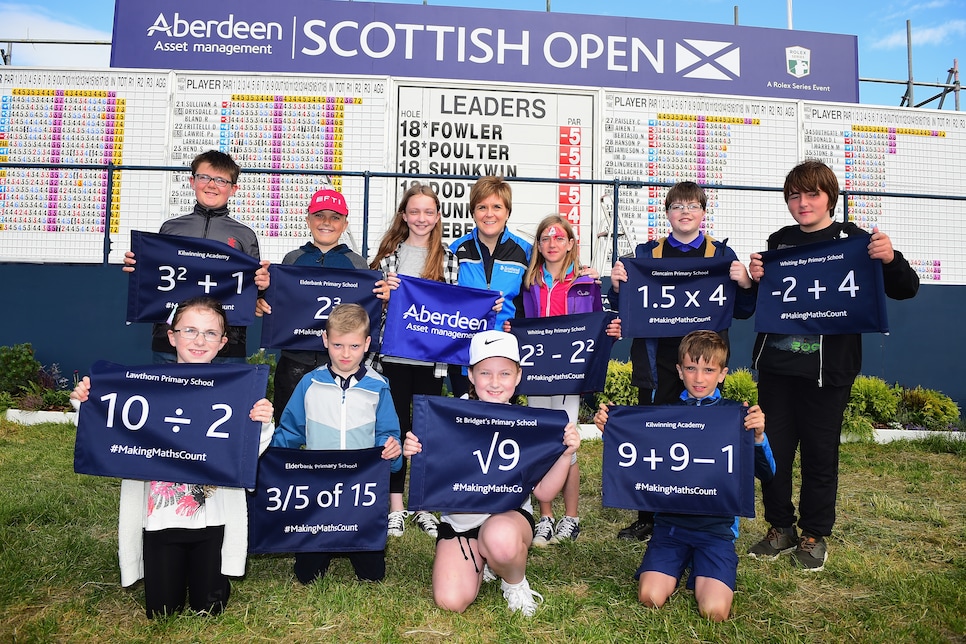 It's not all bad news of course. As ever—as is the case worldwide—examples abound of much good work at grassroots level. Great Britain & Ireland Curtis Cup captain Elaine Farquharson-Black is one who is heavily involved in the junior program at her home club, Deeside in Aberdeen. And there are many others, like the Craigmillar Park Golf Club in Edinburgh, where the under-16 membership is burgeoning. Most high profile, however, are the junior foundations run by Lawrie and Gallacher. Both have made huge strides in introducing youngsters to the game.
All of which is in contrast to the almost complete failure of the Scottish government-sponsored "Clubgolf" system. Designed to put a golf club in the hands of every schoolchild in Scotland, it succeeded in that lofty aim. But there was very little follow-up, nowhere to go for youngsters keen to play the game for real.
"If the governing body put a bus outside every school in the country to take kids to the golf course, I'm not sure there would be that many takers," says one close observer. "If Paul Lawrie or Steven Gallacher had another bus with their names on it, that is where most of the kids would go.
"Clubgolf was never going to work. It was held up as this great thing. But what a crock of shit. Yes, it was well-intentioned—"put clubs in kid's hands." But no one asked what they were doing next Saturday. They became statistics. Not too long ago they had six or seven kids at an event in East Lothian. Stevie had 83 kids at his. The whole thing needs that sort of higher-profile. Put a name on it. Which is why any money should be going to those who know what they are doing."
Golf's ruling body, the St. Andrews-based R&A, are not above criticism in this area either. While it does a great job giving away much of its Open Championship revenues to good causes—and any youngster under 16 is allowed into the Open free of charge when accompanied by an adult—such efforts are cosmetic and at arm's length. The number of junior members (under-18) at the R&A continues to hold steady at none, a bad example followed by too many. Clubs in Scotland have fewer than 10,000 members under 25, but more than 100,000 over 55. And only 13 percent are women.
Those numbers only serve to make clear that, if Scottish Golf is to have a future and at least arrest the long-established slide in club membership and participation, more women, families and children need to be involved. It is then, easy to have a little sympathy for the new chief executive, Andrews McKinlay. On his first day, McKinlay—who arrived from the Scottish Football Association, labelled by one insider as" the most dysfunctional organization on the planet"—called his new role, "the best job in Scottish sport."
"Scottish Golf needs to seek a real clarity as to what its purpose is," he continued. "We need to make sure we are connecting properly with our members as there's obviously something they are not 100 per cent happy about. I want to get out there and listen to them."
One with very definite views on all of the above is former Ryder Cup player Andrew Coltart. The last winner of the Scottish Boys Championship (in 1987) to go on and win on the European Tour, Coltart sees coaches justifying their own existence. Too often, he feels, they are swing technicians who coach a method that causes fun and imagination and feel to disappear.
"Scottish Golf does not exist to provide the world with European Tour players," he says. "It is not the job of any amateur body to fill the pro ranks. But is in their interests to develop talent. And, if it does, that is a happy consequence. All too often we have coached the playing of the game out of lads with talent. Rather than understanding their own games, they spend far too much time on the range worrying about the swing. Jordan Spieth is a great example of someone who knows how to play more than swing. In Scotland, Dustin Johnson's left wrist position at the top would have been coached out of him. Today, he'd be off winning a club championship somewhere."
Politically, life for Scottish Golf has been just as stressful. Something akin to civil war has long raged between the governing body's board and its 16 constituent areas. Most contentious was a proposal by the previous chief executive, Blaine Dodds, to more than double the annual levy—from £11.75 to £24—paid by each club member to Scottish Golf. It was, not surprisingly in difficult economic times, doomed to failure.
Which just about sums up so much of golf in Scotland right now. In a nation that boasts so many of the world's best courses, the real picture is far from pretty.