News
The speedy Shot Clock Masters is won by a journeyman who took 146 starts to get his first Euro Tour title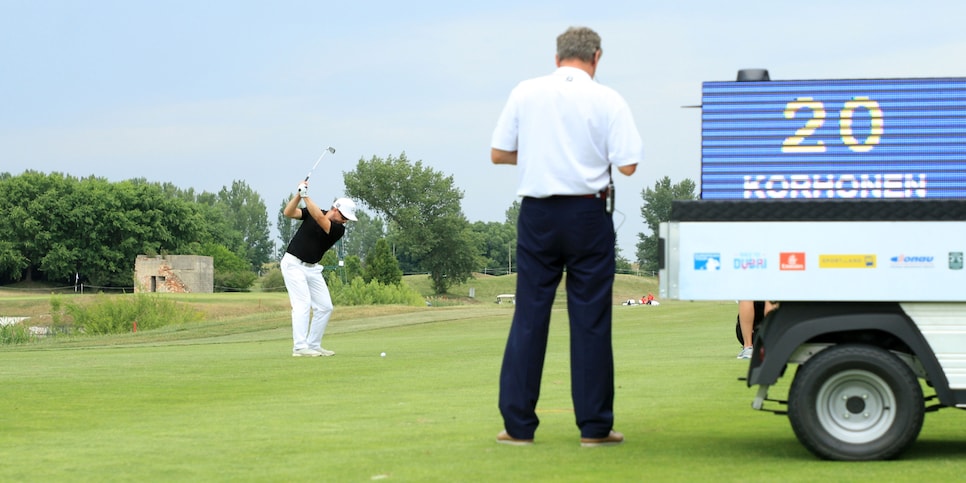 Matthew Lewis/Getty Images
Coincidence. Irony. Serendipity. Call it what you will. There was plenty of something baked into the fact that the winner of the Shot Clock Masters, the tournament where taking your time costs you, was a 37-year-old journeyman who grabbed his first career European Tour title in his 146th career start.
Finland's Mikko Korhonen had made 12 visits to European Tour Qualifying School, earning a card four times. While on tour full time since 2014, he had yet to win a title until Sunday when he closed out a six-stroke victory over Scotland's Connor Syme at Diamond Country Club outside Vienna, Austria, with a Sunday 69.
"It feels great, beautiful. It's been a long wait so it feels so good," said Korhonen, who shot a 16-under 282 total. "Yes, I have thought that I might not be in this position. I've been up there a couple of times and couldn't do it at those times but now I'm so happy and relieved that I have done it."
Korhonen would have gotten things done even quicker on Sunday if not for two weather delays that stopped play.
Suffice it to say, Korhonen did not record a slow-play penalty in the event where every player on every shot was on the clock—50 seconds allowed for the first player approach a shot in a group, 40 second for the rest. Only four golfers were given an extra stroke for dawdling—two nabbed for being only 1 second over the allotted time—as tour officials glowingly lauded the rapid pace of the rounds compared to the season average on tour (roughly 30 minutes quicker over the weekend).
"We've seen this week that this [Shot Clock] can definitely improve the game," European Tour CEO Keith Pelley said. "It also shows that if the players get into the right mindset, then they can play quicker."
Korhonen was praised by the usual crew in the wake of his victory, as was the entire concept of truly enforcing pace of play, with 25 referees working the clock with various groups.
The caveat to all this happy talk about the quick pace is the fact that the event's field contained none of the tour's elite players. The highest ranked golfer among those who made the cut was Wade Ormsby at No. 132, and only four golfers inside ranked 200th or better played the weekend (Korhonen was No. 200).
Moreover, only three finishers ended the day inside the top 35 on the Race to Dubai points list, with Korhonen jumping from 65th to 35th place. While the tour is to be commended for trying something like this, where pace of play is overtly enforced, it's little more than symbolic without the tour's top golfers participating in the endeavor.