News
For the Summerhays brothers, the 'all in the family' mantra is paying off
Arms around each other's shoulders, Daniel and Boyd Summerhays walked down a hallway in the Baltusrol clubhouse after last year's PGA Championship. Past the photos of the club's major championship winners, past a milestone in their history as player and swing coach, the brothers were celebrating Daniel's second top-10 in a major championship during the 2016 season. Daniel shot 65 in the second round at Oakmont to tie for the low round of the week en route to an eighth-place finish overall. At the PGA, he closed with six birdies in the last 10 holes to qualify for his first Masters. "I just told him, 'Bro, you're one of the missing pieces to my puzzle," Daniel said. "It was a great moment."
Some 10 months later, the Summerhays brothers found themselves in Daniel's hotel room in Dublin, Ohio, for a late night, heart-to-heart talk. With Daniel's wife asleep, the conversation that focused on his final-round 78 in last week's Memorial Tournament went on for four hours, not ending until 2:30 in the morning. Three strokes up at the start of the day, Daniel made double bogey after a perfect drive on the 18th hole ended up in a tie for 10th.
"It was like a dagger," Daniel said. "I felt it was my time."
Mostly they talked about how cool it was for Jack Nicklaus to be standing by the 18th green waiting for Daniel, and what the tournament host had to say in the extended time he took shaking Daniel's hand. Nicklaus told Summerhays that his game was good enough to win on the PGA Tour. "Jack told me, 'I want you to analyze and evaluate today,' '' Daniel said. "Learn from it and go do it. It will be a matter of time."
Essentially, Nicklaus reassured Daniel and Boyd that the swing changes they put in after the 2016 FedEx Cup playoffs were working. That the slump they went through as a team for the first five months of the 2017 season were growing pains, not technical difficulties.
"Pretty typical of us athletes, when we do something great, like I did last year, you want to reach a higher level of success," Daniel said. "I'm thinking if I keep improving my iron game, we can do some great things. We underwent some changes and it was tough."
So tough that Boyd told Daniel after a missed cut at the Arnold Palmer Invitational in March that there would be no hard feelings if he wanted to make a coaching change. "He said, 'Bro, if this isn't working, you can bag me,' '' Daniel said. "I said, 'No, I feel good about the process, just not the results."
The youngest of seven children, Daniel, 33, was a two-time high school state champion in Utah, a three-time All American at Brigham Young and the first amateur to win a Web.com Tour event in 2007. Yet in his mind, he had under delivered in his first decade as a pro.
Into his professional life entered his older brother, who like Daniel was a successful collegiate golfer before entering the world of golf instruction with a high-profile power player, Tony Finau.
"Growing up, Boyd was always my hero," Daniel said. "He always looked out for me and I always looked up to him, not only how he played golf, [but also] how he treated people, how people close to him know how big a heart he has."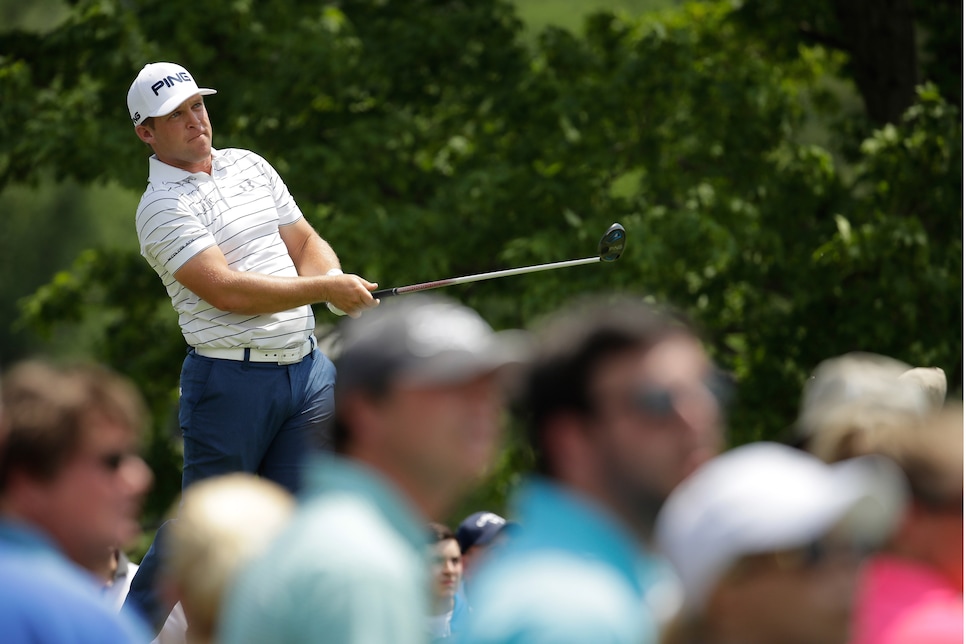 Boyd, who turns 38 on Friday of U.S. Open week, won the Junior World three times, was the No. 1-ranked junior in the country, roomed with Charles Howell III at Oklahoma State, but had a short-lived pro career, making 29 starts between 2004-2006 before leaving the Web.com Tour with a back injury. The irony is that Daniel's career was mirroring Boyd's until big brother became his instructor in the summer of 2015.
"Our lives took different directions," Boyd explained. "While he was in school, I was on the PGA Tour. When he was on the PGA Tour, I was trying to get back on the Web.com."
Now 33, Daniel travels with his wife and family of three sons and a daughter, ranging in age from 2½ to 9. On week three of a seven-week stretch on the road, they could be found in Memphis for the FedEx St. Jude Classic, where Tuesday night at the hotel pool, Daniel was doing cannon balls with his kids, looking forward to next week's U.S. Open at Erin Hills.
"I take the belief that I'm a major-championship-caliber player," said Daniel, who opened at the TPC Southwind with a 73. "That makes it more exciting when I get there."
While he's 0-for-186 in career PGA Tour starts, Daniel Summerhays knows what it's like to play late on the weekend of a major, and respond to both the conditions and the pressure. Like Jack said, it's only a matter of time.