News
The PGA Tour instituted a new cellphone policy at the Northern Trust, with dicey results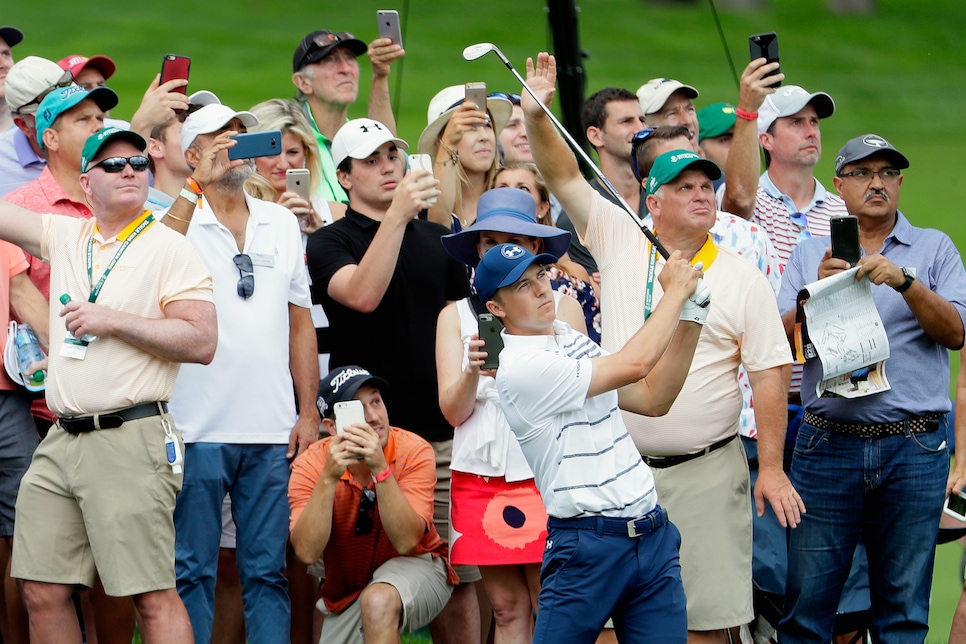 OLD WESTBURY, N.Y. — The battle between Dustin Johnson and Jordan Spieth on Sunday afternoon was must-see theater, the type of drama that had fans at home glued to their screens. Turns out, many in the crowd at Glen Oaks Club watched through electronic devices as well.
The Northern Trust signaled the start of the FedEx Cup Playoffs, but also the beginning of a new, adjusted PGA Tour cell-phone policy at tournaments. Spectators are now allowed to take photos and videos during on-course competition, usage that had previously been restricted to practice rounds.
Moreover, fans are allowed to share their photos and videos on whatever social platform of their choosing with tour consent, an allowance that's somewhat rare among American sports leagues. Live streaming and shot-by-shot coverage remain prohibited.
The European Tour followed suit, announcing a more-relaxed enforcement regarding cell phones to its fans at the Made in Denmark event.
So how did the initial rollout in Long Island go? Let's call the reception "mixed."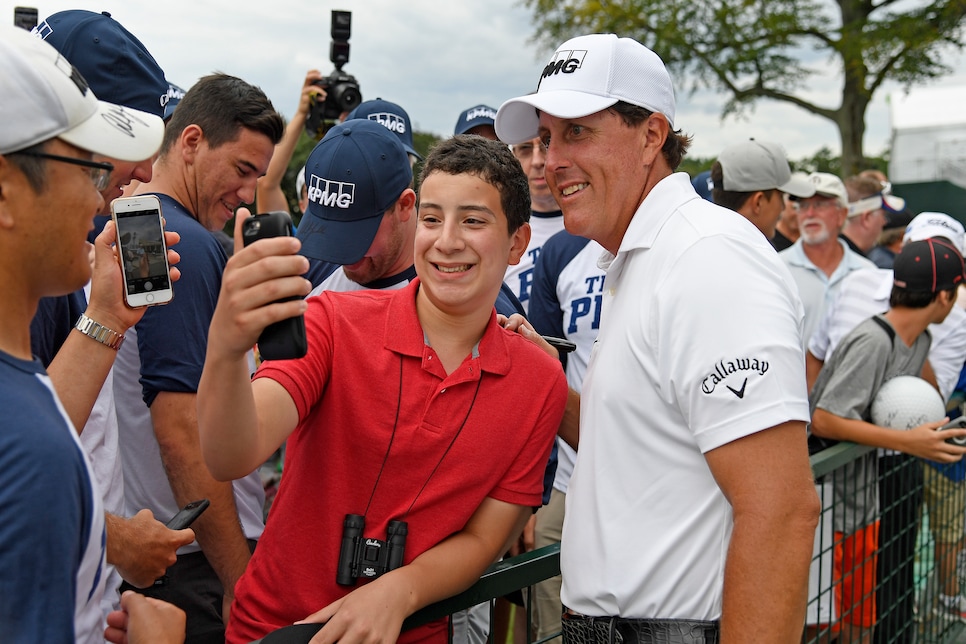 Make no mistake, the loosened restrictions were warmly received by the crowd, although one could make the case many didn't know such a policy existed in the first place. Thanks to the societal omnipresence of mobile devices, breaking out a cell—no matter the venue—is taken as an unalienable right.
But, while the adjusted policy states that phones must be silenced, there was a shocking amount of clicks throughout the event. Such sound is inconsequential in most sporting arenas and stadiums, as noise is often encouraged. Yet, in a game where peace is paramount, that clack, however audible it may be, can be jarring to the player.
This was evident throughout the week at the Northern Trust, as dozens of competitors—most notably Spieth and Jon Rahm—had to back off from a shot due to clicks. This is especially problematic as the crowds were relatively thin at Glen Oaks. If a group of 60 spectators—a number that followed the marquee pairings through the first two days—was able to cause a distraction, what will happen at an event that boasts large followings?
To their credit, players brushed aside worries, at least on the record, about the distractions, expressing hope that the issues will be smoothed out in the upcoming weeks. A few caddies mentioned better enforcement from marshals and officials would be enough to solve the problem. (The PGA Tour did not respond to a request for comment on the policy.)
For better or worse, the prevalence of handheld devices are here to stay, and with golf's initiative to reach new audiences, turning its back to this notion is fatal. Launches are never smooth sailing, and the tour will learn from last week's feedback. Golf will eventually reach symmetry with the matter, but don't be surprised if an incident or two pops up along the way.