The Loop
The ordeal that is Q school to begin its final chapter
It made it to middle age and caused a lot of gray hair in the process.
PGA Tour Qualifying School, 1965-2012.
The beginning of the end of a sports institution commences Tuesday morning with the first stage of qualifying school at six locations after pre-qualifiers last month. First stage will be conducted at 14 venues, followed by six second-stage qualifiers next month, with the 108-hole finals scheduled Nov. 28-Dec. 3 at PGA West, where the top 25 finishers and ties will earn 2013 PGA Tour privileges.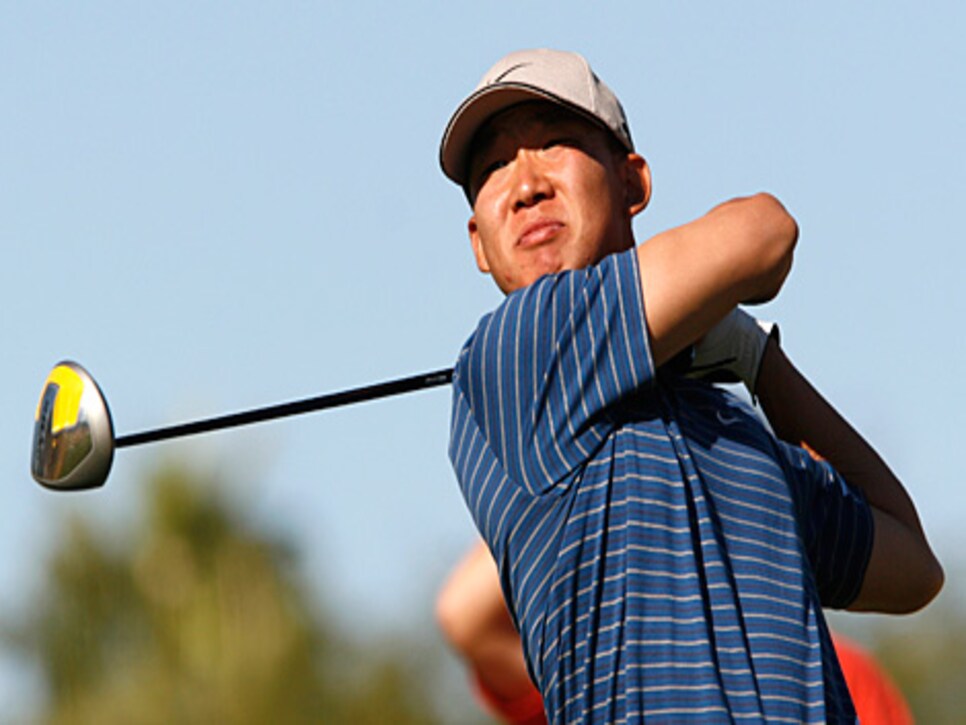 Anthony Kim is one of many to earn PGA Tour playing privileges through Q School.
Q school is out for good after this fall, its 47-year role as a gateway to the PGA Tour over. Starting in 2013, as part of a drastic makeover of the PGA Tour's competitive calendar -- the new season will start in October -- Q school will only award cards to the Web.com Tour.
Instead, a three-tournament series blending golfers who have done well on the Web.com Tour and not so well on the PGA Tour will take place. Fifty golfers will earn PGA Tour exemptions for 2014 through the series, the top 25 on the Web.com circuit guaranteed status as is currently the case, their pecking order up for grabs.
Q school, the place with the loudest silence in golf, where shots that mean so much are witnessed by so few, will drift into golf's closet of what-has-been.
While the closed-shop argument put forth when the demise of Q school was first percolating has merit (although golfers who have apprenticed on the Web.com Tour have historically done better on the PGA Tour), the only people who have ever loved Q school are those who have never played in one.
A golfer can become infamous at Q school but not famous. It is a pass-fail exam, and the failures have tended to get more attention than the successes. Most of the blunders that have become grisly lore happen late -- during the back nine on Monday of the finals -- but pressure builds, and games crack, in anonymity much earlier.
"Due to the sheer scale of the event, the stories that get passed around are of players who get through 99 or 100 holes in great position, then fall apart for keeps, scattering strokes all over the final homeward nine," David Gould writes in his richly-detailed 1999 book, Q School Confidential: Inside Golf's Cruelest Tournament. "Behind these easily spotted tragedies are the untold stories of players whose courage ran dry at an isolated moment, doing swift but permanent damage that the player alone can appreciate."
But plenty of golfers also show sporting bravery at Q school, coming through in the clutch despite sweaty palms and nervous stomachs to attain -- or, often, regain -- the chance to live out a dream.
Golf, especially Q school, is about keeping on and plugging away. No one showed more perseverance at Q school than Mac O'Grady who qualified 30 years ago on his 17th attempt despite shooting 79-76 in the opening two of his six rounds at the finals.
Donnie Hammond won that Q school at TPC Sawgrass and Sawgrass CC by a record 14 shots, but Q school is one tournament where winning really doesn't matter. A golfer just needs to be "inside the number." That fall those who got PGA Tour cards along with Hammond and O'Grady were Nick Price, Dan Forsman, Ken Green, Russ Cochran, Loren Roberts, Tom Lehman and Jeff Sluman.
Among the competitors in 2012's first stage are a Wadkins (Travis), a Tway (Kevin) and a Sindelar (Jamie).
There is also a Nicklaus.
That's Nicklaus Newcomb, a young Kentuckian in the field at Madison, Miss.
At Q school, it is about the game not the name, but a little karma never hurt.