The Loop
The next best thing to being Jordan Spieth on the quest for the Grand Slam is to be his instructor
It's not just Jordan Spieth whose profile is on the rise as he looks to continue his pursuit of the Grand Slam next week at the British Open. Joining him for the ride is his long-time instructor, Cameron McCormick.
In nurturing his prized student from blue-chip junior to collegiate sensation to breakout PGA Tour star, McCormick has seen his standing in the game expand beyond just being a go-to instructor in and around Dallas.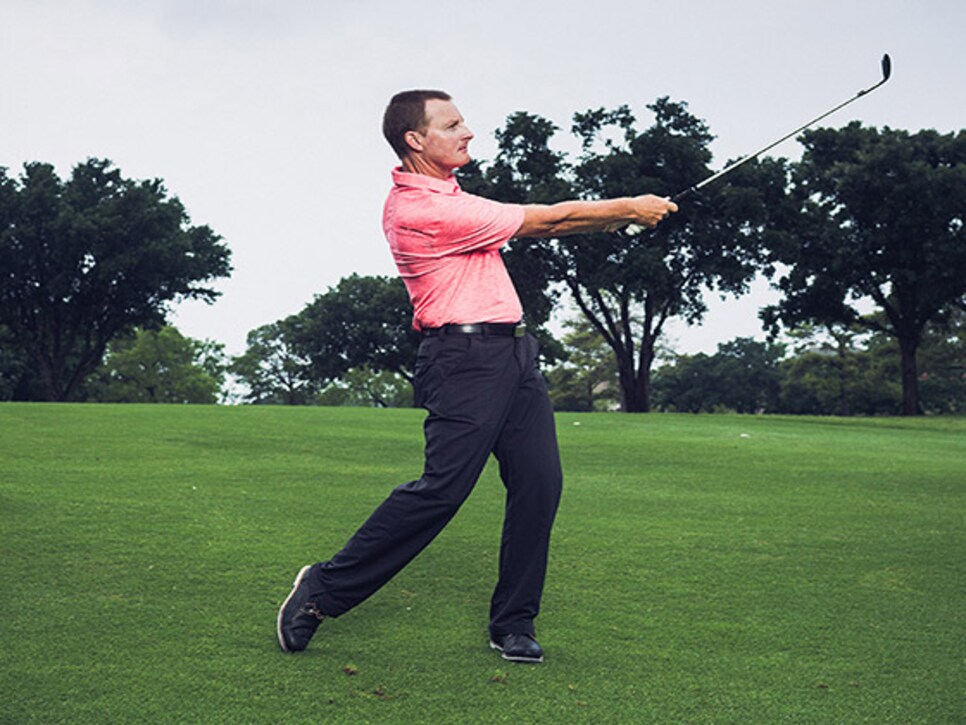 McCormick's reputation is likely to grow further upon recently accepting the job as Director of Instruction at Trinity Forest Golf Club, a new Bill Coore/Ben Crenshaw design in Dallas set to open in spring 2016. The PGA Tour has already tapped the facility to host the AT&T Byron Nelson once the course is completed and more fully matured.
"It's an amazing opportunity for many reasons," McCormick said. "A large part is all the people involved [with the facility], and the backing [it has] from the city of Dallas. There's almost a civic responsibility that feels important and special."
A native of Australia, McCormick is known among his peers for his science-based approach to instruction. He's part of a network of like-minded teachers that goes by the name the Proponent Group. "I'm a measure twice, cut once type of coach," jokes the 41-year-old.
Indeed, McCormick has integrated biomechanics, motor learning and psychology into his teaching, utilizing TrackMan and other technology to provide direction and feedback. It reflects an analytic way of thinking that arose early in his career.
McCormick played college golf in the U.S., ultimately attending Texas Tech and graduating in 1997 with aspirations of being a tour pro. He spent two years making a go of it, twice entering Q school in Australia before running out of money and changing directions.
Eventually McCormick returned to Texas, taking an assistant job at the Lakes at Castle Hills outside of Dallas, a club affiliated with an Arnold Palmer Academy. It was there that his teaching career began in earnest.
Appreciating that as a player he got too wrapped up in technique, emphasizing style over skill, he began to turn that equation around. "When you're looking at the best players in the world, generally they're not the players with the most perfect swing," McCormick says. The difference in better players is what McCormick calls "micro-level" skills, such as the ability to find the center of the clubface and find the appropriate swing path. In turn, McCormick tailors much of his instruction around skill performance and creating games that grow these skills.
McCormick moved on to Dallas Country Club, cultivating a following -- among the golfers he has taught is former President George W. Bush -- that carried over when he went to work at Brook Hollow Country Club in 2003 as a full-time teaching pro.
It was at Brook Hollow that McCormick connected with Spieth, then a 12-year-old who had never had a formal golf lesson and was still splitting between golf, baseball and other pursuits. McCormick's first lesson with Spieth was July 2005.
"I had a big loop in my swing, a very weak grip, misaligned, shoulders open and hit kind of push draws," Jordan told Golf World in 2013. "I went to Cam, and he asked me what my goals were. I said I want to be the best player in the world someday. He said, 'OK, then we're going to have to make some changes, and it's going to be difficult. It's probably going to take a little while and you may not play your best golf for a while.' "
"It was fascinating to see," McCormick recalled. "A kid of immense skill, you don't want to screw him up but, still, he was very one-dimensional. I'd only been teaching for five years at that point, and this was the most talented man I'd ever come across. Over time it's always been about softening the excessiveness of his tendencies while still enabling the athlete to produce the outcomes that he wants to produce."
It's a formula that allowed Spieth to succeed at every level, claiming two U.S. Junior Amateur titles, leading the University of Texas to an NCAA team title, and becoming a two-time major winner at just 21.
As Spieth has raised his game in 2015, McCormick says he's has had to do the same. "I have to stay ahead of the curve and be able to provide him the challenge that he's looking for," McCormick says.
Whatever the outcome next week at St. Andrews, McCormick is appreciative of the journey, knowing even getting this far in the chase for the Grand Slam is something few instructors have had the chance to experience.
"It's been exciting and inspiring," McCormick says.
And hopefully something that continues.