The Loop
The most intriguing player in the Canadian Open field this week is a cancer survivor and NHL referee who doubles as a top amateur golfer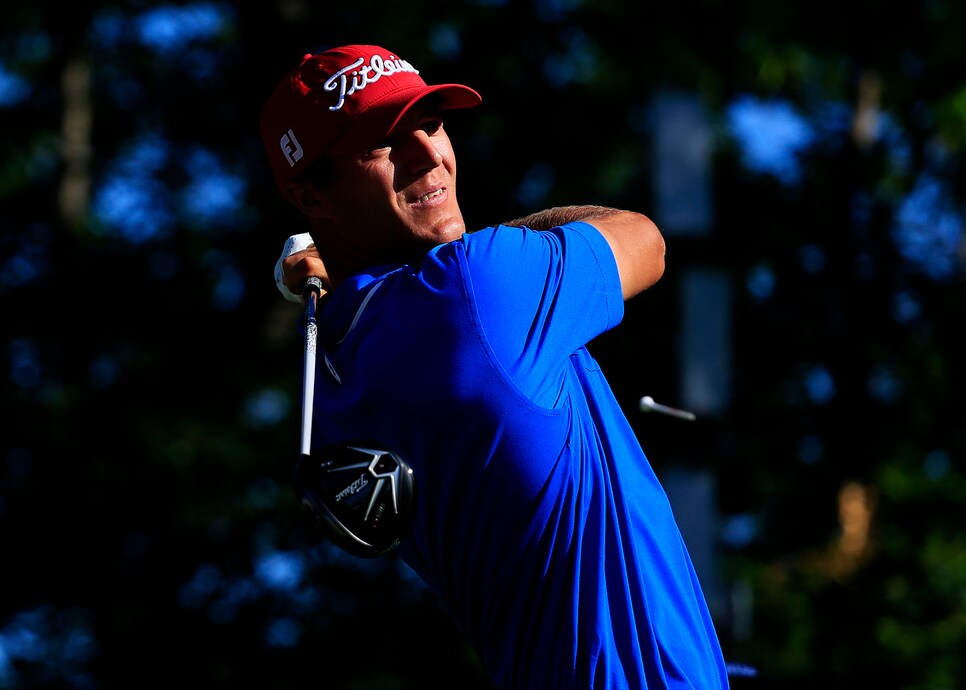 There are several big names in this week's RBC Canadian Open field, but Garrett Rank is one you probably haven't heard. The 28-year-old Ontario native, cancer survivor and NHL referee has been able to balance and pursue his passion and his profession with grace and determination. After winning the 2015 Canadian Mid-Amateur Championship for the second straight year, Rank earned an invitation to Glen Abbey Golf Club. His amateur record includes finishing second in the 2012 U.S. Mid-Amateur, making it to match play in the 2014 and 2015 U.S. Amateur and reaching the semifinals in this year's U.S. Amateur Four-Ball at Winged Foot.
To reach his country's biggest golf tournament speaks to Rank's persistence. After being diagnosed with testicular cancer during his collegiate golf and hockey careers, he continued to stay involved in both sports, going on to lead a double life: one on the course, the other on the rink as an NHL referee.
Hockey had always come before golf in Rank's world. At age 4, Rank stepped onto his family's backyard rink where he learned to skate. While Rank failed to qualify for his provincial golf championships, his junior hockey team made the Ontario finals three years in a row.
"Refereeing puts you in a high-stress situation, and you get yelled at a lot," Rank explains. "That intense, fast-paced environment has helped me to quickly regroup and move on when something goes wrong on the course."
Golf didn't come until Rank was 10, when he followed his older brother, to the local course. "My parents knew it was a safe place for for us to hang out and stay out of trouble," he said. "As a junior golfer, I was there from 8 to 8 every day."
Rank developed his golf game to the point where he earned a scholarship to attend the University of Waterloo. Still, he wasn't ready yet to hang up his skates, walking on to play for the school's team as well. Most people would be overwhelmed by the commitment that comes with playing two sports. Rank was just grateful that the golf and hockey seasons didn't overlap much.
In 2011, during his third year at Waterloo, Rank was diagnosed with testicular cancer. "As a young kid and athlete, I didn't think it was possible. But I took it in stride and had surgery on January 31," Rank said. "I had a six-week recovery period, so I stayed home to recover and tried to keep up with my school work."
Three months of rehab followed the surgery, and his first few years in remission were filled with doctors' appointments, tests and screenings. Now, Rank has an annual check-up to make sure things are going well. Rank describes these appointments as including "a lot of blood tests and scans, and I drink this sort of concoction that tastes pretty funky and lights up any cancer cells." He has been cancer-free since his surgery in 2011.
When Rank returned to school, he decided not to play hockey anymore. He had lost some strength from the cancer, and the risk of injury following his surgery was too great to ignore. Instead, he began refereeing for a local junior hockey league and focusing on golf. "Golf really started taking off for me at that point," Rank explains. In 2012 during his final year at Waterloo, Rank was runner-up in the U.S. Mid-Amateur and he won the Canadian University College Championship.
After graduating, Rank worked as a ref in the Ontario Hockey League for four years, and then for six months in the American League. He was hired by the NHL last summer. Being a part of two sports at such a high level is demanding, but reflects his time spent at Waterloo. What other competitive amateur golfers do full time, Rank squeezes in between his refereeing career.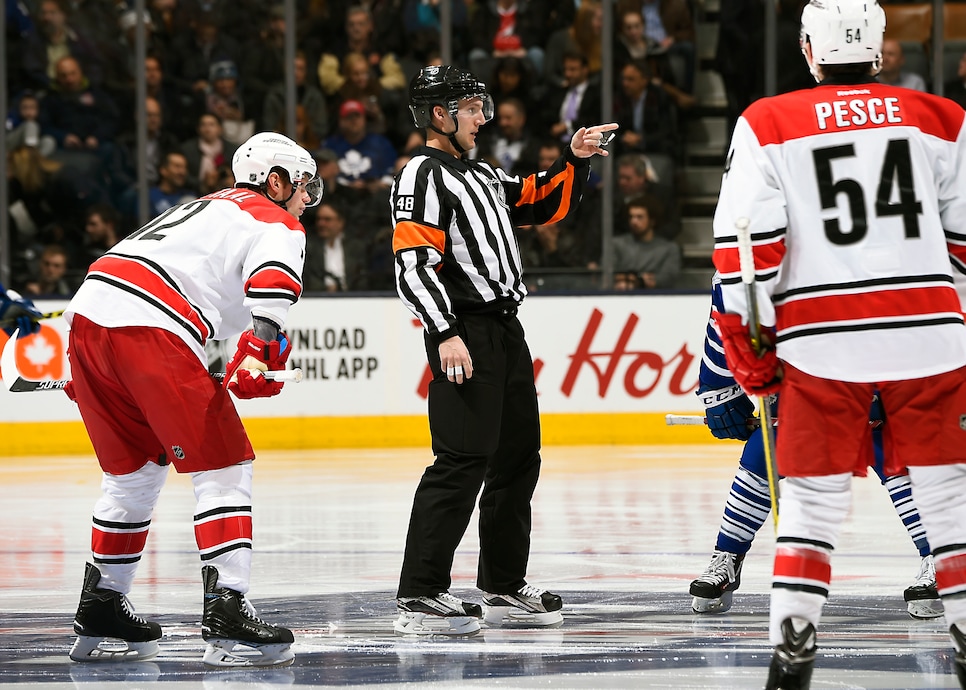 "The hockey season is September through June, and by that time the golf season is well underway," he says. Rank explains that refereeing is his No. 1 priority and job, although you'd never know it by watching him on the course. His tournament schedule depends on his hockey schedule, and he has missed the last two U.S. Mid-Amateurs for NHL training camp, which for officials involves strength and conditioning tests, rule sessions and team building.
Garrett's father was also a referee. A well-respected man in their community and on the rink, Rich never pressured his son to choose between golf and hockey. Two years ago, Garrett refereed the IIHF Championship in Canada. "My dad had been asking me all week if I had been chosen to ref the gold medal game, because that's the final game of the championship." Garrett was told his father had passed away suddenly from a heart attack a few hours before being asked to ref the gold medal game. It was a tough decision, but ultimately Rank decided to stay and ref the game in his father's honor. Rank also recalls his first NHL game in January of 2015: "It was definitely an emotional experience after having lost my father. I had family and friends there supporting me and to honor of my dad. It was really special."
Rank's involvement with hockey has generated a unique outlook on his golf game. "Refereeing puts you in a high-stress situation, and you get yelled at a lot," Rank explains. "That intense, fast-paced environment has helped me to quickly regroup and move on when something goes wrong on the course. Now, I only worry about the things I can control."
Eric Banks met Rank five years ago through the Canadian national team. Banks also had his life altered by medical issues after needing open heart surgery while playing college golf at the University of Florida. "Garrett has such great character on and off the golf course, and he has certainly been a role model for myself and many other young golfers," Banks said. "His outlook on life is incredible, something we can all learn from."
Rank is content playing amateur golf after entertaining the idea of turning pro a few years ago. "It just so happened that hockey worked out before golf did," he said, pleased with the way things have turned out. "Golf is a tough way to make a living. There's so many great players out there, and I'm in a good position in the NHL because I can still play golf competitively. Had I gone pro, I wouldn't be able to referee."
Right now, Rank is enjoying the best of both worlds.