FIRE PIT COLLECTIVE
When 54 holes is actually just right
Editor's Note: This article first appeared in Fire Pit Collective, a Golf Digest content partner.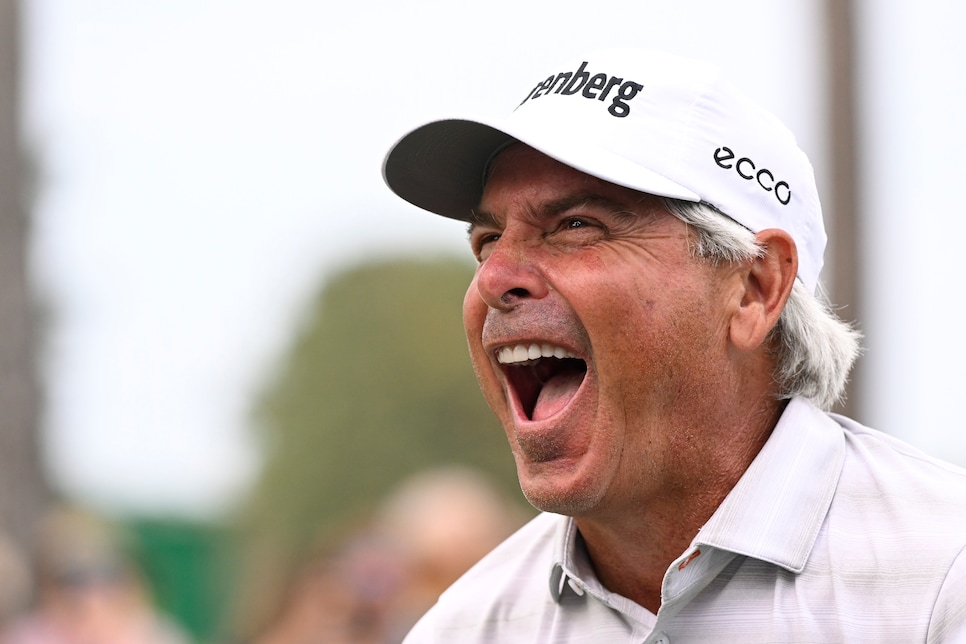 I have been coming down hard on LIV Golf for its itty-bitty fields and no cut, for its by-invitation-only selection process, for its funding source—and for needing only 54 holes to declare a winner. Forgive me: We are all creatures of what we know, what we grew up on, on the ideals we hold dear.
Some readers have noted that I don't seem to have a problem with the senior tour, which is a series of 54-hole events (for the most part) with smallish fields and no cut. Fair enough, but here's a huge difference:
The senior tour (I can't use its proper name) has Bernhard Langer, Fred Couples, Steve Stricker and Steve Alker, among others. They have earned their way onto that tour through 30-plus years of professional golf. They're not guaranteed anything. And, and this is the biggest thing: They have intertwined histories, entwined lives. They are part of the fabric of the professional game, all 80 or 90 or 144 of them. As a group of professionals, they didn't just spring up fully formed out of a desert one day.
Greg Norman said early on that LIV Golf can be "additive." It can be. Some of you I know will say it already is. To me it has been nothing but a disruption at a time when the world is in a perilous place, and one thing we don't need is some of our reliable institutions—the particular pleasures that professional golf brings—to be all shook up. But that's just me. It's not a free world but it is a free country, if you're an American reader. You have your own take and you can shout it out too. As the comedian Yakov Smirnoff used to say, "What a country." He grew up in Odessa, the great Ukrainian seaport, when it was still part of the Soviet Union.
Smirnoff used to have a young woman who was part of his act in Branson, Mo., named Kimberly Youngblood. Her job was to stand on the stage dressed as the Statue of Liberty and holding a torch. She met a spectacular golf vagabond named Jeff Julian when Jeff was playing in the Ozarks Open, a stop on the Buy.com Tour, in 2000. They married. ALS ended Jeff Julian's life four years later. Bruce Edwards, Tom Watson's caddie, died that same year. Two of the best guys you would ever want to meet. Watson has been hugely devoted to the ALS cause, as Kim could tell you and as Bruce's family could tell you. This paragraph is heavy with sorrow, but this paragraph also gives professional golf the texture that means so much to me and maybe to you.
I can't say I follow the PGA Tour Champions—OK, I did it, but not to appease anybody in Ponte Vedra Beach—like I follow the PGA Tour non-champions. At all. But I was tickled to see Fred Couples, newly 63, shoot a final-round 60 two weeks and win the senior event in North Carolina. Since then, Fred has been talking about how he had the swingweight all wrong on one club, that it was a D-6.5 when it should have been a D-2.5. I haven't heard anybody talk about swingweight in forever!
The senior tour has begun its three-event playoff. I know that because Steven Alker, the senior tour's leading money this year and winner of the first event in Richmond, Va., this past weekend, told me that. The next one is in Boca Raton, Fla., in early November, with the Charles Schwab Cup Championship in Phoenix to wrap it up.
The next LIV event is this week, at Trump Doral, its season-ending championship. I know that because I get LIV Golf PR emails sent to me. They are expertly done.
I will follow the senior-tour playoffs with casual interest. I really don't care what happens at Trump Doral. Somebody is going to make a big pot of money. They're all going to make a big pot of money. Maybe the Hy Flyers will go low. That's a four-man team consisting of Bernd Wiesberger, Matthew Wolff, Justin Harding and Phil Mickelson, your playing captain. If you google LIV GOLF TEAM ROSTERS as I just did, you can know all that and much, much more. Whether it's interesting is for you to decide.
Here's something I picked up from Alker, and this is interesting. Alker is from New Zealand. He's 51. He has been at this professional golf thing for a long time. In 2003, at the Torrey Pines tournament, he was in the penultimate group on Sunday. He was paired with Fred Couples and Carl Petterson. The day's last group had Brad Faxon, Phil Mickelson and Tiger Woods in it. Faxon said after the third round, "I think they'll be nervous, knowing they'll be playing with me."
That same week, Pat Perez, who had been on a pro-golf bender, said, "I'm tired as hell, with all the pro-ams and everything." He has gone LIV, as you may know. That was also when a new Phil quote was making the rounds. He was new to Titleist. Tiger was playing Nike. Mickelson said, "Tiger is the only player who is good enough to overcome the equipment he's stuck with."
Texture, texture, texture, texture, texture.
Tiger won. Surely because he was good enough to overcome the equipment he was stuck with. Also, nobody played red-ass golf like Tiger did. Phil went for a number. So did Alker. (A 76, for 17th.) So did Couples. (A 74, for T-13.) Petterson shot 69 and finished second.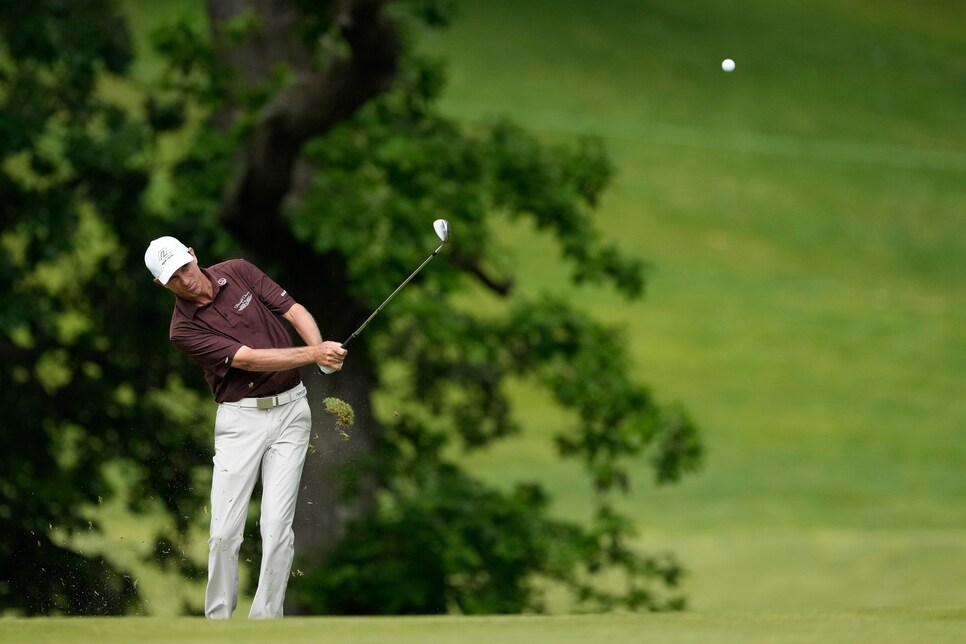 Steven Alker has four wins and 15 top-five finishes in 21 starts this season on the PGA Tour Champions.
Patrick McDermott
And there was Alker (above) last Sunday, playing one group in front of Fred, hearing every one of the dozen birdies he made en route to that 60. "I was playing with Scott McCarron and Rocco Mediate, and every time he made one we're like, 'Holy smokes.' I was playing for second," Alker said. And he did finish second. He was playing for a check, and there's nothing wrong with that. He Monday-qualified his way onto that tour. Got in an event, managed a top 10, which got him into the next week and off he went.
So now he has played with Couples on two tours. In an ever-so-small kind of way, they have a history. Alker has insight into what makes Fred Fred, and he has earned it: "You feel like he wants you to play well. He likes seeing golf played well. Of course he wants to beat you, but he still wants to see you make good shots." Is that everybody? Absolutely not. It's part of the richness of the game. I have a friend who has the same attitude as Fred. He knows I yip. He roots for me to make the little ones.
Alker has an English wife, a home in suburban Phoenix, two teenage children who will go to college, and money in the bank for the first time in his life. Over the past 25 years, he has probably had seven or more seasons where he spent more than he made. Professional golf. LIV Golf will mean millions for 48 players or so. But there are still 10,000 Steve Alkers chasing the dream, half-hating it and totally loving it. As a young pro trying to make it, he picked blackberries, pumped gas and cleaned carpets. I'm going to go out on a limb here: You don't begrudge him anything.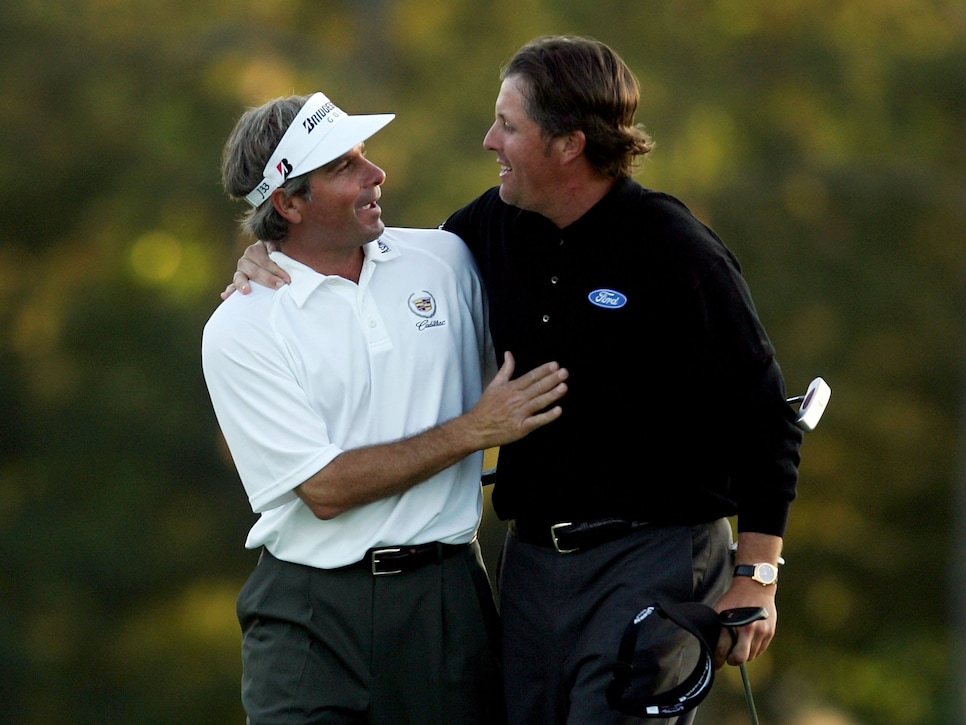 You follow golf. You of course know that Phil Mickelson won the PGA Championship at age 50. One of the great achievements in the history of professional golf. He did what he did, and suddenly you saw the name Julius Boros again, because he had held the record forever, as the oldest winner of a major — the 1968 PGA Championship at age 48.
Did you know that Mickelson has played in six senior events and won four of them? He was 21st on last year's money list, with $1.5 million. The guy right above him was Robert Karlsson, who played in 30 events. Couples was ahead of Karlsson, and he played in 20. You don't shoot 60 by accident, and you don't beat the field four times in six tries by accident.
Maybe Phil was bored. I don't know. Maybe the idea of succeeding Nick Faldo in the CBS broadcast booth didn't interest him. I don't know. Now he's making funny money. Whatever, it's up to him. I could write a thousand words on Phil and Fred and the times they've played together. I remember the 2006 Masters like it was yesterday. Fred and Phil were in the last group and Phil won and Fred came in and talked about the fun of the hunt and the two drivers Phil was carrying, one for draw shots and one for fades, and he was pissed but happy too. He had given it his best shot with the light pointed at him, but it wasn't enough. Makes my heart race just thinking about it.