The Loop
The Boston Marathon was weird even by marathon standards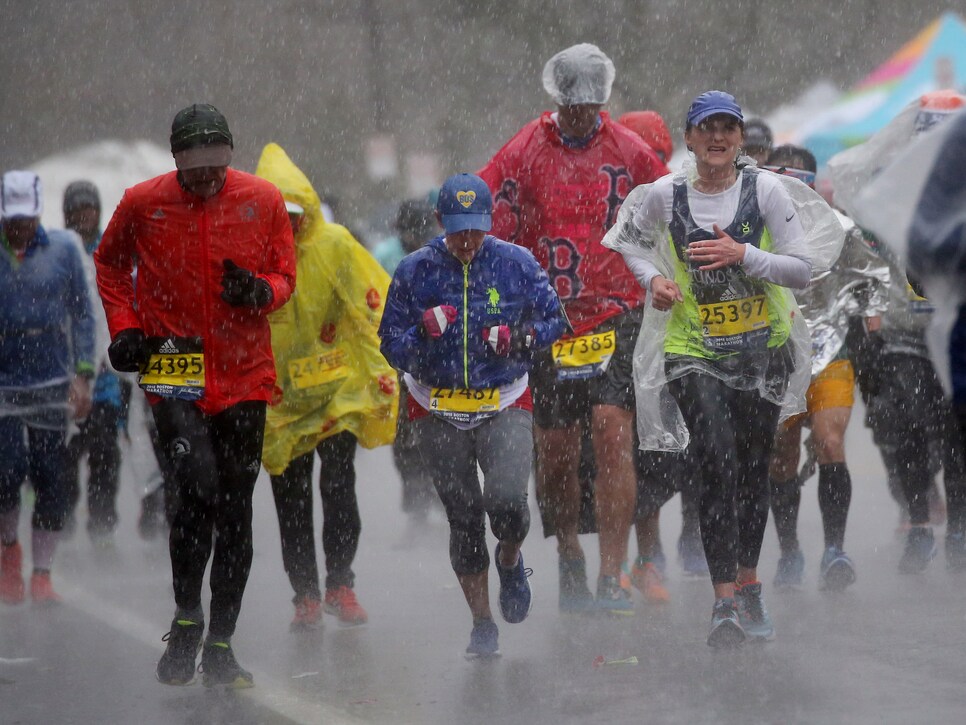 The Boston Marathon is an event in which many thousands of people elect to run 26 miles of hills to Boston, so it's already a little weird. But even by inhumanly strange standards, the 2018 edition provided an awful lot of bonus weird. Just a few of the things that happened on the Boston Marathon course/Ice Bowl/Rocky IV training circuit this weekend.
• First of all, America crushed. Sure, we're a nice country that's produced sweet soul music, pocket technology and Beyonce, but we're not usually this collectively good at running, which is why supportive marathon signs usually say something like "You Are All Kenyans To Us!" Yet at Boston we stormed: Desiree Linden became the first American woman to win in 33 years, finishing in 2:39.54, running the last six miles uncontested and eventually consuming, we are assuming, an oil barrel full of hot chocolate. She also provided the race's most hopelessly inspiring and soul-refilling moment, which we'll get to in a minute.
• Linden had some backup: Five American runners and one Canadian finished second to sixth in the women's race, and pretty much no one had heard of any of them. Their names: Sarah Sellers, Krista DuChene, Rachel Hyland, Jessica Chichester, and Nicole Dimercurio. Reportedly, the first question at the postgame press conference for Sellers and DuChene was, "Can you please introduce yourself?"
• While uniformly great, this all means Shalane Flanagan had an off day. If you're not an especially lively running fan you may know the 36-year-old Flanagan, the American woman who's the reigning New York City Marathon champion and basically the Usain Bolt of distance running. The cold got her, as did nature — about an hour into the race, Flanagan broke off for a deeply unusual port-a-potty break, stopping for 13.86 seconds which, yes, someone timed.
• And here's the part that'll make you remembers that humans are good at heart: Linden, the eventual winner, slowed with Flanagan, aiming to help push her back to the front of the pack. Here's what quality looks like:
• This brings us to the weather, which sucked. This is no surprise, since the weather sucks everywhere in America, because Earth killed spring, metaphorically. The Boston race unfolded in a richly diverse list of weather conditions that included wind, more wind, headwinds, backwinds, sidewinds, downwinds, rain, hard rain, snow rain, driving sleet, regular sleet, black ice probably, slush, ice puddles, polar bear infestation and AT-AT attack. Game time temperature was a balmy 37 degrees, the coldest Boston starting temp in more than three decades.
• This was hard on people. Elite runner Galen Rupp wore a mask. Flanagan's teeth were chattering so hard she bit her tongue. By 4:30 p.m., more than 2,500 runners had been treated by medical staff, mostly for symptoms of hypothermia. Here's second-place finisher Sellers finishing second in conditions that would compel many of us to watch nine hours of Lifetime under an Afghan. Please note she is wearing a tank top, because these people are not human.
• American Molly Huddle, a 33-year-old two-time Olympian, started as another favorite, but began experiencing hypothermia symptoms so bad that her vision went blurry. She's also having a root canal on Tuesday, in case you thought you were having a lousy week.
• The men's winner was 31-year-old Yuki Kawauchi, whom no one knew either. Runner's World put it this way: "His victory, running 2:15:58, isn't just a surprise. It's shocking." Kawauchi didn't even know he was winning until the last 100 meters, when he spotted the unbusted finisher's tape. He works an office job in a high school. But his win wasn't some Rudy story either: He's finished more than 70 marathons in under 2:20, and owns the world record for fastest half completed in a suit. While the conditions knocked around the other runners, Kawauchi was like, "Eh."
• Badass Meb Keflezighi retired from professional racing last year, but ran Boston anyway, pacing members of a charity group called Team MR8, founded to honor Martin Richard, who was killed in the Boston bombing.
• Aaaand finally Tatyana McFadden won her fifth Boston Marathon victory in a time of 2:04:39, mostly while pushing against headwinds of 20 or 30 mph, in case you had anything to complain about today.