The Loop
The Atlanta Braves are preparing to break your heart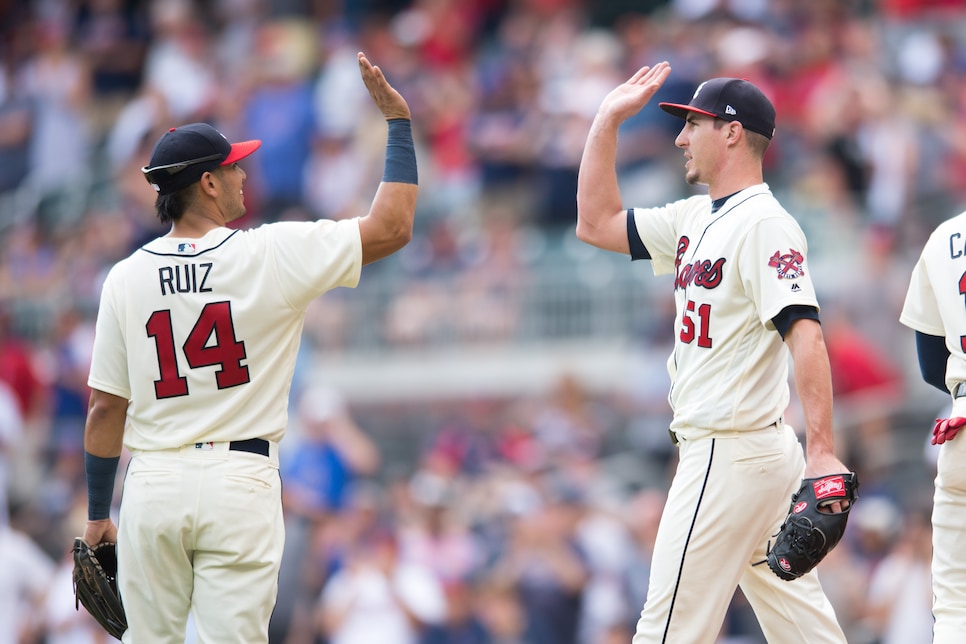 I like to think that I have a unique perspective on the Atlanta Braves franchise, and it started as a wee lad, when I went to a Braves game in Montreal and got autographs from Dale Murphy and Bobby Cox. I was a Braves fan for a while after that, but as a native New Yorker I came to my senses well before my tenth birthday, had a fling with the Darryl Strawberry Mets, and finally settled into my lifelong Yankee fandom. Then I went to college in North Carolina and later moved there for good, and insofar as this state has any affiliation—it's sort of a baseball Bermuda Triangle, at various times ambiguous or hostile—Carolina is Braves country. I can't escape them.
Over this Braves-adjacent lifetime, I have learned a simple lesson: This franchise is a breaker of hearts.
Yes, they won a World Series in 1995 and can't claim the same level of suffering as the Indians or Mariners or Rangers or pre-World Series Cubs or Red Sox, but even that title comes with an asterisk. For a team that good, for that long, with pitchers that amazing—we're talking Maddux-Glavine-Smoltz here—one World Series win is a actually a pretty significant underachievement. And I would argue that a team who is consistently excellent, and consistently makes the playoffs, is inherently more disappointing when they chronically fail on the biggest stage.
Between the years 1991 and 2013, the Braves made the playoffs in 17 different seasons. They won exactly one World Series. That's remarkable, and by remarkable I mean "overwhelmingly sad." In modern baseball, if you were just rolling a dice, you'd expect them to win three titles with that many chances. But it's worse than that, because for a few of those appearances, the Braves were the best by record in either the National League or all of baseball.
The only team to match their sustained regular season excellence over that period are the Yankees, who also made 17 playoff appearances in those years. In that span, the Yanks won five World Series titles, proving that I made the right choice as a child and saved myself a good degree of suffering.
But the Braves are unique in that they find new ways to make their fans suffer over the years. In the '90s, they made five World Series, losing four of them. (It's not the Buffalo Bills, but it's as close as you can get—they even lost one of them in extra innings in game seven.) From 2000-2005, sensing that their fans might have gotten used to championship losses, they took it a step further and went an astounding 1-6 in all playoff appearances, never making another World Series. And then, because they knew they had to heighten the pain, they disappeared from the playoffs until 2010, when they promptly made the postseason three out of four years and lost immediately each time.
Then they turned bad again, and now they're good again. So good that they've already clinched the NL East, and so good that I've seen renewed hope among the local population of Braves fans. Make no mistake: This is cruel. This is sadistic. It is so bad that the futility was already being written up in the New York Times in 2005, and then things got worse! Their bloggers seek solace from their readers by sharing emotional pain!
It was almost merciful when the Braves stumbled to a poor season. Now they're back, and hearts are ready to shatter.
Best Brothers of the Week: The Gurriels
The complexity of baseball means there is always something new and strange happening, and we got something pretty special on Friday night: For the first time ever, two brothers hit multiple home runs on the same day.
The honor belongs to Lourdes Gurriel Jr., who cranked out a pair of dingers for the Blue Jays, and Yuli Gurriel, who hit a pair for the Astros on the same night.
That's some good sibling work! But is it more impressive than all the times my two brothers and I crushed multiple beers on the same night?
Yes. Yes it is. Nice work, Brothers Gurriel.
Best Dominion of the Week: Old Dominion
I actually have no idea how this upset happened. We've seen big "little schools over big schools" wins in the past, but it's always pulled off by a team like James Madison or Appalachian State who are extremely good, but in a different division. A team like the Old Dominion Monarchs, who are FBS but very bad, should not beat the no. 13-ranked team in the country.
But that's exactly what happened. The 0-3 Monarchs—who were a 29-point underdog and who lost 52-10 to Liberty to start the season—topped no. 13 Virginia Tech 49-35, and it's probably the biggest upset by the numbers in modern college football history.
There's also kind of an odd parallel between this game and the astounding upset we saw a few months ago in March Madness, when UMBC became the first 16-seed to win an NCAA tournament game. In both cases, a prominent Virginia public school suffered a really embarrassing, practically historic loss to a mid-Atlantic opponent that shouldn't have been within a country mile of them. And in both cases, it was a fairly emphatic win—not even the flukey nailbiter you'd expect.
I don't know what to make of this, except to draw broad generalities and declare that all the people of Virginia are weak-minded chokers. That feels fair.
The "Well, That Didn't Age Well" Tweet of the Century: Virginia Tech Football
This is from 2016, and all I can say is "yikes."
Did I say yikes yet? Because, yikes.
PS, this is the ultimate "read all the replies" tweet. Great fun, even greater schadenfreude.
The "meaningless exhibition that turned into a blood feud" of the week: The Laver Cup
You probably didn't watch this, because you were either living your best life or watching football. You may not have even known that it was happening. You may not even know what the hell it is, so let me explain: The Laver Cup is tennis' attempt to have their own Ryder Cup, it started last year, and it pits Europe vs. the World.
Over the course of three days, the players went through incredible mood swings, supported each other courtside with a passion not seen anywhere else in the sport, and also got super, super mad at their opponents, to the point that two of them (Grigor Dimitrov and Jack Sock) had words with each other at the post-match handshake.
And look at the atmosphere in the United Center on Saturday night:
This event is a hard sell for anyone but hardcore tennis fans, but it's a terrific idea with terrific execution, and the first two installments have been saturated with drama. Team Europe has won both in nailbiters, and I'm already psyched for the 2019 installment in Switzerland.