News
The 2016 Open at Royal Troon: Best Duel Ever!
Henrik Stenson, Phil Mickelson and key outsiders take you behind the scenes of the riveting race for the claret jug.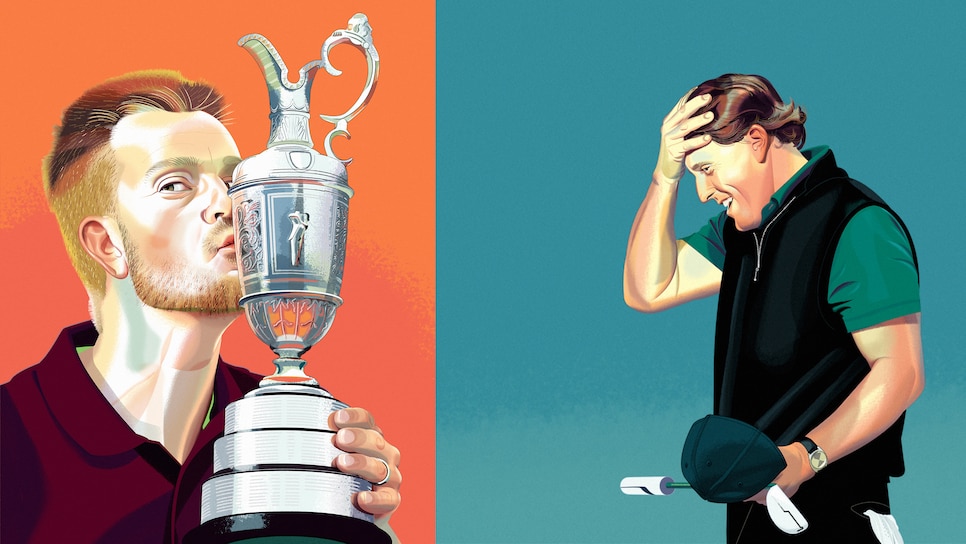 Photo By: Photos: Getty Images/Illustrations: Nigel Buchanan
Almost four decades after the celebrated Tom Watson-Jack Nicklaus Duel in the Sun at Turnberry, two players separated themselves in another classic showdown for the Open Championship. Phil Mickelson started at Royal Troon by tying the major-championship record with a 63—call it a 62½ after his putt for 62 lipped the cup—but Henrik Stenson closed with a 63 on Sunday to hold off Mickelson's bogey-free 65 in perhaps the finest head-to-head final-round matchup in the game's history.
"They scored better than we did," said Nicklaus, whose 65-66 finish in 1977 fell one short of Watson's 65-65. Added Watson: "They played better."
In the days, weeks and months after the events at Troon, Golf Digest interviewed Stenson, Mickelson, their caddies and 16 other key figures who were intimate witnesses to that memorable week and the build-up that started a month earlier.
HENRIK STENSON, who was paired with Mickelson in the first two rounds of the U.S. Open: On the third hole of the second round at Oakmont, we were waiting. Phil turned to me and said I had the game for the majors. Then he said he really hoped that I would win one.
PHIL MICKELSON: I said, "Listen, you're one of the best long-iron and middle-iron players in the game, which is what you have to do to win major championships." I said, "You're going to win your major championship. Just keep doing what you're doing."
HENRIK STENSON: My reply was, while that was all very well, it would be great as long as he wasn't on the receiving end of it.
After an opening 69 at Oakmont, Stenson was 10 over par for 16 holes in the second round before darkness halted play, and he withdrew.
HENRIK STENSON: I'd felt a pop in my right knee during a workout session in my room on the eve of the event. I tried to play, but it was hopeless, especially as I had to play nearly 36 holes on the Friday. I pulled out as a precautionary measure but played in the BMW International in Germany and won before I got to the Scottish Open. That was important. I had been close to winning a few times over the previous months.
GARETH LORD, STENSON'S CADDIE: Yeah, there were some odd ones in there. When Jordan Spieth beat us at the [2015] Tour Championship, he didn't hit the course for two days. It was absolute robbery. When Jordan made a huge putt on the 11th green in the last round, I looked over at Henrik. It looked like he had just been kidney-punched by Rocky Balboa. We had reached the stage where we expected the other guy to do something fluky. But we were past that by Troon. Nothing Phil did came as a surprise.
ANOTHER MEETING BEFORE TROON
PHIL MICKELSON, on playing with Stenson in the Scottish Open at Castle Stuart a week before the Open at Troon, both finishing T-13: The final round, I shot 66 in some terrible weather. Felt like I was ready.
JIM (BONES) MACKAY, Mickelson's caddie: We got the tough end of the weather the first two days at Castle Stuart. We got crushed on the tee times, and we played in like 35-mile-an-hour gusts on Thursday afternoon. That's the thing that's great about the British—and at times incredibly painful. When Rory won at Liverpool in 2014, we got crushed. We got crushed at St. Andrews in 2010.
GARETH LORD: [Justin Rose] is cursed at the Open. If you're within an hour of him in the draw, you have no chance. [Laughs.]
JIM MACKAY: The joke was going into the week, maybe the fact we got the bad tee times at the Scottish, we paid our penance: We got it last week. Please Lord, let it not get us this week. We didn't, and it was just a question of taking advantage. You know, Phil had obviously played at Troon before [2004] and had played extremely well. Missed that playoff by a shot, so he had good feelings about it.
PETE COWEN, STENSON'S SWING COACH: I had put a thick putter grip on a wedge for him when he won in Germany the month before, and I brought it with me to Scotland. He's so feel-oriented, and that grip helps him achieve the perfect movement on the backswing. Once he knows he's in position, he becomes so calm and confident. On the other hand, if he doesn't feel right, he tends to panic. And when he does that, he tries to correct things at impact. But by then, of course, it's too late. He and I are always fighting that. When he's not comfortable with something, we always go 'round in circles technically. We always finish up in the same place, but how well he does depends on how big the circle is. And the circle was very small that week. Having known him for 15 years, I know when to shut up, which is part of being a good coach, of course.
GARETH LORD: Tactically, Troon is pretty basic: Hit it there, then hit it into the middle of the green. If you go long, you've had it. That's it. But of course, it's all about execution.
HENRIK STENSON: We walked the course on the Monday afternoon. It was raining. Neither of us had ever seen the course before.
GARETH LORD: If we had gone out with the clubs, the course would have seemed unplayable and maybe affected Henrik's confidence.
HENRIK STENSON: I played only nine holes [the front] on Tuesday and nine more [the back] on Wednesday. That was it. But I had seen what I needed to see.
GARETH LORD: That's a lot less than we would normally do. But we had our plan. We have always worked on the premise that Henrik needs to feel strong at the weekend to win a major. Plus, if you don't have your game by Wednesday morning, you're not going to find it by that evening.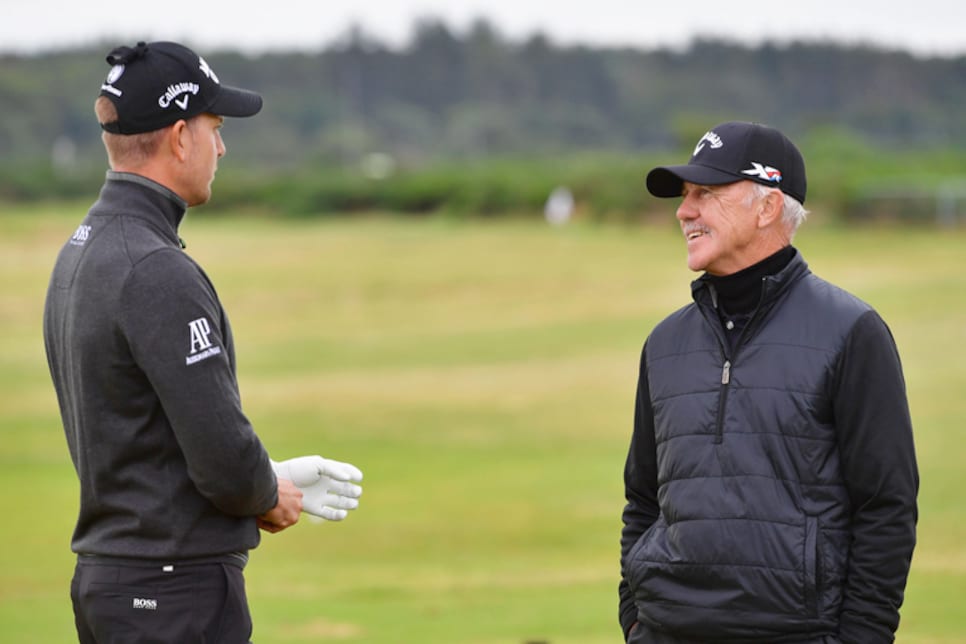 Photo by Stuart Franklin/Getty Images
TIM BARTER, SKY SPORTS: My impression of Henrik over the course of the whole week is that he was more focused than I have ever seen him. Henrik is a practical joker. Whenever we get him on the "Skypad" [basically a massive iPad], he wants to play with it. He wants to press the buttons. But he was less like that at Troon.
HENRIK STENSON: I was on a mission. I had lost a good friend earlier that week Mike Gerbich, whom Stenson had met while living in Dubai. Mike's son had put this on his dad's Facebook page: Go win this one for Mike. When I read that, I shed a few tears on the Tuesday night. He was my cause that week. Mentally, that helped. I never got stuck thinking about why I hit it left or why I had a bad break.
PETE COWEN: That was why Henrik was wearing the ribbon on his hat. It was there before the other one everyone wore to show respect for those who died that week in Nice [an attack in France that killed 86 and injured 434]. He had an inner calmness all week.
TIM BARTER Earlier in the week, he had talked about how he's 40 now and had maybe five years left of being able to compete in major championships.
PETE COWEN: By the Wednesday afternoon, I knew he was going to play well, because he was in a bunker that afternoon showing off. It was down to him and Lordy [Gareth Lord], really. I always say that to Lordy when Henrik is in a good place, "There's only you can cock it up from here." [Laughs.]
GARETH LORD: We caddies are not allowed to bet, of course, but I get asked all the time if it's worth investing in Henrik. In the lead-up to Troon, I was telling people even I couldn't put him off. That's all I'll say on that subject. [Laughs.]
PETE COWEN: Henrik is hard to predict. It depends which Henrik turns up. He has three ways to hit the ball: good, very good and perfect. And he doesn't like the first two. He thinks he can only win with perfect. Which is nonsense.
DAY 1: A TEAM MEETING AND A 62½
PHIL MICKELSON: Most of the low scores were on the outward nine, where it was downwind. But it was difficult for me because the wind was right to left—I always struggle with a really strong slice wind. On the second hole I made about a 25-, 30-foot putt, and that was big for me. I relaxed a little, didn't really force it thereafter.
GARETH LORD: Phil was maybe 90 minutes ahead of us. He was God knows how many under after 11 holes. I was looking at the board and shaking my head. We were something like six behind, and we'd played only five holes. So that eagle [by Stenson at the sixth] was important.
Mickelson birdies the par-5 16th and the par-3 17th and needs to birdie the par-4 18th to shoot a major-championship-record 62.
PHIL MICKELSON: After I steered the tee shot at 18 a little bit, I made a conscious effort to be aggressive. Cut the 6-iron back into that strong left-to-right wind, which I did. Gave myself a good look at it. After I hit it, Ernie [Els] said, "You know what that's for?" I said, "You're darn right I do."
JIM MACKAY: I'll tell you a funny story. I start walking, and Phil goes, "Whoa, whoa, whoa!" And he's like, "Team meeting." First time in 24 years he called a team meeting during a round. His opening line is, "Do you know what this putt is for?" And I went, "Yeah." He goes, "You know, historically speaking?" and I went, "Yeah, of course—62." He goes, "OK, I need your best read ever right here." I'm like, "Man, I'm on board." We're now walking toward the green, and I'm thinking, Well, this is going to kind of be like a guy throwing a no-hitter. No one's going to say anything going up to the green. You know, superstitions. Ernie is like, "Cousi [cousin], I want a 62." Ernie was all in. The whole way down, he's literally rubbing Phil's shoulders. He's pumping him up: "You can do it!"
PHIL MICKELSON: Special guy. We all knew walking up to the green that it was a chance to make history. It was fun to have that chance. We both had the same read, just a little bit outside the hole. It's just going to break a couple of inches to the left. Wasn't a hard putt, uphill right to left. I hit it good. Well, it was in the middle of the hole with four inches to go. There's no way that it could miss. But it did.
JIM MACKAY, who tumbled backward to the ground, feet up, after the putt missed: Steve Sands [Golf Channel announcer] called me over and said, "Let me play this back for you." They had this super-duper close-up of it hitting what appeared to be maybe a small pebble that had come out of a bunker.
LEE WESTWOOD, THE THIRD MEMBER OF MICKELSON'S GROUP: I said to him, "I'm not sure how that missed." I'm still not sure.
JIM MACKAY: As a caddie, we sit on the sides of the greens and watch our players putt. I've been doing it now for 27, 28 years. Because of the angles and your whole depth-perception thing, you can see a ball roll up to a hole from the side, you can see the speed, you can see the way it's breaking, and a foot or two from the hole you can say, That's absolutely in, and 99 times out of 100 it goes in. Phil was crushed. As he said, 63 in the first round of a major, and we left there just crestfallen.
HENRIK STENSON: I saw Phil's putt on television that night. I saw him the next morning when I walked past the putting green and gave him some shit. I finished up on 68 at the end of the first day. Phil was only five better. [Laughs.]
PHIL MICKELSON: Somebody will shoot 62 at some point, but on that course in those conditions . . . it was different than Phoenix [his putt for 59 that did a 180-degree lip-out at Scottsdale in 2013].
'Phil goes, "Whoa, whoa, whoa!" And he's like, "Team meeting." First time in 24 years he called a team meeting during a round.' —Caddie Jim Mackay
DAY 2: "THIS IS THE WEEK"
PETE COWEN: On Friday, before Henrik shot 65, he actually said to me, "This is the week." He just knew. So did I. And so did Lordy. I was trying not to get too excited. I had seen Henrik this good before, most recently at the Players Championship in May. Lordy and I were with him at the bottom end of the range there. We were the only ones there. He hit 100 shots and didn't miss one. In succession. Not one. I told Lordy I had never seen anything like that before from any player. He of course told all his pals to bet on Henrik. And he missed the bloody cut. I vowed then never to say anything again about how well he's hitting the ball. You never quite know for sure with Henrik.
JIM MACKAY: Phil shoots 69 the second day. Solid follow-up. Uneventful. It rained a lot. He had the two gloves going. He's got this great track record of playing in two gloves.
HENRIK STENSON: My goal when I started on Friday was to beat the bad weather we knew was coming, and to just get a bit closer to Phil, but it turned out to be a whole lot more than that [cutting the lead to one]. The weather got worse and worse, so we definitely got the right half of the draw. Anyone playing that afternoon had no chance to win, basically.
GARETH LORD: We were watching the golf on television that afternoon. The house was shaking. Butch Harmon [on Sky Sports] said: "I bet Stenson and Mickelson are back in their hotel rooms with their feet up and big smiles on their faces." And two minutes later, Phil had texted Butch to say, "Yes, I am."
HENRIK STENSON: We've all been there. I've been out there in a car wash thinking of guys back in their rooms with their feet up.
RICH BEEM, 2002 PGA CHAMPION AND SKY SPORTS ANNOUNCER: You can always tell when guys are going well. It's the way they carry themselves, the way they walk. Everything they did was in slow motion. I talked to Henrik before they went out. He was already in his zone. Phil was the way he always is in the limelight: He wants it and enjoys it.
HENRIK STENSON: On the fifth he putted close and said he would mark, but when it started to rain he decided to finish. I asked him if he was afraid of a little water. [Laughs.] We had a few of those friendly little moments out there. We both respect each other a lot, and there has always been a jokey, sarcastic atmosphere with us. He's a lot of fun.
JIM MACKAY: We got that amazing break on 12, where Phil blocked a 2-iron off the tee, and it took a bounce and hit in the gorse bush; bounced off it.
RICH BEEM: He looked dead. But he swung through the gorse, caught the ball cleanly and hit it just short of the green. No one except Phil would even have tried that shot.
JIM MACKAY: And we made 4 as opposed to 6 or 7. He made the fricking downhill 10-footer for par. Big fist pump. When Phil won the Masters in '04, his first major, he had played some great majors before, and things hadn't worked out. I remember Tiger saying in an interview, to win majors you've got to play really well, and you've got to get the breaks. On Friday of the '04 Masters, Phil pulled like a 5-iron on 13, and the ball rolled into [a tributary of] Rae's Creek. We walked up, and there was an island of grass about the size of a Frisbee right in the middle of Rae's Creek, and the ball was sitting in the middle of it in a perfect lie that you could hit driver off of, and Phil almost chipped it in for eagle. We said, "Hey, maybe this is our week." Making that par at Troon was a little like that. henrik stenson, on his birdie at the 17th, which gave him a one-stroke lead entering the final round: Walking off 18, Phil said, "Henrik, that was a pretty sporty birdie."
RICH BEEM: I asked my boss at Sky if I could go with them again the next day, but he was having none of that. I just knew how special it could be. And it was. I spent most of the round sneaking peeks.
DAY 4: DOWN TO A TWO-MAN DUEL
After rounds of 68-65-68 (12 under par), Stenson leads Mickelson by one (63-69-70) and third-place Bill Haas by six.
KEN BROWN, BBC COMMENTATOR AND FORMER RYDER CUP PLAYER: I was out on the course really early on the Sunday morning. At the time the wind was blowing around 30 miles per hour. It was really tough. Grant Moir of the R&A was out there. I asked him if the pin positions were going to be a little easier. He said they weren't quite sure what the wind was going to do, so yes, they were. If you look at the pin sheet for that day, I don't think there were any less than four yards from the edge of any green. Compared to most Opens, they were "easy." Which made perfect sense. Had the wind stayed as it was and the pins had been really tough, the players might still be out there. Then, of course, the wind died down, so the course played easier than it could have. None of which is meant to demean the way Stenson and Mickelson played. They were magnificent. No one else played the way they did that day. As a result, we had an Open that everyone was talking about. It was fantastic. So you have to wonder why they don't do that every year. Why do they deliberately set up the course so that it's less enjoyable for everybody?
PHIL MICKELSON: I had a nice warm-up and really started hitting it well. I knew it was going to be a good day. It kind of all clicked. It was just a rhythm thing. I was getting a little quick from the top, and I was quieting everything down going back.
JIM MACKAY: Phil and [instructor] Andrew Getson had figured something out, and from the first swing, he had it.
PETE COWEN: Twenty minutes before Henrik teed off, we were talking about technique, which was bizarre. But I know him so well; it was all just banter. The last thing I said to him was, "It's been a long journey. Just go out and do it." That was it. I walked him over the bridge from the practice ground. Then I went right and he went left. I jumped in my car and drove back to Yorkshire. I listened to it all on BBC Radio 5 live, which was annoying at times. The reception was a bit in and out.
TIM BARTER, SKY SPORTS: For the first time in my experience, when I asked [Stenson] for a pre-round interview, he said no as he was walking to the range. He very politely declined, saying, "Mind is on the job. I'm going to skip it today." He's normally very approachable and affable. That was interesting.
On the first hole, Mickelson makes a birdie and Stenson three-putts for a bogey, the swing giving Mickelson a one-shot lead.
DAVID FEHERTY, NBC/GOLF CHANNEL: "I think what happened there actually galvanized Henrik. Like he said, No. F--- no. Not this time. He turned into Clint Eastwood.
PETE COWEN: I shouted, "You silly prat!" at the radio when Henrik three-putted the first green. I was just happy he was out there with the [correct] number of clubs in his bag. I was coaching Woosie [Ian Woosnam] in 2001 when he got done for the extra club in the final round of the Open at Lytham. I was on the range with Woosie. His caddie, Myles [Byrne], was there, too, of course. I said to him, "What's the yardage at the first?" The shot was a draw with a 6-iron. So I told Woosie to hit a few of those. He hit them all perfectly. At which point I said, "That's my job done, and Woosie's, too. It's all down to you now, Myles." "Don't worry about me," he said. "I can do my job." But of course he didn't. [Laughs.]
JACK NICKLAUS: I happened to watch the first hole—I turned the TV on [at home in Florida]. I sat down and watched the whole thing, and I never do that. I usually try to watch some of the golf, the majors. But this was one occasion where I couldn't stop watching.
COLIN MONTGOMERIE It was amazing what was going on, from Phil's first shot into the first green to Henrik's three-putt. Then Henrik switched to another gear, and so did Phil.
JIM MACKAY: Phil's chip on 2, I don't know how it missed. Big lip-out. And he stiffed it on 3 but missed. Henrik poured them in the middle for birdies on 2, 3 and 4.
TIM BARTER, SKY SPORTS: It was like prizefighters exchanging blows.
JIM MACKAY: Phil had to make eagle on 4 just to keep up.
PHIL MICKELSON: I knocked that in, and we're back to square. That's when I knew it was a two-man race—we were both so far ahead, and nobody was doing anything in front of us.
HENRIK STENSON: Walking to the fifth tee, I said to Phil, "We've got a pretty good better-ball going on here."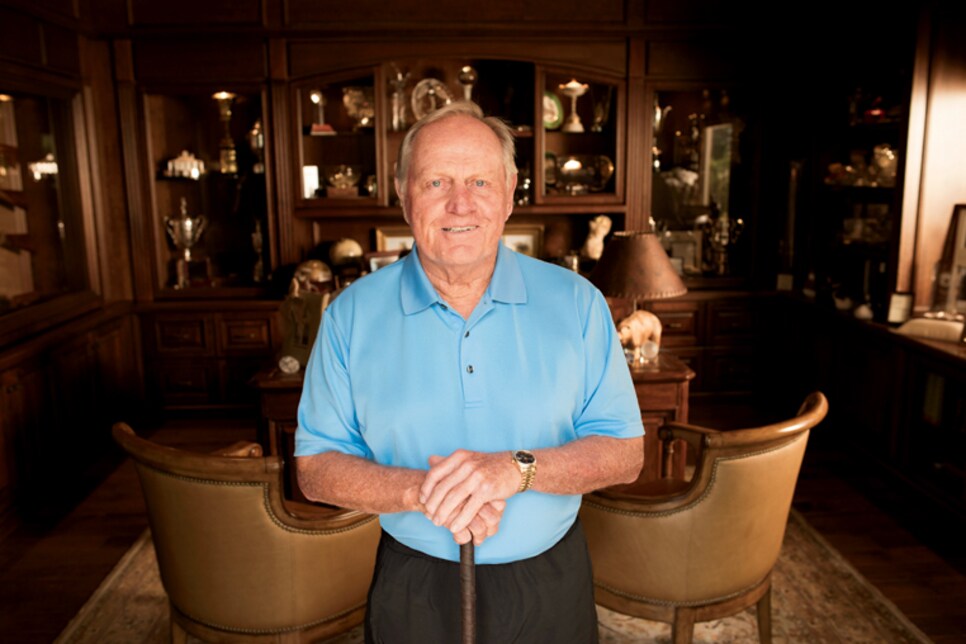 Both players birdied the par-5 sixth to get to 15 under par.
STEVE STRICKER: We were in the third-to-last group, and all J.B. [Holmes] and I were thinking was that we had no chance. You could hear the commotion. It was surreal going around the course knowing something like that was going on behind us and not seeing it. We were playing for third place, and that's a hard thing to do. Yeah, you're trying. You want to finish as high as you can, but at the same time you're getting beat by 100, so it's not a lot of fun.
JIM MACKAY: A funny note about Stricker: We played with him Sunday the month before at Memphis, and he and Phil tied for second. They're longtime friends. We're in the scoring tent, signing the cards, and this tour official comes in and says, "Mr. Stricker, it's my job to inform you that you are now exempt for the Open Championship." Strick says something like, "I'm not sure what I'm going to do." Phil's like, "You've got to go; are you kidding me? Go play in the Scottish." Strick enters the Scottish, they stay in a castle, and there's a cook and all this stuff, and they're hooting and hollering. Strick then goes to the British and gets the bad end of the draw but finishes fourth. So amazing playing, and he gets in the [2017] Masters.
TIM BARTER: On the seventh hole when Gareth Lord lit a cigarette, Henrik told his caddie to enjoy it because it was his last one. [In 2015, they had made a bet that if Stenson won a major, Lord would give up smoking.] That told Gareth the playful side of his boss was still there. But from then on, he was in the zone.
PHIL MICKELSON, ON STENSON MAKING A 20-FOOT BIRDIE PUTT ON THE 123-YARD EIGHTH, THE FAMED POSTAGE STAMP: That was a big turnaround. No. 8, he had struggled with throughout the week [par-par-bogey in the first three rounds], and I had played very effectively [birdie-birdie-par] in difficult conditions.
JIM MACKAY: Phil almost holed it on Friday.
PHIL MICKELSON: A little more sauce on it, and it would have gone right in. I just love that hole. Hit a good shot to about eight feet on Sunday. That was really my opportunity to pick up one or two because the potential for a catastrophe there is pretty great. If you try to get close to that hole and go down in the bunker, you're looking at 4 to 6 pretty quick. He hit a good shot, but it was still 25, 30 feet. And he ended up making that putt first. That put a lot of pressure on me to hit a good one. That was not my best putt there.
GARETH LORD: From three to six feet is not his favorite. Never has been.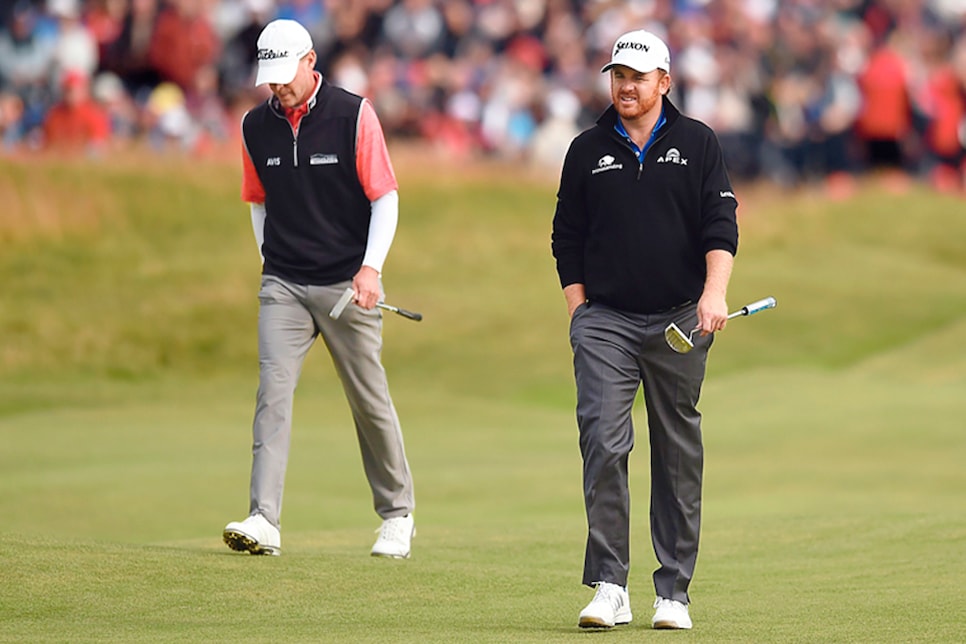 Both players went out in four-under-par 32, keeping Stenson's lead at one.
JIM FURYK: I remember exactly what I was thinking as it got to the back nine: I just didn't want someone to make a double bogey or bury it under the lip of a bunker. I wanted to see them throw down to the end.
ROGER MALTBIE, NBC/GOLF CHANNEL: As they made the turn, I already was getting lost in what was happening. I was thinking, This is pretty cool. There haven't been many days when I felt so privileged to have the vantage point that I had.
DAVID FEHERTY: I was thinking, Really? I get paid for this?
PHIL MICKELSON: I'm only one back, and we both birdied 10. I hit a really good shot there out of the rough to about 12 feet, and he was 25, 30 feet, and here again he knocks it in. I got determined on that one, ended up knocking it on top. And then he three-putted the next hole [the par-4 Railway Hole, which played more than half a stroke over par and was the most difficult hole for the week], and we were right back to even.
JIM MACKAY: On 12, they both par. Phil makes the 25-footer up the hill. Heck of a save [to remain tied for the lead].
WAYNE RILEY, SKY SPORTS ON-COURSE COMMENTATOR: I looked at Henrik. He had a wry little smile on his face, as if to say, This guy isn't going away, is he?
HENRIK STENSON: By this stage all we're saying to each other is "Good putt" or "Good shot." Stuff like that. There isn't a lot of chat otherwise. I never stop saying that, though. I'm not getting any negative vibes.
JIM MACKAY: Lordy, Stenson and Phil are a little bit ahead of me as I'm walking off 13 tee, and this guy from behind says, "Excuse me." It's the R&A rules official with the group. He says, "Please inform the players that they need to catch up with the group in front of them." And I said to him, "Sir, these guys are putting on a pretty good show right now. Why don't you just leave them alone?" I remember being shocked. These two obviously have separated themselves, and the place is going bananas. It would be unfair to say anything to anybody at this point. He asked me to say something, and I took a pass on it. What had gone on at the U.S. Open [the delay in making a ruling on Dustin Johnson], I just didn't think the timing was very good.
PHIL MICKELSON: The putt on 13, I might have had 35 feet, and it was perfect speed, but it didn't break. It ended up not going in, and it totally shocked me. That was my chance to go one up. We got to the par 3 [the 14th hole], and I just had a feeling he was going to make a 2, and he did [to take a one-stroke lead]. He hit a good shot in there to about 18 feet or so.
HENRIK STENSON: I wasn't sure I would get many more chances. I holed it, and the grandstand exploded. It was a bit like a Ryder Cup. He was getting more support early on Saturday, but it had balanced out by the end of the round. It was 50-50 on Sunday. He's very popular in Scotland [as the 2013 Open champion at Muirfield], and rightfully so. But he was still only one shot back. He wouldn't have been shaken up too much.
PHIL MICKELSON: It was a great 2, you know? Not the best feeling.
JIM MACKAY: Henrik hit his second shot at 15, it's kind of a bowl on the right. We weren't sure if his ball had hung up in the rough or if it had maybe kicked down toward the fringe and the green. We knew at best he was going to have whatever that was, 50, 60 feet. Then Phil hit a very good iron shot to whatever he did, 30 feet. The thing about Henrik was, he made all these putts at this point, and they had looked good the entire way. We had seen this now for 33 holes, 32 holes.
HENRIK STENSON: I had left one short there the day before. And the one on 11 was still fresh in my mind. During my practice stroke I was focused on hitting it freely. Even if it feels like too much, go with it. I gave it a good slap.
JIM MACKAY: It's rolling across the green, and I'm going, Damn, this looks really good, too.
GARETH LORD: Twelve feet away, I was convinced it was going in. I pulled the flag out at that point. And then came the only bit of emotion you'll see from me all day. I had the flag in my hands, and when the ball was about a foot away, I gestured, "Get in, you f-----!"
JIM MACKAY: It went in the hole at perfect speed [for a two-stroke lead]. Henrik doesn't show much emotion at all on a golf course. To his credit, he showed a lot when that putt went in, and he had every right to.
HENRIK STENSON: I was never going to feel bad about making that 50-footer. I had seen too many other guys do that to me over the previous 18 months or so.
ROGER MALTBIE: Are you kidding me? That was the blow. There was going to be some dramatic moment that was going to be the deciding factor. Would it be bad luck? Or a bad decision? It ended up being a great putt.
GARETH LORD: You don't hole putts like that and then don't win. Or do you? As Phil putted, we were standing by the side of the green. I looked at Henrik, and he said, "How do you calm down after that?" I told him he could start by breathing. He had almost turned blue.
PHIL MICKELSON: The putt at 15 was just shocking. For him to make that was just ... you couldn't expect that, even though you probably should.
JIM MACKAY: I've seen that happen twice before in Phil's career. The other two would be Payne Stewart on the 70th hole in the '99 U.S. Open for par [at Pinehurst], and Justin Rose on the 17th hole of the 2012 Ryder Cup [at Medinah] for a 2. You always expect your opponent to make it, but once in a while you're like, Holy cow, that was something. And then 16 was huge. A lot going on. Henrik plays first [on the second shot to the par 5], and for a guy who's striped everything, oh, my gosh, this isn't right at his target—it's in the left rough. Will he get a bad lie? Phil, now you've got to hit a shot. He hits this incredible 3-wood to 25 feet. Big roar from the gallery. Like, OK, is this where we get some big comeback?
PHIL MICKELSON: I'm looking to pick up at least one there.
WAYNE RILEY, SKY SPORTS: Henrik's ball was way off the ground [in the grass]. If he had put the club down behind the ball, it would have moved. So he had to address it with the club in mid-air.
JIM MACKAY: He had to pitch it over the bunker, and it had to run out 30 feet or so. It lands over the bunker and rolls out.
HENRIK STENSON: Because of the lie, it came out hot, maybe five feet past.
PHIL MICKELSON: Now I'm thinking, Gosh, I can still have a two-shot swing, but I need to at least make this to make sure I've got one.
HENRIK STENSON: I expect him to make every putt—you have to.
GARETH LORD: The ball actually bobbled a little maybe six feet from the hole.
JIM MACKAY: Phil didn't hit a better putt all week. Much like the putt at 18 on Thursday, a foot to go, I'm like, This can't miss.
PHIL MICKELSON: If I had a little more pace on it, it would have gone in. Instead, it kind of dove off at the end.
HENRIK STENSON, ON HIS FIVE-FOOTER FOR A BIRDIE AND A TWO-STROKE LEAD: It was tricky but not super-hard.
PHIL MICKELSON: He knocked his in, and that was demoralizing, but a lot happens on those last two holes.
GEOFF SHACKELFORD, GOLF DIGEST CONTRIBUTING EDITOR: Stenson arrived at the 17th tee, then walked toward the New York Post's Mark Cannizzaro and me, standing against the large scoreboard. "Shield me," Stenson said, and I'm thinking, What's wrong? Then he took off his undershirt and said as dryly as possible, "I'm a little hot."
HENRIK STENSON: Someone asked me later if I did that to look good in the pictures later. But I was like, "No!"
KEN BROWN, BBC COMMENTATOR: The pin at 17 was seven yards from the drop-off on the left side of the green. So if you missed on that side, getting up and down was very possible. Not easy, but possible. The players were all less-frightened of missing there, so they could be more aggressive.
GARETH LORD: We had a spot we played for on that green all week. We didn't really care where the flag was.
HENRIK STENSON: And the numbers worked out beautifully. The pin was almost right on our spot. It was just a flat-out 4-iron, which is exactly what I wanted at that stage. As soon as I looked up, the ball was arrowed straight at the pin. I don't think I even watched it finish. I just walked to the bag and handed Gareth the club. In the circumstances, that was one of the best shots of my life.
WAYNE RILEY, SKY SPORTS: The impact made a noise like a firecracker. It just went off: Pow! I thought, Holy shit!
DAVID FEHERTY: Henrik is like a piece of steel cable on a suspension bridge. He can hold his golf bag out at arm's length for like 30 seconds. Try that. It's ridiculous.
PHIL MICKELSON: This ball in that thick, heavy air never left the pin.
GARETH LORD: I thought he was even closer than the six feet it ended up from the flag. The shot was too good to be that far away.
HENRIK STENSON: The ball actually took a shit bounce when it landed. Given how pure I hit it and how high it was coming in, it should have stopped stone dead.
PHIL MICKELSON: The only way to pick up one is to make a 2 on a brutal hole. [Mickelson's tee shot missed left, and he chipped to about 15 feet.]
GARETH LORD: I was just grateful the bugger didn't chip in. He could have.
JIM MACKAY: It's the kind of putt that Phil makes, you know what I mean? If he doesn't make it, it's pretty much over because Henrik's inside of us for 2. And Phil makes it. Awesome.
PHIL MICKELSON: Well, I needed to make that to have a prayer, because you just don't know what will happen. That prayer almost happened.
HENRIK STENSON: It was a long time for me to wait between my tee shot and my putt. That didn't help. My mind was wandering and calculating. I tried to dead-weight my putt. I hit a good one. But it was under-paced for the line it was on. The last thing I wanted was a two-footer coming back. Two putts were fine.
GARETH LORD: If we'd been offered a two-shot lead on the 72nd tee at the start of the week, we would have taken it.
COLIN MONTGOMERIE: The only birdie Henrik Stenson missed was the easiest putt, on 17, or he'd have birdied the last five holes on the strongest back nine that we have in golf. Amazing.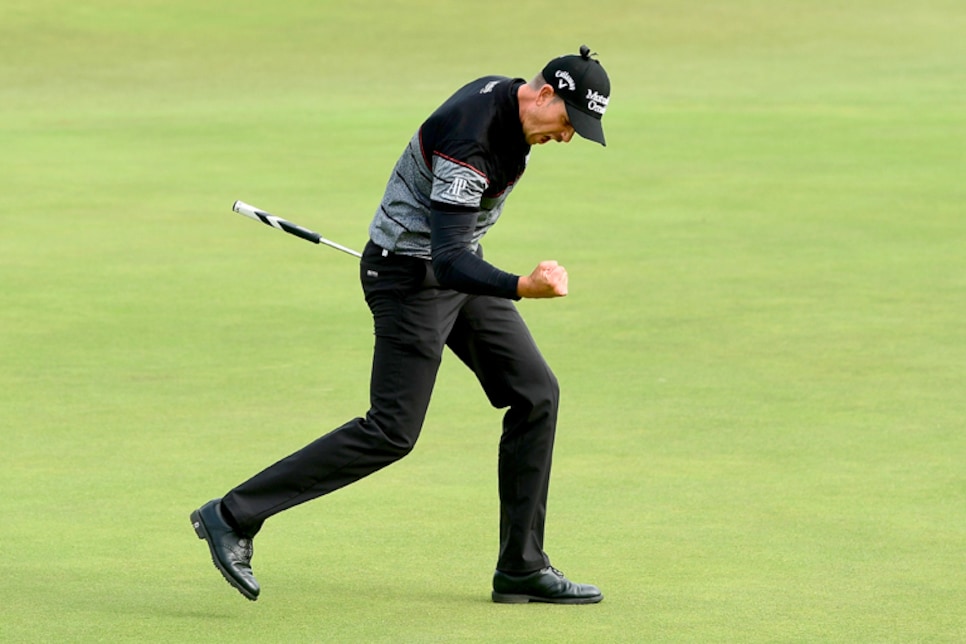 Photo by David Cannon/R&A/R&A via Getty Images
'I looked at Henrik, and he said, "How do you calm down after that?" [The birdie putt at the 15th hole.] I told him he could start by breathing. He had almost turned blue.' —Caddie Gareth Lord
AVOIDING DISASTER AT THE 18TH
PETE COWEN: I got home just as Henrik was on the 18th tee.
HENRIK STENSON: On the way to the tee, I stopped in the toilet. On the tee we talked about what to hit. [Lord says a fairway bunker to the right was 317 yards away; Mackay estimates the distance at 304.] The thought I had was that I had to assume Phil would make birdie, so I had to make par. If I hit a 2-iron, I'd have maybe a 6-iron to the green. And it wasn't the widest target. So doing that brought 5 [bogey] into play. That was why I went with the 3-wood. I just wanted to be closer to the green. And if I hit it up the middle, great. But if I did leak it a little to the right, it would never reach the bunker.
GARETH LORD: That's not quite what we said. Up the middle is fine. If he mis-hits it to the right, it won't reach the sand. But if he hits a rocket straight at middle wicket, it has a chance of finding the bunker. That we knew. But we also knew that there was plenty of room way right, and he would get a drop into the semi-rough because of the grandstands. That would leave only an 8-iron to the green.
HENRIK STENSON: Plus, the left-hand bunkers are in play no matter what club I hit.
PHIL MICKELSON: You can always have a two-shot swing on the last. When he hit a 3-wood and it came whistling straight off the face right at the bunker, there was a good chance it was going to go in.
GARETH LORD: As soon as he hit it, I'm saying, "Get down!"
HENRIK STENSON: With the adrenaline, it came off like a rocket.
JIM MACKAY: The wind was left to right, a little bit of help, and Stenson on his worst day is one of the five best ball-strikers in the world, and the sound this 3-wood made, it was like it came out of a gun. I'm like, This is nuked! It was just a question of, would it get to the bunker? Another funny story: A group of guys who had finished were all getting on a plane to go to Sergio's outing in Switzerland, and they're taxiing down the runway. There's a TV on the plane, and when Stenson hits the 3-wood off 18 and the ball's rolling toward that Greg Norman bunker [from which Norman made an X in the 1989 Open playoff], the TV cut out as the ball was rolling, and they're like, Aaaggghhh!
PHIL MICKELSON: If he goes in, now he's got to wedge out, and I've got a chance with a birdie to tie him.
HENRIK STENSON: I saw the ball disappear over a little ridge, but I couldn't see it finish. I did think it was in the bunker.
GARETH LORD: Twenty yards off the tee, we could see the ball.
HENRIK STENSON: A little white egg just short of the bunker. That made me quite happy.
GARETH LORD: The ball was about 18 inches short of the sand, but he had a perfect stance.
DAVID FEHERTY: People standing around me were saying he got lucky. No he didn't! He hit a fantastic shot that would have been unlucky to go in the bunker. The quality of the shots he hit—I never thought in my lifetime that I would watch someone hit the quality of shots that Tiger Woods could hit, with the amazing penetration and accuracy. The game has changed so much since I quit playing—probably because I quit playing.
PHIL MICKELSON: Henrik's second into 18 is not that hard of a shot, so he most likely will make par, but you still never know.
HENRIK STENSON: Phil hit a little carvey tee shot to the right, short of mine. I think he hit maybe a 7-iron to the green. So if I had hit a 2-iron I would have been even farther back than he was. And because he mis-hit his tee shot, that reduced his chance of making birdie. He was so far back.
PHIL MICKELSON: I wanted to hit a hook, and I wanted to hit one harder, and I took a little bit less club. It just wasn't quite enough, and I left it 40 feet short.
GARETH LORD: Henrik had a perfect yardage for a wedge. I was like, "Go on, my son: Hit it on the left edge of that clubhouse, and job done."
HENRIK STENSON: I hit the wedge shot as hard as I wanted to maybe 25 feet. It was perfect.
GARETH LORD: It isn't quite done, though. If Phil holes for 3, Henrik still has to two-putt. And the putt had six feet of break in it.
HENRIK STENSON: But because the putt was a slinger with a potential tail on it, I wasn't thinking I had won just yet. Chances were, in fact, had Phil holed for 3, I would have had a three-footer to win. So when he left his a foot short—right on line—I knew it was over. Then I can take it for granted. My putt almost went in sideways on the break [for a three-stroke victory]. Lordy came over and gave me a little hug. Actually, it was quite a big hug, the biggest hug he's ever given me. [Laughs.]
WAYNE RILEY: I was out on the 18th green the next morning, doing a piece for Sky Sports News. On camera, I holed the putt Henrik made to win the Open—on my 22nd attempt. The next time I saw Henrik I told him I needed 22 goes to make it and couldn't believe how much the ball broke at the hole. His response was priceless: "Couldn't you see that?"
JIM MACKAY: Henrik is such an easy guy to root for, A, because he's such a good guy, and B, because we all know what he's been through, the peaks and valleys. It's a tough game, and he's fought back from a couple of whatevers [including swing yips and losing millions in a Ponzi scheme]. You're out there in this moment where this guy's having the greatest professional moment of his life. It was fun to watch them hug it out.
DAVID FEHERTY: Gareth is not a guy who is going to agree with Henrik just because he thinks he should. Two of the most complicated relationships that I've seen on the golf course in a long time: Bones and Phil, and Gareth and Henrik.
CONGRATS FROM OAKMONT PROPHET
HENRIK STENSON: Phil said something like, "Really well played; really well done. I'm happy for you." I think I said, "Well done to you, too, and remember the conversation we had?"
PHIL MICKELSON: At Oakmont, I'd told him he had the game to win a major. I'd said, "I hope it's not at my expense," and a month later it was at my expense. It's almost like when I said it, I kind of knew I had made a mistake. We laughed about it as we were walking to the scorer's tent.
HENRIK STENSON: We were sitting there checking our cards. There was a screen behind us. Phil looked at it and turned to me and said, "Ten birdies? Really? F--- off!" But he did it with a big smile.
PHIL MICKELSON: We've had a relationship that goes back well over a decade of bantering and smack-talking and playing pranks and so forth. He's a funny guy with a very dry sense of humor. Very easy guy to like.
PETE COWEN: My wife calls Henrik my "third son." She told me we both deserved it because we had put up with each other for so long. It's funny what you think at times like that. My mind went to what people say after climbing Everest: "The journey is better than the arrival." I was delighted, of course, and I was proud of him. But emotional? No. I don't know what emotion is. Plus, to be fair, when you look at how Henrik putted, you have to give credit to Phil Kenyon, his putting coach.
HENRIK STENSON: Göran Zachrisson [of Swedish television] did an interview with me in the clubhouse. I invited him back to the IMG house. He's been going to the Open for 50 years and has covered 200 majors, and he had never seen a Swede win. He was very emotional. Toward the end of the broadcast, he couldn't speak.
GÖRAN ZACHRISSON: He came to me with the jug full of champagne he had poured in there. Then he poured it into me. We had three million people watching in Sweden, and there are only 10 million in the whole country.
PETE COWEN: Henrik rang me that night. I was in a restaurant with my family. We didn't say much. I asked him if he could believe it. He said he couldn't. He wasn't emotional, either! I don't think it had sunk in yet. So I texted him the next day and asked him again: Can you believe it? All I got back was a picture of the claret jug sitting on a table. No words. None were necessary. Actually, I did get a bit emotional. I was staying in a house at Troon with some of the caddies. The tradition is that if anyone wins a major, they have to pay for the accommodation. It cost me £3,500.
HENRIK STENSON: When I put my U.S. phone back on at midnight, the text message starting stacking up. The phone beeped for ages. I tried to use my Swedish phone to take a video of the American one. It was almost spinning.
GARETH LORD: Everyone says the back nine is the toughest, which it is. But Henrik was one under on the first day, three under on Day 2, then two under on Saturday and four under the last day. That's 10 under.
HENRIK STENSON: Ten under on both nines—I did not realize that until now. But that is what won the championship, playing the back nine better than anyone else.
TIM BARTER: Phil had just played the best round of golf anyone ever has to lose a major.
PAUL CASEY: Phil was the unlucky guy who shoots 65 and loses. I loved that they went so low. I'm tired of this "protecting courses" attitude some events have. If a top player is playing well, he should be able to shoot a low score. If not, they've screwed with the setup.
COLIN MONTGOMERIE: They said the scoring was low. No, it wasn't. Six under was third. It just so happened that two guys went mad, and they drew the best out in each other.
PHIL MICKELSON: It was the first time in my career I had played to this level, to the level of my expectations, and it was not enough to win. I had played to this level before, and every time I'd won. I'd never not won.
JIM MACKAY: Had Phil not ever won an Open, I'd be a mess. I'd be in a straightjacket.
PHIL MICKELSON: The only thing that really eases it for me is I do have a claret jug [when he birdied four of the last six holes at Muirfield to beat Stenson by three strokes].
STEVE STRICKER: It's crazy to think about how many of those Phil would have won any other year, something like 140 of them. Crazy.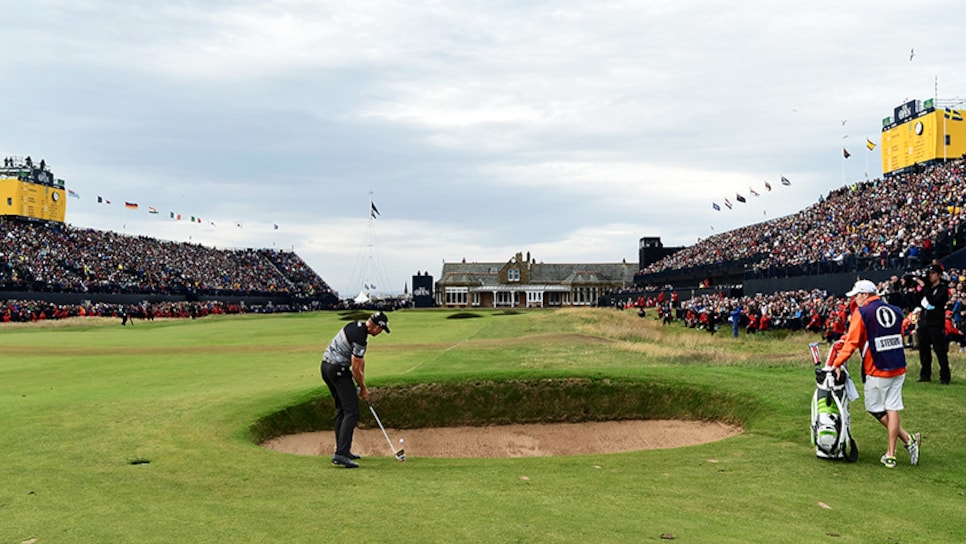 Photo by David Cannon/R&A/R&A via Getty Images
'The sound this 3-wood made, it was like it came out of a gun. I'm like, This is nuked! ... It was just a question of, would it get to the bunker?' —Jim Mackay, on Stenson's final tee shot, which finished 18 inches from the sand
COMPARISONS TO THE DUEL IN THE SUN
COLIN MONTGOMERIE: All great events are competitive events, and that was what we had in 1977 at Turnberry with the famous Duel in the Sun with Watson-Nicklaus, which, all credit to Jack Nicklaus for making it such an event as it was. And without Phil Mickelson, Royal Troon's Open wouldn't have been memorable because Henrik Stenson would have won by—what was he, 14 shots ahead of third place? Incredible. Wow.
JACK NICKLAUS: On the last round that Tom and I played, it was 65, 66. And they were 63, 65. And a par 71, and we were a par 70. So they scored better. Did that mean they played better? I don't know. When Watson and I did it, we were the 1 and 2 players in the game. Those guys sure put on one heck of a show. I thought it was one of the great events that I really had the pleasure to watch.
TOM WATSON: What happened at Troon was better simply because they played better. They shot lower scores. But I do think ours had more drama. Henrik sort of pulled away there toward the end. Jack and I were right there together all the way to the last hole, and the putt he made at 18 [from 35 feet], you always expect him to do things like that. And he forced me to make my putt [from two feet for the win]. We were locked up right to the last shot.
HENRIK STENSON: I got a wonderful letter from Jack Nicklaus. Arnold Palmer got in touch, too.
PHIL MICKELSON: I watched that [Turnberry]. I was so little, though—I was only 7. But I remember watching it and watching the replays. I remember Hubert Green's line—he finished third [11 shots behind Watson]—and he said, "I won this golf tournament. I don't know what game those other two guys were playing." Pretty funny, because it feels that way.
JIM FURYK: I didn't see the Duel in the Sun, but I've seen highlights. Hard to believe that could have been better than what Phil and Henrik did. But as great as Phil and Henrik are, how can you beat a Nicklaus-Watson showdown? It's two of the greatest players of all time going at it compared to two great players. No offense, but two of the all-time greats going toe-to-toe at Turnberry . . . that, to me, is just hard to beat.
DAVID FEHERTY: I had been a pro for a year [in 1977]. Two iconic players, Watson and Nicklaus, going at it. This was right up there with it. Phil Mickelson is certainly an iconic player. Then there's Henrik, who is a late bloomer, and in some ways a lot like Mickelson was for a long time until he won his first at the 2004 Masters. The standard of golf between those two guys, you won't see that again for a long time, I think. I mean, it took nearly 40 years, right?
JIM MACKAY: I'm five years older than Phil. Absolutely remember [1977]. And I'd be lying if I didn't say that it was in my head a little bit as we played the back nine. How could it not be, when you realize the separation and the whole mano-a-mano thing, the Watson-Nicklaus thing? When Phil won Deutsche Bank in 2007, we played on Sunday with Tiger. It was to a large degree Phil and Tiger coming down the stretch, and we were on 17 tee waiting for the group in front of us. Tiger and Steve [Williams] basically said out loud to Phil and me, "This is what it's all about. This is fun."
COLIN MONTGOMERIE: Being from Troon—that's my home course; I'm a member of the place and everything; my dad is the president there—it's put Troon on the map, if it wasn't already. We'll talk about that Open for a long, long time.
TOM WATSON: I was in a car [in London] for two and a half hours listening to it on Sky Radio. It was one of the great events in history. You rarely get the opportunity or the pleasure to be able to see an event like that—and it happened at the Open.
GARETH LORD: People keep saying to me that it was the best golf they have ever seen. I think they might be right.
'At Oakmont, I'd told him he had the game to win a major. I'd said, "I hope it's not at my expense," and a month later, it was at my expense.' —Phil Mickelson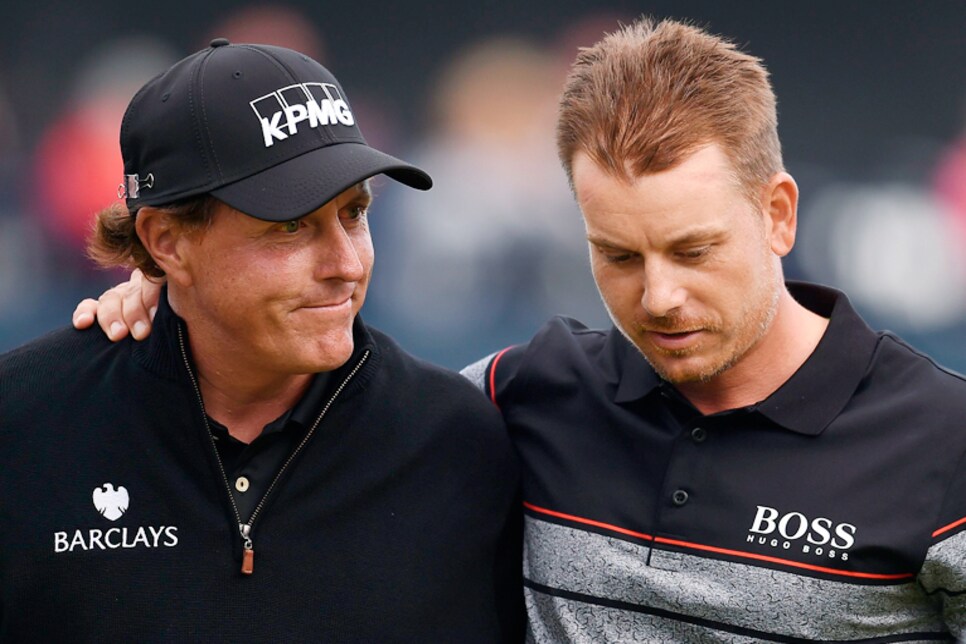 Photo by Glyn Kirk/AFP/Getty Images
Opening Illustration: Nigel Buchanan