Courses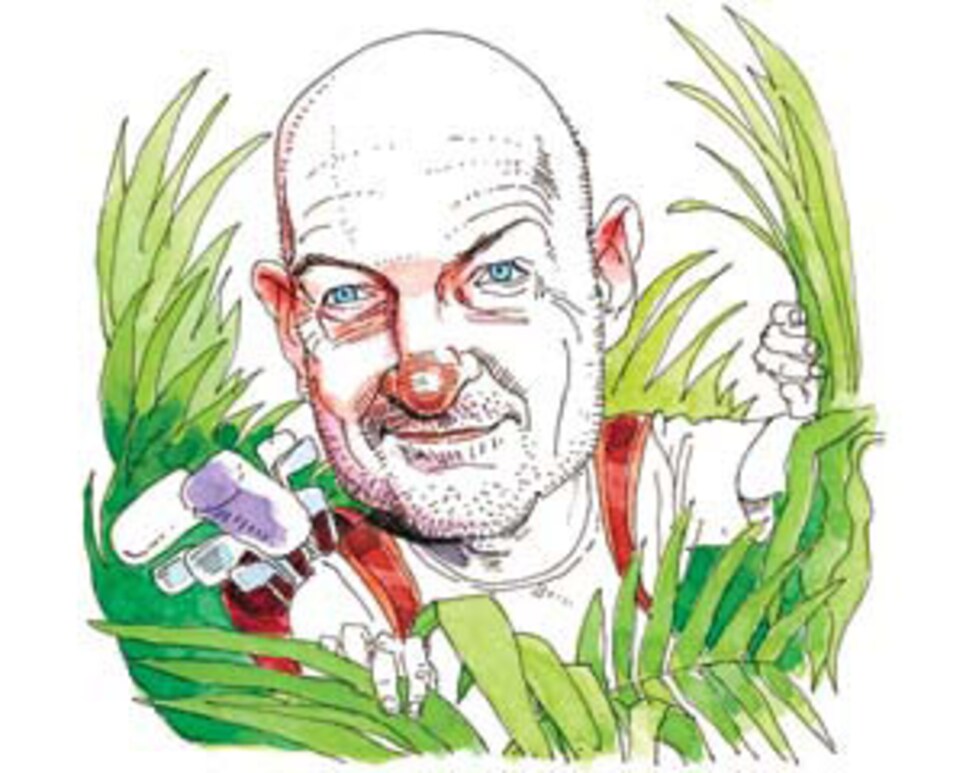 "If I had a three-foot putt for a dollar I'd call someone like Tiger to putt it for me."
Terry O'Quinn, 57, has starred as John Locke in the TV series, "Lost," for six seasons. O'Quinn prefers the country to big cities, walking over riding, playing with friends to playing with strangers, but if he happens to get paired with a married couple, he likes to win over the wife. (He's a charmer). A resident of the North Shore of Oahu, O'Quinn passes on some local knowledge, reflects on the state of his career and the success of a hit TV show.
What's your first memory of golf?
My Dad took it up when I was somewhere between 10 and 13. I got a bunch of wooden clubs and I just remember sitting in our yard trying to hit the occasional golf ball. I think they were wooden-shafted clubs, so they were pretty old.
Do you have an official handicap?
About 10. I don't have an official handicap, but my unofficial handicap is probably about a 10 at the moment.
Are you a member of a club?
No, I'm not. I've never played as much as I do since I moved to Hawaii. In the last five years, over the course of shooting "Lost," I've probably averaged a couple days a week.
I read that you live on the North Shore of Oahu, what's your favorite course in Hawaii?
I live 10 minutes from Turtle Bay, so that's almost all I play. I'm a real homer. When I find a golf course or a restaurant or a market that I like, that's pretty much exclusively where I go.
Over the years, I assume you've been paired with strangers on the golf course.
I don't do that too much. If I'm going to a course and I don't have anyone to play with and it's not a course I know, I look for the old guys. Give me a couple of old guys to play with. They know the course, they play fast and they really don't give a s-- if I'm a star. It doesn't matter. They're easy to play with. A lot of times I like to play with a couple too. You can always be nice to the wife and she always appreciates you for it. [Laughs.] You win over the wife. It's not the best situation for the husband and wife relationship so you can be the good cop in that scenario and they appreciate that. But for the most part, maybe the best thing about golf for me, and it's that same in my work, the best thing about acting, is who you do it with. I look to do it with friends and people who I like and people I enjoy playing with. I don't like Type-A actors and I don't like Type-A golfers. I like people who relax into what they do and who enjoy it for the process. That's who I play with when I'm out here in Hawaii. There are a couple of people I play with on a regular basis and that's who I look to play with.
Do you prefer walking or riding?
Are you an equipment junkie?
No, I'm not. The irons I have are 12 or 14 years old -- Wilson Fat Shaft irons. But I'm ready to change. I bought some used clubs back at my second home in Maryland, some Callaway irons, and I like them a lot. I have a Callaway driver, some TaylorMade fairway woods and rescue clubs. Those I got recently and I can really tell the difference.
Rescue clubs are like cheating, aren't they?
Almost. Although I need the help.
If you fudge a rule of golf on a regular basis, which one is it?
I'll hit a mulligan occasionally, but it depends on whether or not I'm keeping score. I don't fudge rules if I'm keeping score. I play it down for the most part.
I__f you had a three-foot putt for your life, would you putt it or would you call someone like Tiger to putt it for you?__
For my life? I'd call someone like Tiger. Are you kidding me? If I had a three-foot putt for a dollar I'd call someone like Tiger to putt it for me. [Laughs.]
Do you gamble on the golf course?
I always play for money, I just never pay. [Laughs.] We always play for money all the way around. We play for as little as a quarter or as much as five or ten bucks, but we never get carried away. We always act like we're going to settle up, but I always forget.
If I offered you an all-expenses paid trip to Pebble Beach, Pinehurst or Bandon Dunes, which would you choose?
I'd go to Pebble Beach just because I've heard so much about it. And I've had more people tell me I have to play there more than anywhere else.
So you haven't been to any of those?
I haven't. I'm not a course junkie either. If there's one nearby that I like, I can play just as badly on that course than I would at Pebble Beach. Although some friends have talked about a trip to play golf in Scotland or Ireland, so maybe I'll do that this spring.
One movie for a long flight?
"Outlaw Josie Wales." That's a classic.
What change would you make to the airline industry?
If making money is involved, I have no idea. But I would give everybody a little more space. I'm fortunate, honestly; I get to fly first class most of the time. At least presently I do. The normal state of an actor is unemployed.
What's your favorite city in the U.S.?
I don't know much about cities. When I go places I usually stay in the country. I was raised in the country. I haven't spent any time in the cities that people say are the best. I haven't spent much time in Chicago or San Francisco. I spend a lot of time in Los Angeles, but I probably wouldn't say it's my favorite city. I like New York in the spring and in the fall. It's one of the best cities to walk that I've ever been in.
Vancouver's not in the States, but it's another beautiful city to walk. I like to walk. I'm walking right now up on the North Shore.
Can you pass on some local knowledge about the North Shore of Oahu?
The North Shore is my turf. You have to jump off the rock at Waimea Bay, but you don't want to do it in the winter because you'll be torn into little pieces by the surf. You have to go to Ted's Bakery and get a breakfast sandwich. And you have to go to Starbucks at Foodland, we call it Dudeland, and you have to sit at a table and watch the most beautiful people walk by.
Playing so much golf on the North Shore, what's your best tip for playing in the wind?
I don't have one that anyone else could use. I did play one round with Juli Inkster and she said, "When it's breezy, swing easy." Gripping the club harder isn't going to help you hit it through the wind. Just relax and let it ride a little bit.
I do. I'll watch golf while I work out. I'm your average golf fan. I watch the big tournaments and I'm more inclined to watch it if someone is real hot or if Tiger is playing.
Are you a Tiger or Phil fan?
I'm not a fan of either. I'm a Paddy Harrington fan. I like the guy who's chasing those guys. I like Boo, I like Brandt Snedeker, guys like that.
John Locke [O'Quinn's character on "Lost"] seems like he would be a good golfer if he applied himself. Would you agree with that?
Yes, I'd agree. He'd be a zen golfer. He'd probably be a, Golf In The Kingdom-type golfer.
You look like you go after your job pretty hard. Have you ever come close to dying in the course of acting?
I suppose. I don't know how close. You don't really know how close to death you might be. But now I call a stunt man if I have to run up a hill two or three times. I don't take any chances.
You had a role in "Old School" as Luke Wilson's boss, and that movie gets compared to "The Hangover". Can you compare the two?
Not very easily. I thought "The Hangover," which I saw recently, had the most potential of actually happening. I thought "The Hangover" was pretty funny as a character study. The situations were obviously pretty funny, but the characters really carried that movie. And it surprised me because I thought it was going to be slapstick after slapstick, and there was some of that, but it was really about how funny the guys were. The actors were funny, but it was also well written. It was written for them to be funny and they cast that really well. "Old School" was more predictable, sort of slapstick nonsense -- funny like a fart is funny.
Of the cast of "Lost," who do you hope to work with again one day?
Probably Michael Emerson, who plays Ben, we've talked about it. We're going to make an effort to do that, to work together. It's kind of like your golf buddy. It's really easy and really natural. You look forward to going to work, to work with somebody who works the same way you do.
The mythical numbers of Lost, 4-8-15-16-23-42, I've always said it almost looks like the numbers of a front-nine scorecard, ending in 42.
That's good. I've never really thought of it that way. I think I've had all of those individual scores, except I don't think I've ever had a 16. [Laughs.] I've had a 4 and an 8. What's the next one?
Uh, maybe. But 42, that's about right for me. That's actually my cutoff number. You know, 42 and 42, that to me is a good average round. If I'm below 84, that's a pretty good round. If I'm above it, that's not such a good round.
I'm sure you get this a lot, but do you have any advice for people lost watching "Lost"?
Don't get hung up on all of the answers. Don't get put off because you're confused. Everybody is confused. Just try to enjoy the ride and see how it turns out. I think a lot of people get frustrated. You shouldn't let it frustrate you because that's the game it plays.
So it's just like golf...
Yeah. If you golf you can find a metaphor for everything in life from golf. I started doing that to the point that it's irritating people now. "Everything is not about golf." No. But essentially golf is about everything.
The role you're most proud of as an actor?
This one. The role I'm most proud of is John Locke. It has been a big thing in my life. I've never done anything this long and I've never, quite honestly, received this much positive reinforcement for anything I've done. It has given me the time to develop as an actor and I'm a lot better actor for it. It came along at the right time in my life, a lot of things fell into place, and it has made a big difference.
How do you prepare yourself for not having that anymore? I imagine there will be some separation anxiety. Will you try to get something else you will throw yourself into right away?
Absolutely. You try to use the juice you have to keep the flow going, and not just hope something turns up, but also actually make something happen. I don't expect another "Lost," I don't think that's quite possible. But you look for work that you think is good with people you want to do it with.
Do you anticipate TV or a movie or live theater?
I like live theater. I would do some of that. But, given the last five years of "Lost," I prefer television to film if it's cinematic television, which is what we've done on this show. The scripts are dense.
If it's a good story and it's good people, I prefer it simply because I like to keep working. I'm happiest when I'm working and if you have some job that's going to extend for, God willing, four or five or six seasons, there's nothing better than knowing you have a job to go to and knowing you will have one next season. You can make the best film in the world and they'll give you an Academy Award for it, and you still can be unemployed for the next four years. It gives me the greatest satisfaction of anything I do, working, and so I want to keep doing it and doing it as often as possible and for as long as I can.
Well you're hitting your stride -- you're living in Hawaii, your acting has improved, your golf game is better -- you're on a good run.
Just be quiet, I'm going to get hit by a car if you keep talking like that. [Laughs.] I'm just going to keep my head down. Things are good. I know when to count my blessings and there are a lot of them right now.