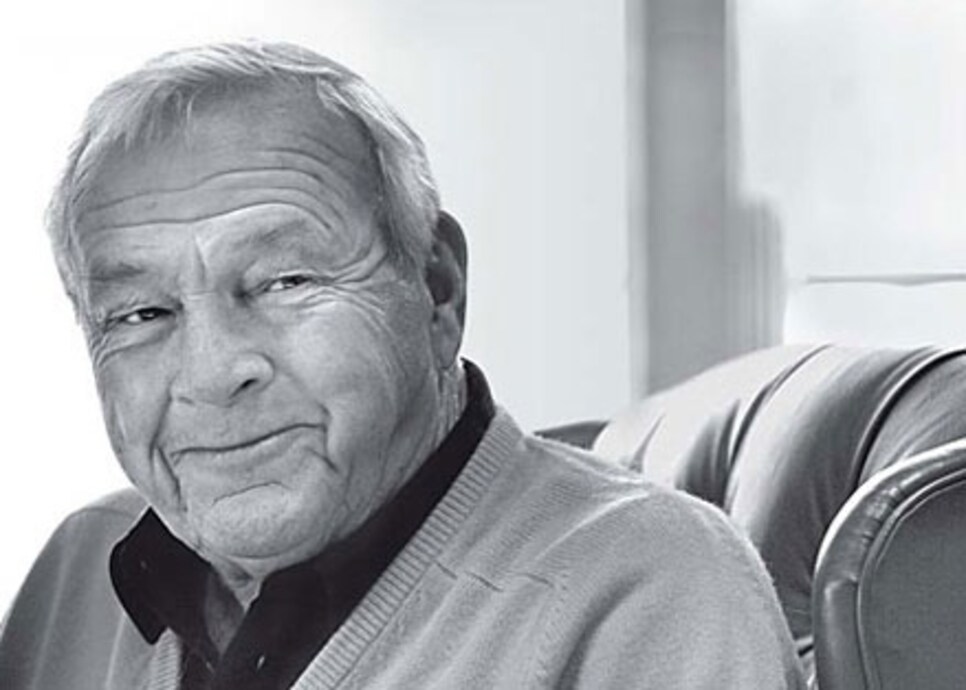 Arnold Palmer (at home in Latrobe, Pa.) joins the Golf Digest staff this month
This issue marks a milestone in the history of Golf Digest because we have signed Arnold Palmer as a Playing Editor on our staff. He joins Jack Nicklaus, Tiger Woods, Annika Sorenstam, Phil Mickelson and Tom Watson as exclusive contributors to the magazine, pretty much wrapping up the greatest champions, current and past, alive today.
I must digress: The highlight of my so-called golf career was playing nine holes with Palmer a couple of years ago in a wicked rainstorm on the coast of Scotland. He drew PGA Tour Commissioner Tim Finchem, a swarthy 4-handicapper, as his partner, playing IMG vice chairman Alastair Johnston, a squishy 18, and me, unable to play to any handicap.
On the first tee, Arnold refused to give us handicap strokes. Not a one, despite argument, outrage and downright begging. Don't forget, my partner might be the most renowned negotiator practicing today. Arnie needled us relentlessly on every shot. We whined all the way around to the delight of Palmer and the amusement of Finchem. Until near the end, when I hit a ball into a rocky water hazard and it rebounded onto the green; Alastair sank an unexpected putt on the next hole, and then I stubbed a chip into the cup, staging one of the game's miraculous upsets. Alastair and I have reminded Arnold of this only a couple of dozen times since, and I would not normally brag about it in such a public forum, except not only did we not get any strokes--did I mention that?--but we didn't get paid.
This is pure Palmer. What he gave us was the most fun we've ever had in the presence of golf. Everybody he has done this for, raise your hand.
Over breakfast with Dow Finsterwald during this year's Masters, I asked Palmer's oldest friend what was the secret of Arnie's enduring success. "The way he treats people," Dow said without hesitating. "You only have to look at how he signs autographs--not the number, but the way he writes his name. Every letter is perfectly penmanshipped. Look at most other athletes today: Their autograph is a scrawl across the page, unidentifiable, probably unreadable. Not Arnold's. And the other thing is, he looks you in the eye when he talks to you. Those are rare qualities."
His advisor, Doc Giffin, estimates Arnold has signed an average of 100 autographs a day for the 77 years of his life. Give or take, that's 2.8 million. "One of the things he's proud of," says Alastair, "is that his autograph is practically worthless on eBay because he's signed so many of them." In a time when celebrities get big money for autographed memorabilia, Arnold does it for free: Just send him something, and he'll personalize it and send it back signed. (Write Arnie himself at P.O. Box 52, Youngstown, PA 15696.)
There's no one like Arnold, and we're so glad to have him.