Expect to continue hearing about Tara Iti. This is one of the world's hottest emerging golf destinations.
After opening as a laid-back private club in October 2015, only those who visited this Auckland, New Zealand layout designed by Tom Doak and his Renaissance Golf Design knew how special this was. Until perhaps Tara Iti made its debut at No. 6 in Golf Digest's World 100 ranking of the best international golf courses—the highest rank for a first-time modern course in the 50-plus years of our publication's rankings. It has continued to grab attention and accolades since.
The layout has the uniqueness of Sand Hills or Friar's Head, the links-like charm of Bandon Dunes and the seaside appeal of courses on the Monterey Peninsula. This is golf at peak fun level. Tom Doak, who was already on the short list of top modern golf architects, might have done his best work in Tara Iti. As Golf Digest's Ron Whitten wrote: "This may be New Zealand's answer to Pebble Beach's Carmel Bay. The greatest meeting of land and sea is clearly up for debate."
So where is Tara Iti? For American golfers, it's a full day's of travel away (and then some). The club is about 65 miles north of New Zealand's biggest city, Auckland, on the Te Arai coast, just south of Mangawhai (pronounced Mang-ga-fai), on the North Island of New Zealand. On the outer edges of the Pacific Ocean, it can take upwards of 45 hours from New York City to reach this golf paradise. This is a rare instance in life, however, where the lofty expectations will live up to the hype.
A Los Angeles-based billionaire Richard Kayne partnered with New Zealand's John Darby, who himself designed one of the country's best layouts, Jack's Point, for the vision of Tara Iti. Kayne, a long admirer of New Zealand, purchased these 570 acres for his new club. He had admired Doak's work, being a member at Long Island's Sebonack and Palm Desert's Stone Eagle, and hired the architect and his design team for this job. The result is spectacular.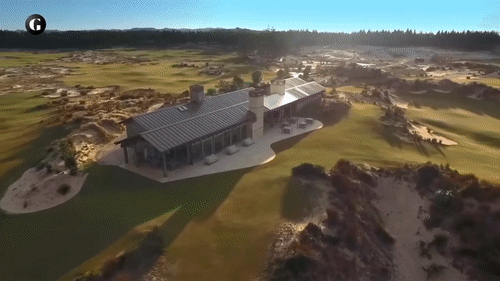 Can the Average Joe play Tara Iti? Well, maybe. Yes, it's a private club—one of the few such spots in New Zealand. But as we wrote earlier this year: "Tara Iti is a private club, but its doors aren't necessarily sealed shut."
"Non-members can inquire about playing, but only with the understanding that they're allowed to visit the club just once (a multi-night stay is encouraged)," wrote Ashley Mayo. "Tara Iti is able to accommodate more visitors in the off-season months of April thru October than during the peak season months of November thru March, but don't let the phrase "off-season" fool you—the winters in Mangawhai are mild and perfect for links golf (highs hover in the high 50s during the coldest month of July)."
There are many intriguing aspects of Tara Iti, with bunkers reminiscent of Alister MacKenzie's artistry, sandscapes rivaling the world's most impressive and architectural elements that bring to mind our best classics such Cypress Point and Royal Dornoch. Let Thomas L. Friedman, the Pulitzer Prize-winning New York Times columnist and Golf Digest contributor, take you through every hole. Friedman is a Tara Iti member, and as well versed as anybody on the club.
Behold, Tara Iti—golf at its finest on the edge of the planet. It hasn't been announced whether Tara Iti will add another course to accompany Doak's incredible contribution. Kayne owns more beach-front land on this Te Arai paradise, so we'd expect that to be a real possibility.