Courses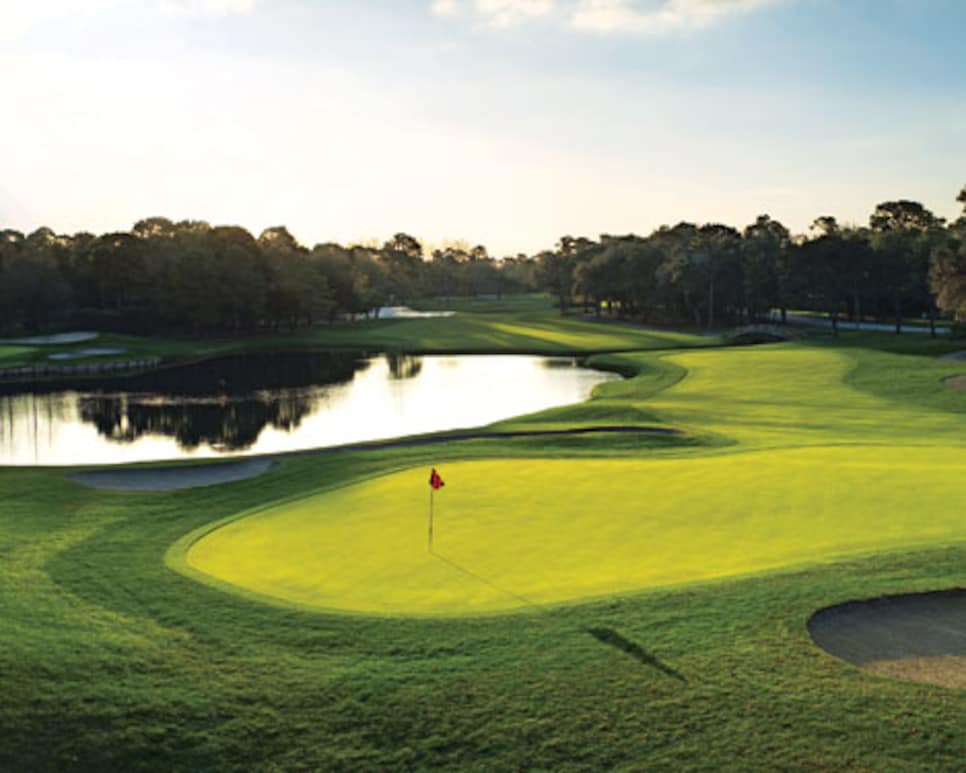 The 320-yard 12th at The Westin Innisbrook Golf Resort's Copperhead Course.
Its lovable losers became Super Bowl champions, and the young NHL franchise won a Stanley Cup. Even the struggling baseball team is hungry and talking more optimistically after hiring its fourth manager in nine seasons. Yes, Tampa Bay is a sports-crazed region on the come. But there's a lot more to the area than tailgate parties and office football pools.
Tampa today is a sprawling area on Florida's west coast, where button-down business types, senior citizens and non-English speaking immigrants form one of the five most diverse, urban areas in the country. Residential development and an influx of new businesses have spurred Tampa's recent boom. The two-year-old Seminole Hard Rock Hotel Casino is already a prime destination for high rollers and a stage for big-time boxing matches. Trump Towers broke ground downtown last fall, propelling development to even greater heights.
Golf course development hasn't exactly kept pace. Only two courses (Heritage Harbor Golf Country Club in Lutz and Lake Jovita's North Course in Dade City) are less than 10 years old. But that doesn't mean there's a shortage. There are more than 100 daily-fee, resort and semiprivate courses in the Tampa area, and we're including Tampa, St. Petersburg and several small towns such as Brooksville and Largo. There are classic designs by the world's top architects and well-conditioned munys for the value-conscious. The weather's good, too. Average temperature year-round is 72 degrees, with a consistent breeze off Gulf Coast waters keeping things cooler than the rest of Central Florida.
Additionally, Tampa Bay has pristine beaches, world-class fishing and other water sports. In a major revitalization project, developers transformed Latin-flavored Ybor City, a national historic landmark district once known as the cigar capital of the world, into a vibrant collection of shops, fine eateries, museums and nightclubs. Busch Gardens, home to the only dive roller-coaster (200 feet face down) in North America, is another can't-miss attraction.
In 1513, Ponce de Leon set sail just south of Tampa in search of the Fountain of Youth. Pulsating Tampa is the embodiment of that regenerative spirit. Conversely, with few exceptions, its golf is deeply rooted, traditional fare. And there's nothing wrong with that.
The Westin Innisbrook Golf Resort
Copperhead Course, Palm Harbor, 727-942-2000, $140-$240. The resort is trying to position itself as Central Florida's answer to Pinehurst. The Copperhead is not in Pinehurst No. 2's league, but it's a formidable layout. It's long (7,340 yards from the tips), difficult (134 Slope Rating) and relentless. It also features one of Chicago architect Lawrence Packard's signature double doglegs on the 590-yard 14th and some sinister par 4s. Greens are undulating, with several difficult hole locations, and if the Bermuda rough is anywhere near tournament-ready, get ready for a workout.
Island Course, Palm Harbor, 727-942-2000, $110-$210. Target golf at its best, the Island course provides the player with three distinct designs over six-hole stretches. The first six holes are reminiscent of South Carolina lowcountry, the next six look like the sand hills of North Carolina complete with elevation changes, and the incoming six are a traditional Midwestern style. Accuracy is tested most over the initial stretch of holes where water hazards and jungle await errant shots. The 565-yard seventh—a double dogleg—is the No. 1-handicap hole, with water in play off the tee and on the second shot.
Pine Barrens Course, Brooksville, 352-796-5500, $50-$140. World Woods opened in 1993 among livestock and wildlife. Remoteness remains a major part of its charm. Tom Fazio combined his love of iconic venues Augusta National and Pine Valley to carve Pine Barrens out of Florida's back country. The course has a bit of an eastern North Carolina feel with towering pines and sand dunes. At 6,902 yards, it's not long by today's standards, but there are several brutes that command attention, including the 470-yard 12th. It features a huge waste bunker guarding an elevated green without a level lie on its smallish surface. Hit it in there, and bogey or worse is almost assured.
Rolling Oaks Course, Brooksville, 352-796-5500, $40-$130. With magnolia, dogwood and azalea in bloom nearly year-round, plus Spanish moss-lined fairways, Rolling Oaks is the more aesthetically pleasing of the two courses. It has a nice mixture of short and long par 3s, including the 234-yard (from the tips) 16th that's all carry, though it plays downhill. Left are trees and hazards. More often than not, a reload is necessary. The ninth is bordered on the left by a lake and on the right by huge pine trees. Try to cut too much off the 15th, and a cavernous bunker awaits in the middle of the dogleg. Rolling fairways are generous, and the greens, though not quite as undulating as those at the sister course, are sloping enough to give below-average putters a headache.
__ TPC of Tampa Bay__, Lutz, 813-949-0090, $79-$153. Designed by Bobby Weed and Chi Chi Rodriguez, the course has been home to a Champions Tour event since 1992, most recently the Outback Steakhouse Pro-Am. It's routed through natural wetlands, and water comes into play on 15 holes. The ninth, a 472-yard dogleg left with a water hazard running nearly its length and protecting the dogleg, gets most of the notoriety because it's practically unreachable against the wind for the average player. Uneven lies are the norm, which makes chips and pitches tricky.
Lake Jovita Golf Country Club (South Course), Dade City, 352-588-9200, $89-$119. One of the best-kept secrets in Central Florida, the South Course is scenic and challenging. The Tom Lehman-Kurt Sandness collaboration gets your attention from the outset and keeps it to the last putt.
The North Course (not yet rated) is more benign, with generous fairways and greens. The elevation changes aren't typical Florida fare. Both have five sets of tees for players of all skill levels.
Saddlebrook Resort (Palmer Course), Wesley Chapel, 813-973-1111, $70-$180. Saddlebrook is a golf course community and a resort. It's home to Saddlebrook Preparatory, which combines a college prep academic program with golf training. Arnold Palmer's golf academy attracts juniors from around the world. The Palmer course is short (6,641 from the tips) and geared toward fans of target golf. The fairway mounding is similar to what Jack Nicklaus used during his early years as a course designer. Sister course Saddlebrook, with narrow fairways and water hazards on 17 holes, is a revamped (by Palmer) version of a Dean Refram design.
Bardmoor Golf Tennis Club, Largo, 727-392-1234, $54-$96. Because of its playability and affordability, Bardmoor is a favorite of locals and tourists. The parkland layout has fairly generous fairways and hazards that come into play only for the severely accuracy-challenged, so pace of play is not compromised. The 529-yard eighth hole is an example of several risk-reward holes. Long hitters can carry a water hazard that crosses the fairway about 260 yards out, but they must still negotiate a water hazard to the right of the green and out-of-bounds to the left. If tradition is your thing, Hall of Famers Pat Bradley, Nancy Lopez, JoAnne Carner, Beth Daniel, Tom Kite and Curtis Strange were all winners of the JCPenney Classic played there 13 times in the 1970s and '80s.
Tampa International Airport is an hour south of Brooksville, the farthest point from downtown Tampa among Bay-area courses. That's via the Sun Coast/Veterans Parkway completed a few years ago. Prior to that, the most direct route from the airport to World Woods was I-75 North-Highway 50 West-State Road 98. Total time: 90 minutes, non-rush hour. Road construction is prevalent on a lot of the routes and access roads around Tampa Bay, including Interstates 4, 75 and 275, and state roads 19 and 98. Early tee times are a must to avoid the high-volume traffic.
Course ratings are derived from the exclusive 5-star Golf Digest Places to Play scale. A single star represents "basic golf." Five stars indicates "golf at its absolute best." Golf Digest's Best Places to Play guide, based upon the ratings of tens of thousands of readers, is available for $24.95.
Very good. Tell a friend it's worth getting off the highway to play.
Outstanding. Plan your next vacation around it.
Superb. Golf at its absolute best. Pay any price to play at least once in your life.
The equivalent of one-half star.
If a course has no star rating, it means that the course did not receive a minimum of 10 ballots, either because it is very new or simply was not visited by a sufficient number of Golf Digest readers. If you've played one of these courses and would like to rate it, click here.