LIV Golf
Talor Gooch lost a playoff in the LIV Golf regular-season finale, but still came out $20 million richer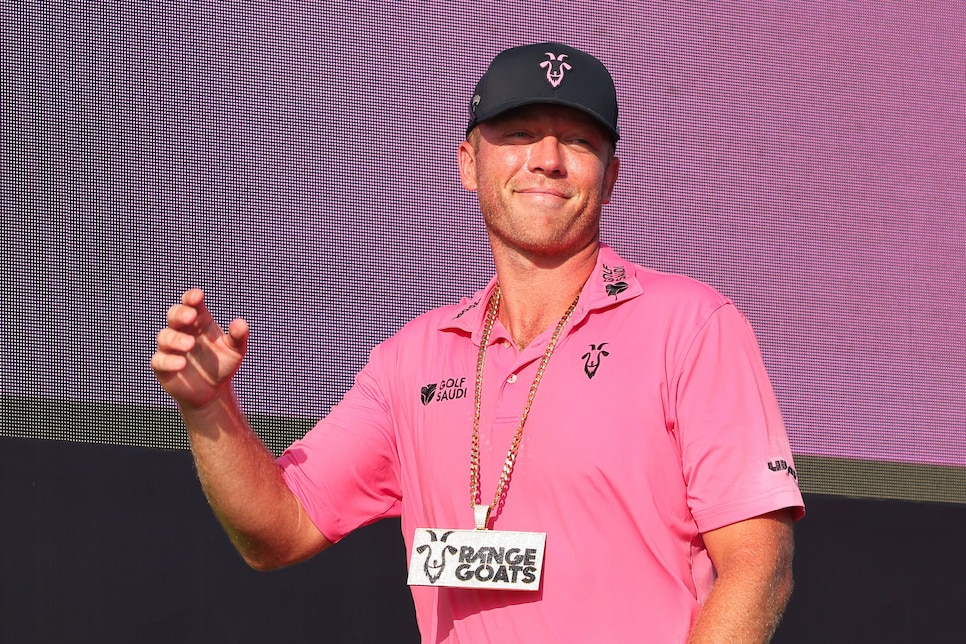 Talor Gooch lost a playff on Sunday at the LIV Golf Invitational - Jeddah, but his runner-up finish locked up the season-long points title and its $18 million bonus.
FAYEZ NURELDINE
In August 2022, Talor Gooch had earned enough points to qualify for the PGA Tour's season-ending Tour Championship. But having left for LIV Golf's inaugural tournament in London, he was suspended indefinitely and prohibited from competing in any more PGA Tour events. No East Lake Golf Club appearance for the Oklahoma native, and certainly no chance to play for the $18 million bonus afforded to the FedEx Cup winner.
Fast forward 14 months and Gooch, in his new league, was not only playing in the regular-season finale, LIV Golf Invitational - Jeddah, he was second in the season-long points race behind Cameron Smith. But the Australian putting whiz struggled all week with the short stick at the Royal Greens Golf and Country Club, earning zero points for his T-24. Gooch, meanwhile, produced the most lucrative round of his life—a bogey-free Sunday 62—to take the points title and its $18 million prize.
With 30 points in Jeddah for finishing second in the tournament (falling to Brooks Koepka on the second hole of a playoff), Gooch finished the individual season with 192 points, ahead of Smith (170) and Brooks Koepka (152). "It was one of those kind of special days you dream about, putts going in from everywhere," Gooch said. "It was a great day and a great end to the season."
It was also an unusual end to LIV's individual season, which sets up this coming week's team finale in Miami. With two birdies on his final three holes at Royal Greens, Koepka tied Gooch on the tournament scoreboard at 14 under, the duo then both making birdies on the first extra hole. On the second extra hole (another return visit to the par-5 18th), Gooch pulled his approach into the water while Koepka, who won the event last year, made birdie to successfully defend his title and earn the $4 million first-place prize money payout. His win also elevated him to third in season-long points (with its own $4 million bonus), which Koepka had no idea.
Since his Jeddah win last year, Koepka has marked his return to health and form with wins at LIV Orlando in March, a T-2 at the Masters, a fifth major win at the PGA Championship at Oak Hill in May, and an appearance at last month's Ryder Cup.
"I definitely feel like I'm back to my old self," Koepka said. "This one is probably a little different just because it's the first win as a dad. I'm sure [wife] Jena and [newborn son] Crew are watching."
The majority of the riches, however, went to Gooch. During his entire PGA Tour career—which included a victory at the 2021 RSM Classic among 123 starts—the Oklahoma State alum won $9,250,299 in prize money. Combining his LIV season-long points bonus, and the tournament's runner-up prize money payout, he more than doubled that in one day: $20,250,000. The 31-year-old already had collected $15 million this season courtesy of three wins (in Australia, Singapore and Spain), as well as four top-10s.
"It's a validation of the golfer that I am, to the hard work we put in for years and years," he said after the playoff. "This game will beat you up. But we've done a good job continuing to improve and learning from mistakes. It would have been sweet to beat Brooks and cap it off like that, but it was a heck of a year and I'm very, very proud of that."
Besides the season-long points title, another storyline playing out at LIV Jeddah was the last chance for golfers to secure their status for LIV's 2024 season—whatever that might look like given the on-going negotiations between the PGA Tour, Saudi's Public Investment Fund and the DP World Tour to create a for-profit joint venture. Players finishing in the top 24 on the points standings locked up their status for another year. That included Zimbabwe's Scott Vincent, who played his way from 31st to 22nd on points courtesy of a T-3 in Jeddah.
England's Richard Bland, who turned 50 earlier this year, remained at 20th on points courtesy of a T-11 at Royal Greens. The former DP World Tour veteran revealed his brother is battling cancer and that he was taking him to play Augusta National later this month. "Trying to give him something to look forward to seeing what he has to go through every day is not nice, so I'm trying to keep him as positive as we can be," Bland said on Saturday.
Nos. 25-44 on the standings were placed in what LIV calls its "Open Zone", where players face being traded from their franchise teams. Six players finished outside 44th and were placed in a relegation zone. Of those six, team captains Lee Westwood and Martin Kaymer were exempt from having to tee up in a LIV qualifying school slated for late November. But Jed Morgan, James Piot, Chase Koepka and Sihwan Kim were relegated.
It was the end of a week in which LIV Golf officials disappointingly learned that the league's application was denied after 15 months' consideration. OWGR chairman Peter Dawson wrote to LIV CEO Greg Norman and outlined the reason for rejection was the OWGR was unable to accurately compare LIV's 48-player, 54-hole, shotgun start, no-cut events with the other 24 tours it awards points. The qualifying and relegation methods employed by LIV Golf also were questioned.
But Gooch said he had no doubts of his place among golf's elite, even at. No. 187 on the OWGR (side note, he is No.35 on DataGolf's rankings).
"[2023] is a validation of … the years it took to get my game to this spot to, I think, be considered one of the best players in the world," he said.