Equipment
Superstroke Zenergy putter grip took three years and over 450 pros to make

Superstroke's first new putter grip project in more than three years wasn't just about shape enhancements or color patterns or even durability. It was all about that, yes, but at its core, the new Zenergy grip platform was a search for how to instill confidence through feel.
The Zenergy line, which is the company's first since Traxxion was launched in 2019, features 10 new models built on an array of proven Superstroke shapes. The key components are a two-layer composition made up of a firmer rubber inner core for stability and the soft, tacky polyurethane outer layer to enhance grip.
That precise combination was the result of input from dozens of elite players, including, the company said, 450 worldwide tour pros. But that input also resulted in several other enhancements designed to improve the way Zenergy transmits feel, said Dean Dingman, Superstroke CEO.
"There's nothing like feeling connected over the ball when you're putting," he said, citing Zenergy's "subtle innovation" that "delivers the ultimate confidence you can touch and feel, stripping away the distractions of golf's most pressure-packed shots and helping you find your zone and Zen."
A bold proclamation for a putting grip but here's where Zenergy takes new steps forward to helping players find a more reliable putting stroke. First, the familiar Spyne Technology, the embossed ridge running up the center of the underside of each grip, has been gently recontoured to serve as a first reminder of how to properly align your hands on the grip.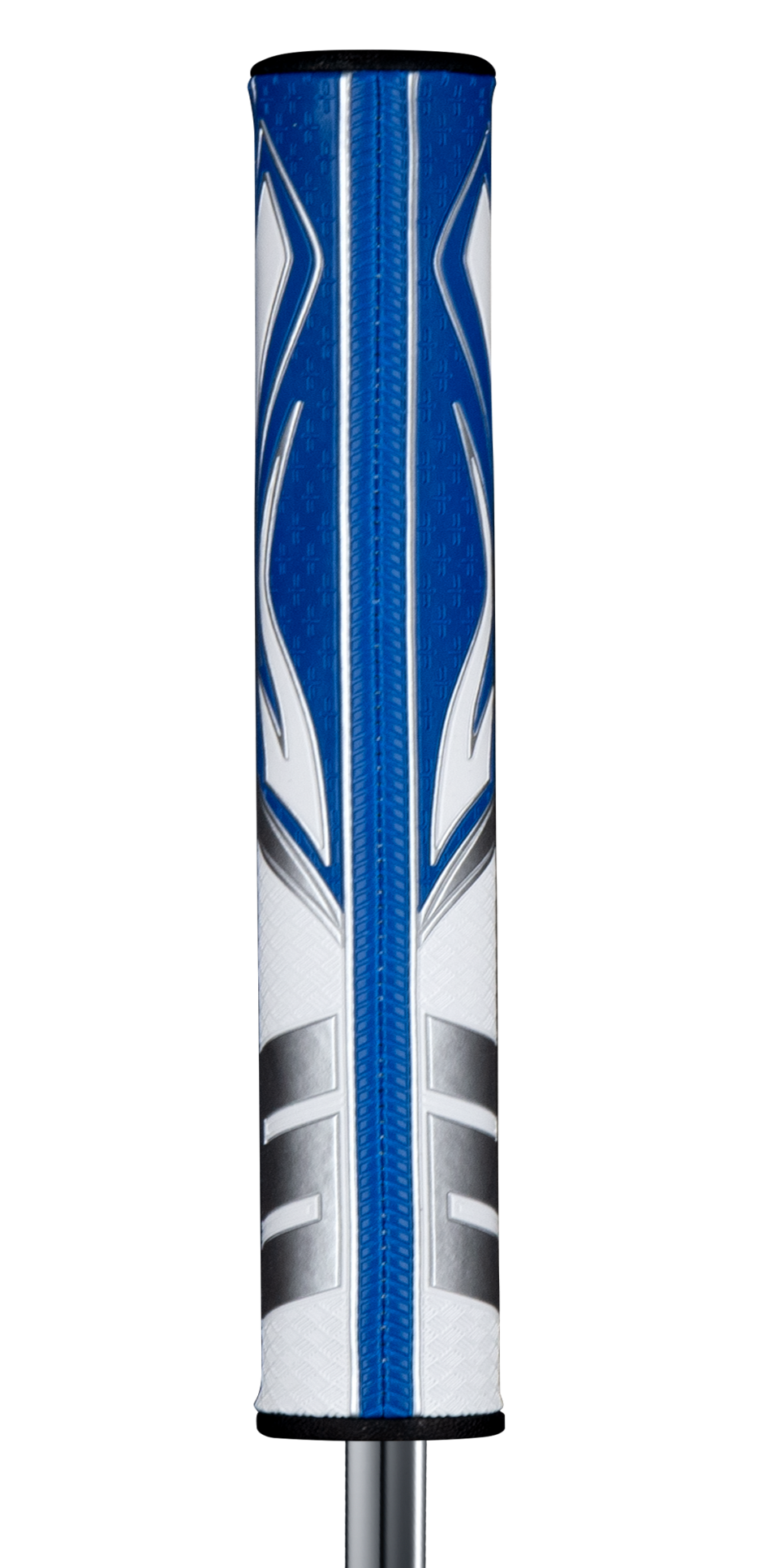 Second, the Zenergy grips add distinct, variable texture zones to help your brain feel that your hands are locked in a familiar position. Those include the traditional SuperStroke crosses in the texture of the front flat section, as well as unique feels for the palms and fingers in the top and bottom hands. That includes cross-hatched, grittier regions on the sides for the top hand, and a smoother, slightly raised portion on the sides for the bottom hand.
The 10 new Zenergy grips continue the proven Superstroke no-taper shaping to minimize excessive grip pressure. There's also a new "Tech-Port" at the top of each grip to make it easier to attach the company's "CounterCore" backweighting system or performance tracking sensors like Arccos.
Among the new Zenergy models are the Zenergy Tour, Superstroke's original no-taper design in four versions; the Zenergy Pistol, available in three sizes; Zenergy Flatso, the wide flat front grip available in three sizes; Zenergy SSR2, the square-shaped grip one-inch wide on each side; and the Zenergy Claw, which is pistol-shaped at the top transitioning to a square no-taper shape at the bottom.