Magnificent Maine
A late-season down-east excursion reveals some stunning golf opportunities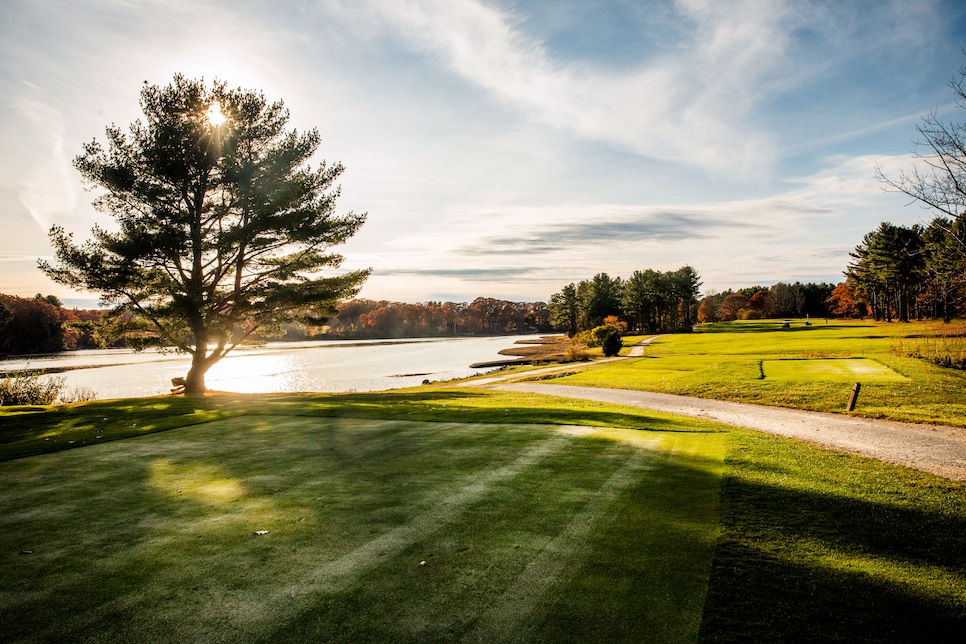 Whenever I cross the border into Maine, I relax. I'm not sure why. Maybe it's one of the state's nicknames—Vacationland. Maybe it's the cool salty air: Maine has 4,000 islands and 3,500 miles of coastline. Maybe it comes from imagining the almost 20-million forested acres, moose-, mountain lion-, and wolf-inhabited and largely unpeopled, spreading northwest toward the Canadian border. Or maybe it's the golf, especially the courses along the state's middle and southern coast, particularly in the off-season, when the summer crowds are gone.
A WEEK OF EXCELLENT GOLF, FINE FOOD AND MAINE HOSPITALITY . . .
In early November, my wife, Amanda, and I drove up I-95 and spent a night in Bangor, with a hastily arranged golf itinerary awaiting us. A perfect dinner of scallops and pear salad at 11 Central in downtown, an old-school breakfast at Judy's bar (where other diners were having shots of Jägermeister with their eggs), and then we set off on the hour-long ride "down east," via the gun-store-and-fireworks-outlet-spotted Korean War Veterans Highway, to the pride of Mount Desert Island, Bar Harbor.
There, close against Acadia National Park, the golf venue of note is Kebo Valley, an 1888 Herbert Leeds design—Maine's oldest course and the eighth oldest in the United States—that has been played over the years by luminaries like Harry Vardon and Walter Hagen. Kebo, as locals call it, is surrounded by forested hills that, until the Great Fire of 1947, were, in the words of longtime head professional Peiter DeVos, "littered with mansions." There are no mansions to be seen now, but the course attracts Fords and Oppenheimers, and David Rockefeller used to be a regular. Still, despite its wealthy summer clientele, it's an unpretentious place, open to the public, with wide fairways, inventive bunkering and "chocolate drop" moguls that invigorate some of its plainer par 4s. Smooth old greens, a mix of long par 3s and short par 4s and a 17th with a massive hillside bunker that President Taft is said to have taken at least 15 strokes to escape from, Kebo is only 6,100 yards from the tips, but it's pleasantly challenging and eminently playable. It finishes with a gently uphill par 4 named for Edsel Ford.
We spent the night at the Bar Harbor Inn—its hot tub and view of rocky inlets and forested islands served as a healing potion after my less-than-brilliant round—then headed inland to Penobscot Valley, a Donald Ross design just outside the college town of Orono. This was a retracing of steps that had enabled us to play Kebo on its closing day. One does a lot of zigzag driving in Maine. Until it reaches the far southeastern corner, the coastline is nothing like those of California or South Carolina with their expansive sandy beaches and straight coastal roads but instead consists of fingers of land reaching eastward toward rocky coves, quaint harbors and pricey resort towns.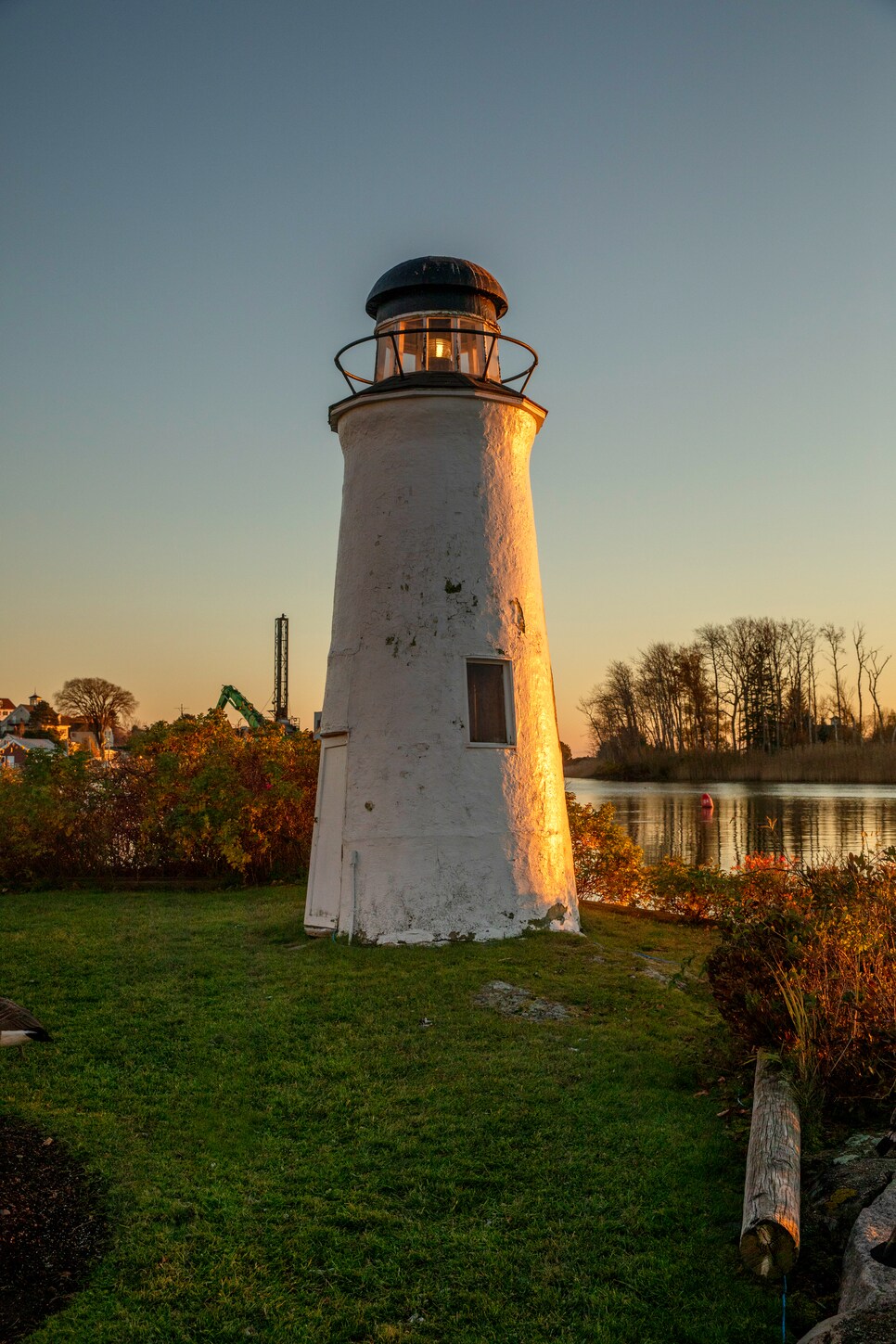 HARBOR LIFE The Nonantum Resort lighthouse in Kennebunkport. Photographs by Alex Gagne
The holes at Penobscot Valley crisscross a wide-open, nearly treeless landscape, with wonderful views of the surrounding hills from a number of elevated tees, especially on one and 10. Although the greens are reported to be quick in season, they don't feature Ross' typical slanted slopes and false fronts. Instead, Penobscot defends itself with an unusual variety of fairway and greenside bunkering. The bunkers are often steep-faced and craggy, as if they're the brows of angry subterranean creatures who have surfaced to stare at you and wreak havoc. Strangely, because we were 30 miles from the ocean, some holes reminded me of links courses in which you stand on the tee and have to plot your way toward the green, selecting a club and a line of attack that reduces the risk of punitive bunker time.
Penobscot finishes with three kinds of challenge: the all-carry, well-bunkered, par-3 16th where Arnold Palmer made birdie in 1964 with a 1-iron; the ingenious 90-degree, risk-reward par-4 17th with a tee shot over water, and the toughest hole on the course, the long, uphill 18th.
Of similar caliber to Kebo, Penobscot Valley's greens fees are about a third the size of those at the Bar Harbor course. As longtime resident Stuart Kelley told us in the golf shop, that difference speaks to Maine's socioeconomic profile. Along its rocky shores, Vacationland (also known as The Pine Tree State) boasts some of the ritziest resort towns in the country, places like Kennebunkport, where one can spend $20 for a hamburger and 20 times that much for a night's rest.
After a drive south beneath a waxing crescent moon and a winter-bright Venus, we found Camden, another attractive town that featured another fabulous seafood meal, this one at Blaze, and a comfortable room at the Lord Camden Inn. We awoke the next morning to a forecast for a 65-degree day—in Maine in November!— and to the realization that we were surrounded by beautiful golf courses, all of which were closed for the season. I made calls, hoping against hope to fill the gap in our itinerary, but no one answered. Samoset, Rockport, Goose River and the highly praised nine-holer Megunticook had all brought in their pins and locked away their carts. Eager to swing a club, we drove inland and discovered, only a few miles from Camden, another Maine entirely: two-lane roads running through rolling fields with steep-roofed, clapboard-sided farmhouses that would have fit perfectly in an Andrew Wyeth painting. No gift shops selling down-east souvenirs, no restaurants offering $40 lobster rolls, this was a Maine as different from the coastal tourist havens as the golf course we were about to play was from Kebo Valley.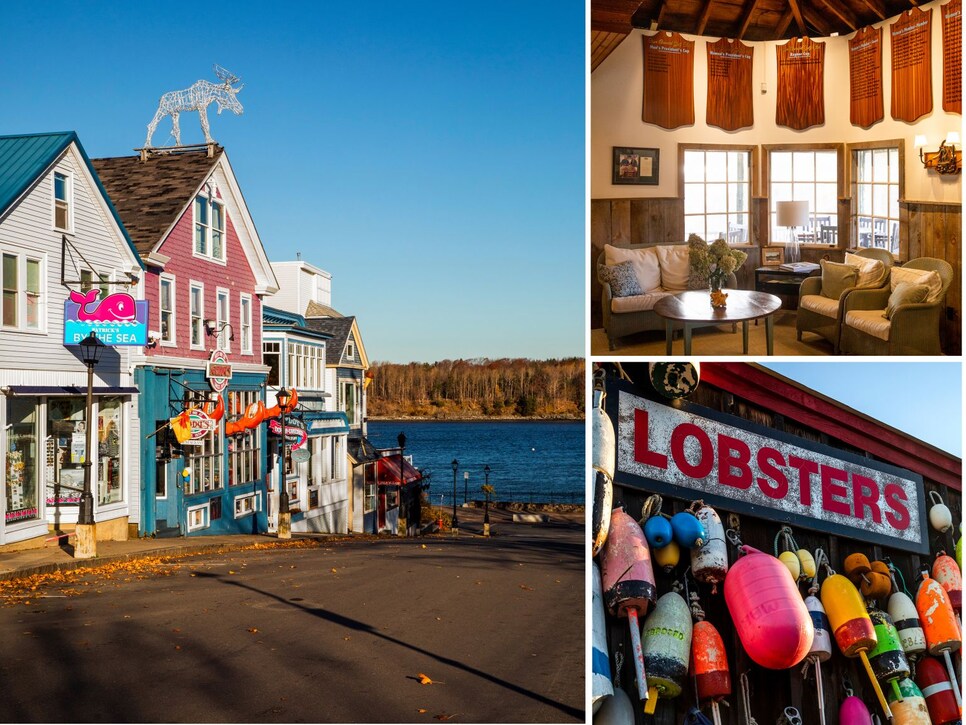 BY THE SEA A row of shops in Bar Harbor, a picturesque resort town on Mount Desert Island; the clubhouse interior at Cape Arundel Golf Club in Kennebunkport; buoys for sale at a shop near Penobscot Valley in Orono.
High up on a hill, we found the West Appleton Country Club. Merton Sawyer greeted us in the pine-paneled two-room clubhouse and sent us out on a nine-hole track cut from farmland. The lies were ragged, the greens tiny, the holes—from 130 to 590 yards—stretched across an airport landing strip, meandered through an old apple orchard and were sometimes split by roads that ran between tee and green. Knocking the ball around, bouncing here and there in a stuttering cart, warmed by the day and Merton's downhome hospitality, I thought of the shepherds playing the Old Course more than 500 years ago. This was golf before groomed bunkers and second cuts of rough, but it was golf.
MAINE HAS 4,000 ISLANDS AND 3,500 MILES OF COASTLINE DISTINGUISHED BY ROCKY COVES AND QUAINT HARBORS.
That afternoon, as if to show us the entire spectrum of golfing possibilities, we had a tour of the fabulously groomed Boothbay Harbor Country Club. Two members of the grounds crew, John Cusick and Scott Grady, had finished work for the day, but kindly and proudly led us in maintenance carts around the Wayne Stiles, John Van Kleek and Bruce Hepner beauty. Hilly, with ample fairways and hundred-mile views from the highest tee boxes, Boothbay doesn't open until conditions are perfect—May 15—and closes in mid-October, so the crews can punch and sand the greens and blow leaves until the place is immaculate. As we were driving along the paved cartpath, past tee boxes set on square islands in a pond, an outdoor cafe on a high ledge at the turn, and treacherous-looking greens, Cusick spotted a bit of litter along the way, a piece of a gum wrapper, barely the size of a thumbnail. He stopped and picked it up, a gesture of love, it seemed to me, for the piece of land he and his colleagues polish to perfection.
Two interesting visits, but we were left hoping to play 18 at a regulation course. We drove to Brunswick, home of Bowdoin College, where the weather, so cooperative for the previous three days, changed moods in the morning with cool rain. Amanda calls herself a "fair-weather golfer" and opted for time in town, but I made the short drive across the river and waited optimistically in Brunswick Golf Club's empty parking lot. After an hour and a half, the rain ceased, and I headed out to the 10th tee and played the Wayne Stiles back nine first, and then the much newer Geoffrey Cornish front. To be fair to Stiles—whose work I've seen, admired and played often, and who had a hand in Boothbay Harbor's original nine and some 150 other New England courses—he didn't design the back nine at Brunswick; he redesigned it. Having repeatedly enjoyed his (and VanKleek's) highly regarded Taconic Golf Club in Williamstown, Mass., I was surprised at the featureless, if well-conditioned, nine at Brunswick that bears the Stiles name. Cornish's half is somewhat more interesting, with a gorgeous par-3 fifth and a par-5 ninth that, after two straight shots, makes a sharp right turn, and asks for a third over water to an elevated, forward-sloping green. Leave your approach a few yards short, and you feel like it will trundle all the way down into the drink.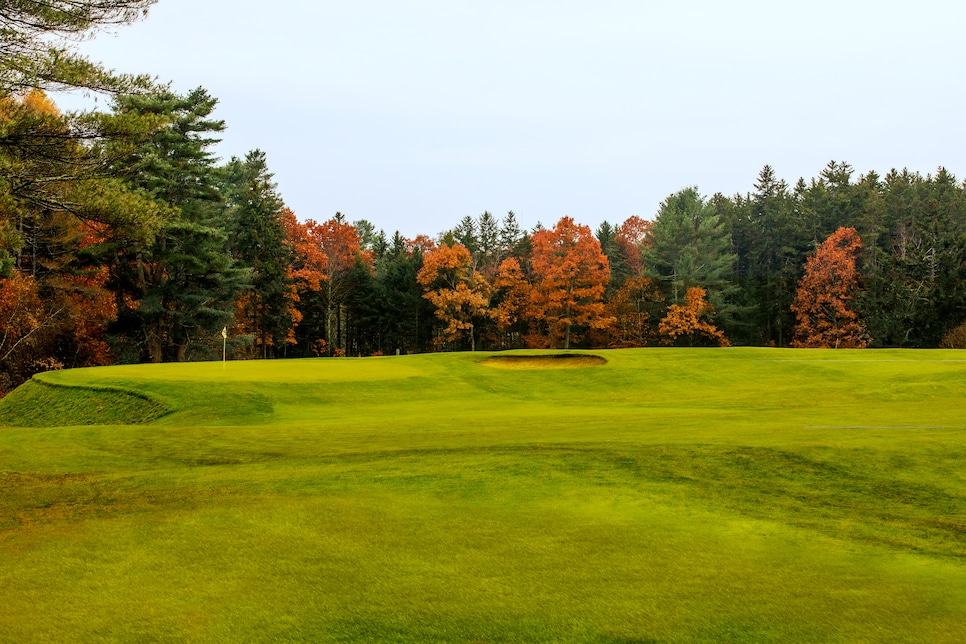 COME AUTUMN A colorful greensite at Brunswick Golf Club about an hour from the coast.
The next morning found us at Cape Arundel Golf Club in Kennebunkport, once the summer course of a golfer named George Herbert Walker Bush. The former president's image is everywhere around the small, understated clubhouse—which is a National Historical Landmark. With rain in the next day's forecast, assistant professional Tom Langstaff was kind enough to put us first on the tee sheet so that we could squeeze in York Golf and Tennis in the afternoon.
The word for Arundel is elegant. Walter Travis' design moves smoothly along a landscape that seems to have been created with golf in mind: gentle rises, a few deep valleys, and the Kennebunk River sparkling alongside the property. Fully a third of the holes have forced carries, but Arundel plays only 5,859 from the tips, so none of those shots are beyond an average player with a calm mind. The course is bordered by several stately New England clapboarded colonials, and, despite its exclusive nature, has an open, unfenced feel. I particularly enjoyed the par-4 15th with its tee box backed up against an old burial ground, its first shot over a patch of marsh, and then an approach to a green protected by bunkers, mounds, and two gnarly apple trees. Phil Mickelson holds the course record, 60. The younger President Bush is known to stop by, and the whole place reflects an understated, Old American wealth that glitzier, newer layouts cannot match.
Fresh off the 18th, we hurried 30 minutes south to York Golf and Tennis Club. After the morning at Arundel, I wasn't sure I could be as impressed again on the same day, but York is a real Ross beauty, with a 200-yard par 3 for starters, and a trio of holes—Nos. 5, 6, and 7—that use the wide York River to good effect. No. 9 should have a sign next to it: Donald Ross is responsible for this green; we only maintain it. "You might be able to stop the ball from above the hole there," head professional Mike Pratt noted, then added the key words, "this time of year." A tributary snakes its way through the back nine, turning 12 and 13, back-to-back doglegs, into beasts with elevated greens that seem next to unreachable from the ample landing areas. With plenty of elevation changes and a few blind tee shots, York is a classic old New England golf course with superb turf and challenges in abundance.
Maine is known for lobsters and a certain unique variant of American English, but it's also known for blueberries, and, after a washout day of rain and wind on the morning before we played the Old Marsh Country Club in Wells, Amanda and I stopped at Greensleeves on Route 1 and had the very best blueberry pancakes we have ever eaten—with real maple syrup, of course.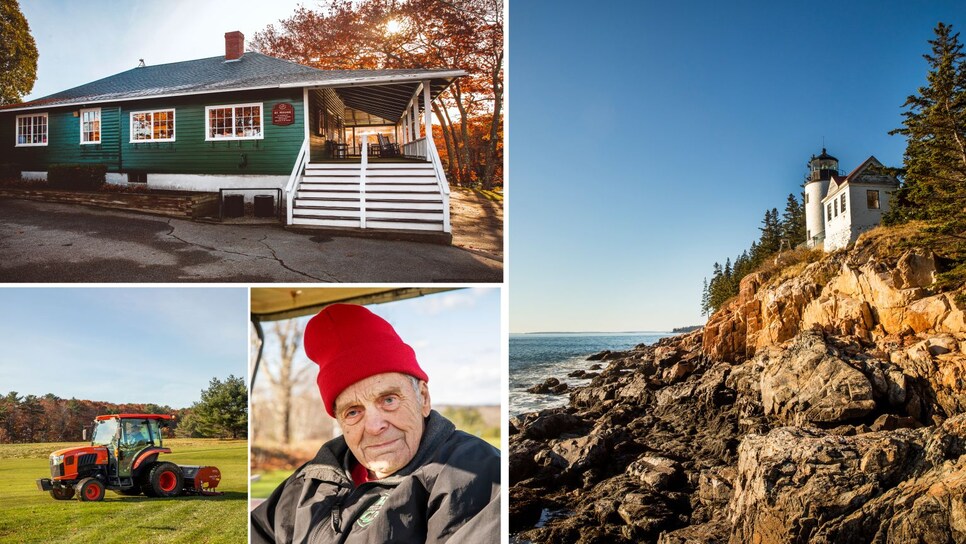 NORTHERN EXPOSURE Clockwise from top: the golf shop at Cape Arundel Golf Club in Kennebunkport; the Bass Harbor Head lighthouse in Acadia National Park was constructed in 1858; a member of the grounds crew at West Appleton Country Club in Appleton; a tractor is put to use at Cape Arundel Golf Club.
After that meal, before heading south across the Maine line, we managed a last round at Old Marsh. This was a bonus visit, squeezed into the itinerary thanks to the advice of a local friend, but it ended up being our favorite of the seven courses we played that week. Architect Brian Silva has taken a completely flat piece of land pocked with marshes and decorated it with high-lipped bunkers that cluster around greens and landing areas, crafting a dogleg-heavy golf experience as fine as any the state of Maine showed us. A small section of the back nine is lined—some would say marred—by clusters of cookie-cutter houses, but several really ingenious holes, like the U-turn, par-5 13th, hold your attention, and Red Sox fans might keep an eye open for the great pitcher Luis Tiant who calls the place home.
Both Amanda and I carded doubles on Old Marsh's difficult finishing hole, a long par 4 that runs over and around one of the course's numerous wetlands. Then, at the close of a week of excellent golf, fine food, and Maine hospitality, it was time to head back toward the duties of home, holding to the hope of another visit and some more exploration of the state's many enjoyable courses.