The Loop
Steve Stricker and 'probably the most dramatic, painful Protracer shot of all time'
Stories of interest you might have missed…
Steve Stricker stood in the fairway on the second hole at Merion, one shot back on Sunday at the U.S. Open. He needed to nail this shot. Instead, Stricker shanked a 4-iron. His ball went screaming over Ardmore Avenue, out of bounds, and Stricker fell out of contention with a triple-bogey. An indicting red line cut an ugly scar across TV monitors worldwide. Tommy Roy, the man responsible for the red line, felt his heart sink. "Probably the most dramatic and most painful Protracer shot of all time," Roy said. "He was done." Philadelphia Daily News columnist Marcus Hayes has this story on Roy, NBC/Golf Channel producer, and the technologies he uses.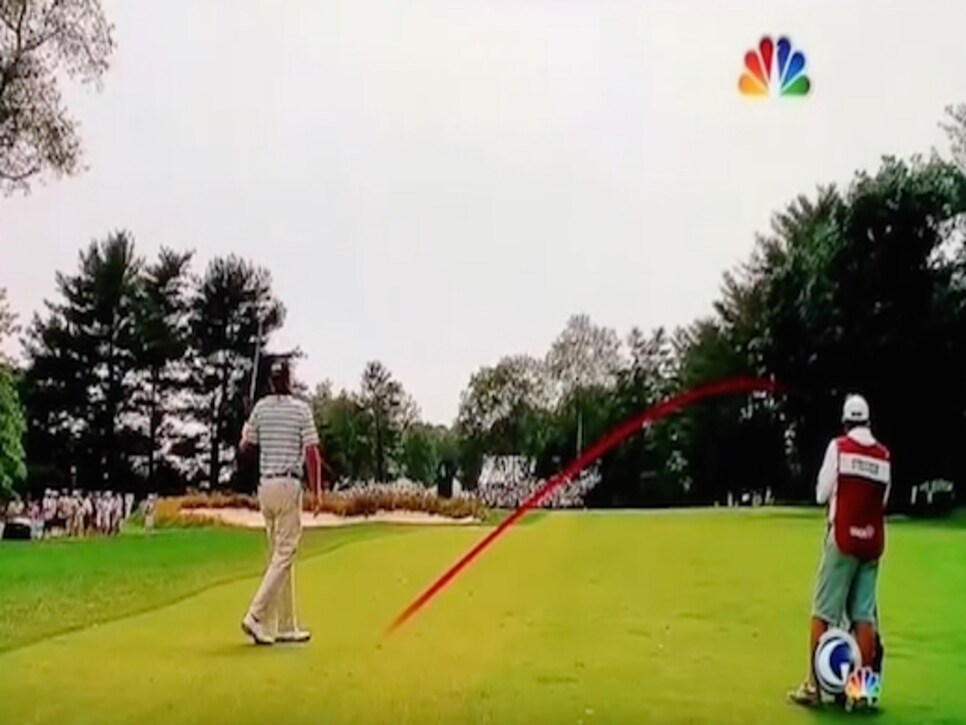 "Say you meet a 12-handicap golfer from Australia on the first tee at St. Andrews in Scotland. If your U.S. handicap index also happens to be 12, you might suggest a friendly little money game, with no strokes given. Bad move," John Paul Newport writes in the Wall Street Journal. "That's because Golf Australia, the sport's governing body there, doesn't calculate handicaps the way that the U.S. Golf Association does. Handicap formulas also vary in Great Britain and Ireland, continental Europe, South Africa and Argentina." The USGA, meanwhile, is now leading an effort get everyone using the same formulas.
Myra Van Hoose was an LPGA player who married her caddie Worth Blackwelder. They have two kids, Mallory, now an LPGA player, and Myles, who was Mallory's caddie at the Kingsmill Championship this week. Mallory is married to Julien Trudeau, who caddies for PGA Tour player Graham DeLaet. "It's a cool story," Mallory said, and David Teel of the Daily Press tells it.
The PGA Tour's youth movement should not overlook Patrick Rodgers, a 22-year-old from Stanford, who is in contention at the Wells Fargo Championship. He recently moved to Jupiter, Fla., for the competition away from tournament sites and shares a house with fledgling PGA Tour star Justin Thomas, also 22. "There's a ton of good players that are close to my age down there, so there's always a fun game," Rodgers said in this story by Jonathan Jones of the Charlotte Observer. "I've always been a firm believer (that) I want to be around the best players I can be around. I feel like it's going to push me to be the best player I can be."
Henrik Stenson does not agree with Adam Scott's declaration that golf in the Olympics is an exhibition sport. "I see it as a once-in-a-lifetime opportunity to be part of the Olympics," he said in this story by Andrew Both for Reuters. "It's a cool event and, given my age, it could be the only chance I have. I think I'd stay in the village, to get the feel of it. That would elevate the experience."