Golf in a box
The pros and cons of going with a starter set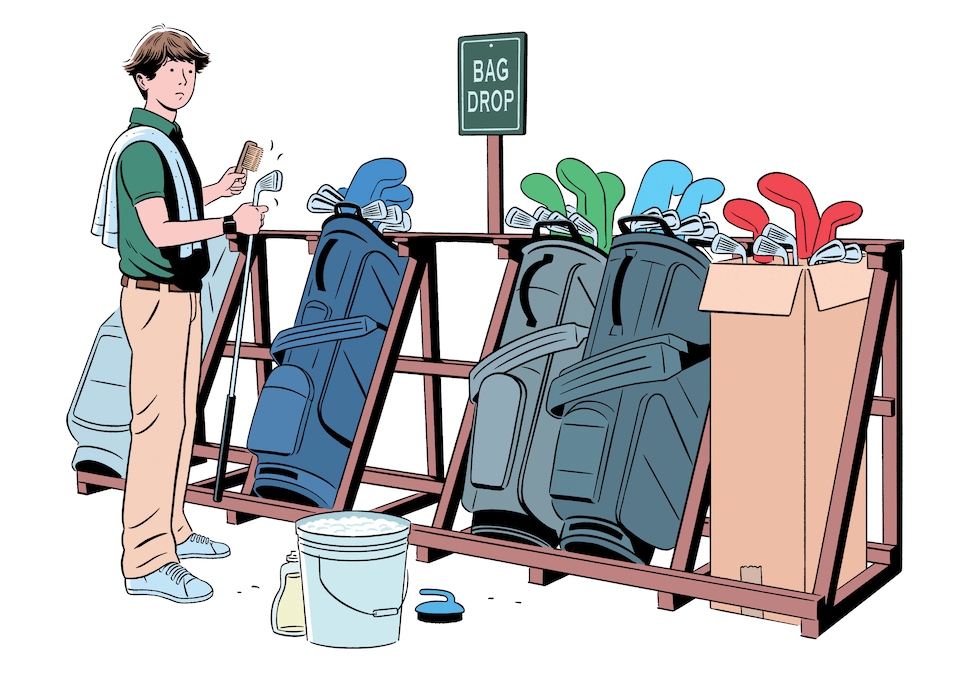 Illustrations by Madison Ketcham
The biggest selling club in golf 's biggest selling year in decades doesn't go by the familiar names of Callaway, Ping, TaylorMade or Titleist. It isn't even a single club but a set sold by dozens of brands, many with names you probably won't recognize such as Nitro and Gyro, Tour X and Murtisol. Golf 's big seller is a longtime industry staple: the package or "box" set (because, obviously, the entire set, including bag, comes contained in a cardboard box).
The box set, with its affordable price, has become so big in golf 's pandemic boom of new golfers that retailers are beside themselves trying to keep these starter kits in stock.
"The number of box sets we've sold in the past 18 months is astronomical," says Chris Marchini, Golf Galaxy district manager for the Ohio Valley. "We're seeing numbers we've never seen before." There's such a run that retailers looking to stock box sets today are being told 2023 is the earliest they'll get them.
Obviously, beginning golfers need equipment to get started in the game. Box sets, which include no-frills irons and metalwoods and often a golf bag, are a convenient option in the $300 range. You can find a variety of sets online, at golf-specialty stores or even at your favorite discount department store. Although the price makes sense for those who aren't sure if they will keep playing by the end of the summer, what are you really getting when you go with the most basic of entry-level clubs? Do they provide enough performance for the beginning golfer to enjoy, understand and appreciate the game—and stay motivated to continue playing?
To find out, we bought one of the most popular box sets on Amazon for $300 and compared the clubs to premium clubs. We measured the specs, conducted robot testing and collected feedback from golfers. The comparisons to standard premium clubs were about what you would expect for a set of golf clubs that costs about half of what the latest premium drivers are selling for.
Our box set includes a lightweight stand bag and eight clubs: 10-degree driver (plus headcover), 24-degree hybrid, 6-to 9-irons, pitching wedge and heel-toe weighted "blade-style" putter. All the clubs, including the driver, have steel shafts. Box sets traditionally have been 14 clubs and a bag. Today, they're often 10 to 12 clubs (eight in our box set).
Clubs can look fine to the naked eye. However, are the specs consistent throughout the set? Club Champion, the largest premium clubfitter in the country, measured the loft, lie angle, shaft length and swingweight for the box set. Generally, in a premium set, a driver has 9 to 12 degrees of loft, a standard 7-iron has a loft of roughly 30 degrees and iron lofts are spaced 4 to 5 degrees between each club. Lie angles for a driver might be in the mid- to high 50s, and stock lie angles for irons are in the low 60s. Swingweights for men's clubs will be about D-0 to D-2 (clubs in the C range will feel too light in the head, and the E range will feel too heavy). As Club Champion's data shows (see chart, below), our box set was a bit of a hodgepodge.

TAKEAWAYS: The irons have old-school lofts, meaning they're weaker than current premium models. Without a tremendous amount of built-in technology, the weaker lofts should make it easier for inexperienced players to get shots airborne. However, the irons have inconsistent swingweights. Players experience a consistent, repeatable feel when the swingweights match in a set. The mismatched clubs in the box set might cause players to struggle. The box set also has noticeable discrepancies (lack of a consistent progression) between clubs for loft, lie and length.
Many hybrid models have lie angles of 58 to 60 degrees. This one is much more upright than usual. "Upright clubs can help the ball go left, but I prefer a club that's fit properly to the golfer in their address position," says Cheryl Anderson, director of instruction at the Mike Bender Golf Academy and one of Golf Digest's 50 Best Teachers in America.
Most putters today have 2 to 4 degrees of loft. The blade-style model in the box set has more loft, which could help on slow greens. However, many beginning golfers add loft during the stroke, so they might not benefit from extra loft. "We want to keep the ball close to the ground when putting and not have it pop up," Anderson says. "You want 2 degrees of putter loft at impact to get it up and out of the depression that it rests in, but that's it."
But the most remarkable thing about this box set is the driver came with a short, heavy steel shaft. That spec might have worked back in the 1980s. Now, at best, it seems like some kind of mistake was made in manufacturing this set.
Of course, those measurements are only one gauge. What matters is what happens when you hit these clubs.
Golf Laboratories Inc., the leading independent equipment-testing company, based in San Diego, used its Iron Byron-like swing robot to test the $300 set for ball speed, carry distance, spin, off-center-hit performance and so on. We compared the entry-level, off-brand against a premium name-brand driver, game-improvement 7-iron and pitching wedge. The swing speed for premium clubs was set to match an average male golfer's speed. Golf Laboratories used the Foresight Sports GCQuad launch monitor to record shot data.
TAKEAWAYS: Shots struck in the center of the face with the box-set clubs launched higher and spun more. The irons had a steeper descent angle so that shots landed softly. That's a good thing. "Most new golfers don't have enough clubhead speed yet to create spin, so they need extra loft to get the ball in the air," Anderson says. "I see too many new golfers with 10-degree drivers, and they can't maximize carry distance."
Still, the premium clubs were much longer: 20 to 25 yards with the driver, 10 yards with the 7-iron and 15 yards with the wedge. That's not surprising considering the box set had weaker lofts, less clubface technology and lower-quality shafts. The premium clubs also outperformed the box set on toe and heel hits by similarly wide margins. That's because of the dated clubface and shaft technologies of box sets.
TAKEAWAYS: The box-set clubs felt fine. They didn't seem cheap or flimsy, and the grips were tacky. Yet players sacrificed distance. The middle and short irons from our testers' personal sets produced up to 10-miles-per-hour-faster ball speeds and 15 to 20 yards of additional carry. The differences were more striking with the 6- and 8-irons. That's likely because of the box set's swingweight inconsistencies.
The 24-degree hybrid produced high, short shots that flew right to left on a consistent basis. That's to be expected because of the pronounced upright lie angle.
The heel-toe weighted putter was acceptable. Players could roll putts and feel the head at impact, even if the specs weren't perfect.
The driver was the worst club in the box set. A heavy, short steel shaft made it difficult to swing. In theory, the short shaft, could increase the likelihood of center contact. In reality, shots traveled 30 to 50 yards shorter than testers' regular drivers.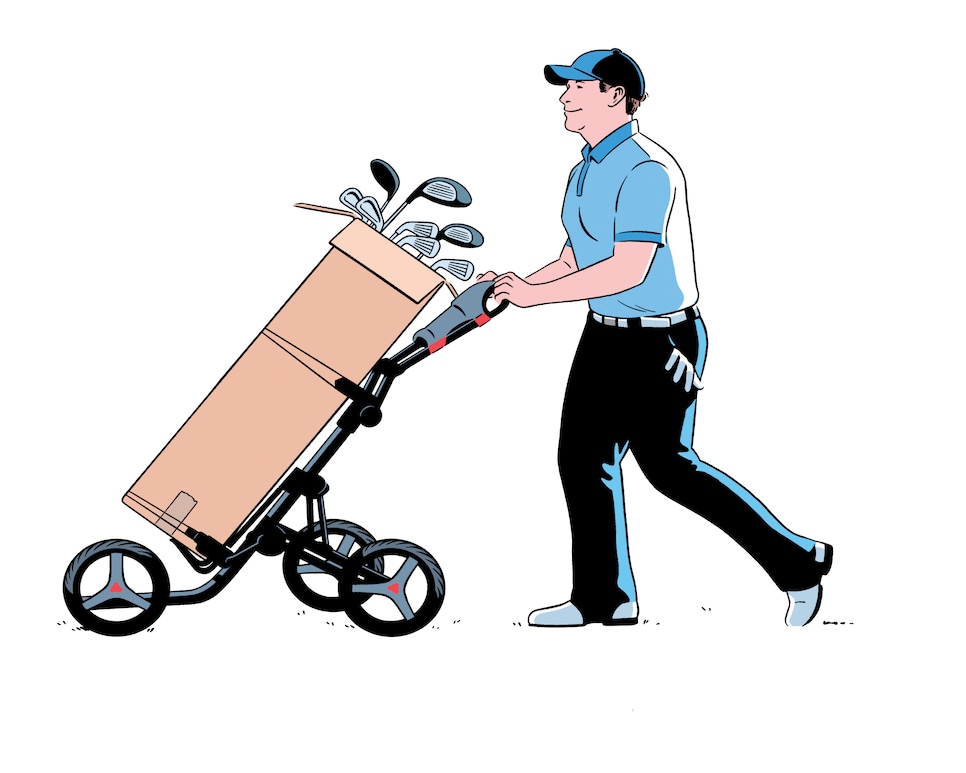 FINAL TAKE: After analyzing the robot-test results, club specs and player feedback, we would offer the following verdict: You get what you pay for. There are no big surprises. This particular off-brand box set had inconsistent specs, club technologies that didn't push the limits and minimal fitting options. For $300, though, it's probably good enough for some undiscerning newbies who want their first taste of the game. The set was a mixed bag: a collection of perfectly usable clubs that players could have fun with, plus outliers that wouldn't enhance the overall experience and might even detract from it. The lightweight stand bag with retractable legs and double strap (we prefer longer straps and more padding) was good enough.
Finally, beginning golfers willing to spend more have options. Those players could upgrade to a "used" driver made by a well-known brand for less than $200, pick up a new driver from a few seasons ago, or step up to the $600 complete set that offers more current technology. These options could enhance a beginner's enjoyment of the game without too significant of an investment.
"We tell customers that box sets are great to build around as they progress," Marchini says. "When ready, players could add a pro-line driver or putter. Irons are probably the last thing they'll change. Point is, they don't have to get rid of all the clubs at once."