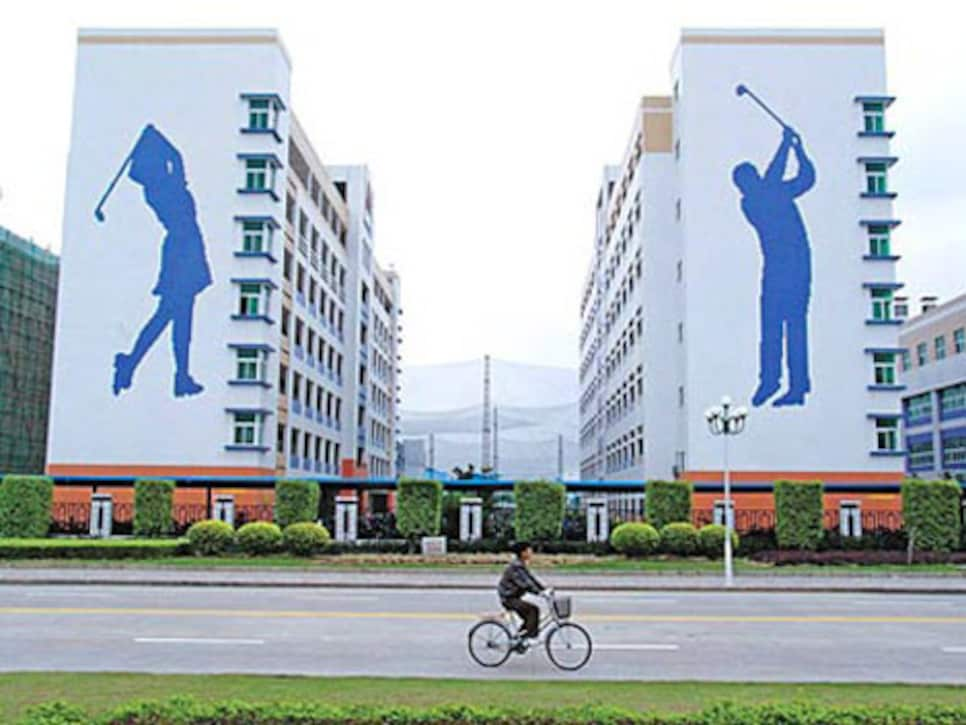 Of the world's 45 million clubs sold annually, three-quarters have Asian fingerprints on them.
AN IMPACT FELT AROUND THE GLOBE
When Dick Rugge, senior technical director of the U.S. Golf Association, went looking three years ago for a titanium driver that he could make the organization's new official test club for its swing robot, he didn't go to TaylorMade, Callaway or Titleist. He didn't work with any of the highly regarded independent designers in the U.S. He didn't even tap into the elite academic expertise at some of the nation's top engineering schools, such as the Massachusetts Institute of Technology, Lehigh and New York Polytechnic, that the USGA keeps on retainer to study golf technology.
Instead, he went to Asia.
More precisely, Rugge contacted Fu Sheng, the largest manufacturer of golf clubheads in the world, which has major factories in Taiwan, China and Vietnam that together produce more than a million clubheads a month. Rugge explained what he was looking for in a clubhead, and Fu Sheng shipped him several "open models," what the industry calls factory-produced design samples that smaller club companies in the U.S. and around the world will sometimes select and slap their own logos on. Rugge and the USGA staff put the samples through various tests and measurements before settling on one particular clubhead. That sample became the club that the game's chief governing body uses to determine which balls will conform to the Rules of Golf. In short, the present and the future of the game will be determined in part by what happened in a 3,000-degree titanium vacuum furnace in Tao-Yuan City, Taiwan.
Asia's coming-of-age has changed everything in golf, particularly the possibility of technological progress. What can be done to make a piece of metal work more efficiently at getting a golf ball into the hole, and how quickly that piece of metal can be transformed into a clubhead, depends on the capability of factories in China and Taiwan. "Made in China" not only stocks the shelves in Wal-Mart, it also inspires the intellectual horsepower in the research-and-development halls at golf's biggest club companies, as well as the inquisitive tinkerers alone in their garages. The confluence of the Information Age and the Chinese Century has revolutionized manufacturing and accelerated innovation. New ideas can become reality in days, not months or years. In fact, as one U.S. club designer says, "Anyone with a fax machine and a couple thousand dollars can be in the equipment business."
Five years ago, the California-based Coastcast Corporation was making more than a million titanium clubheads a year for some of golf's major brands. Today, it's making none.
In a telling statement in 2002, Bryan Rolfe, vice president of sales and business development for Coastcast at the time, dismissed any threat from its chief U.S.-based rival. "Our competition is not Ruger [Arizona-based titanium casting company Sturm, Ruger & Co.] -- not anymore," Rolfe said. "It's China." In less than a year, Rolfe's company had been delisted by the New York Stock Exchange, and by 2004 it had closed its doors.
To many in golf, the emergence of China as the country of birth for nearly all golf clubs seemed to happen that quickly. That statement has the quality of being overly simplistic and entirely accurate at the same time.
"They are the greatest vendors ever," says Clay Long, a veteran club designer for manufacturers such as MacGregor, Cobra and now Nicklaus Golf. "They are superior in every aspect. They're better, faster and not as expensive. What else would you want in a vendor?"
Japan has been in the club-manufacturing business for decades, but as investment casting of clubheads became more prominent, and the desire for more affordable labor became paramount, Taiwan took the lead in clubhead manufacturing. Fu Sheng, a company that dominates the air-compressor business in Asia, began manufacturing clubheads in 1978, and other companies would soon follow, as would years of consolidation. Today, the four major manufacturers that got their start in Taiwan have expanded operations to China and beyond. That family of four includes Fu Sheng, Advanced, O-TA and Dynamic.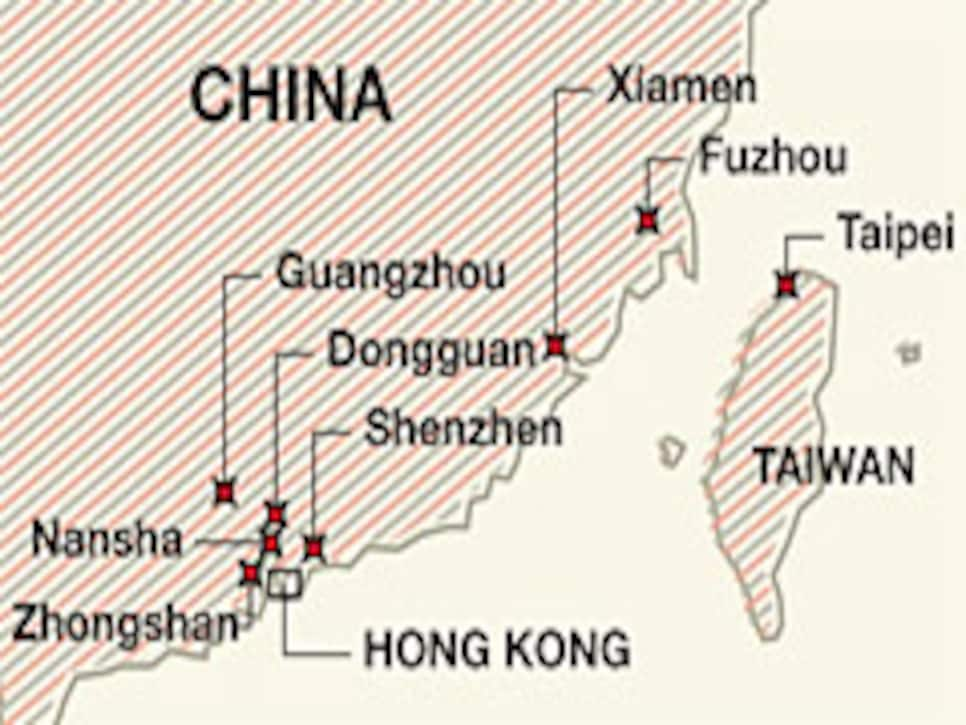 As the demand for clubheads has increased and the factories have expanded to China, that country has sprouted more firms to work with smaller U.S. companies, because not even the combined resources of the four powers can come close to handling the orders that come their way. Just as cottage subcontractor vendors sprang up around Detroit to support the U.S. car-manufacturing industry, so too have equipment operations in southern China, across the Taiwan Strait in high-rise boom towns like Zhuhai, Zhongshan, Guangzhou, Dongguan and Shenzhen and up the coast to Shanghai. Throughout the region, the hotels are flashy nouveau riche, factories are built on top of each other and capitalism has taken hold. According to a report in the Chinese-language Commercial Times of Taiwan, of the world's 45 million clubs sold annually, three-quarters have Asian fingerprints on them.
WHAT WE CAN DO, THEY CAN DO BETTER
First, a lesson in club design and manufacturing. A design idea, of course, can start in a variety of ways -- on a cocktail napkin on a transcontinental flight, as a prototype aluminum head shaped by hand on a milling machine, or, as is most commonly the case today, as a computer file. But it matters not how or where the idea comes from, somehow that design must take real form. That's where Asia comes in. Companies throughout the region can take that idea and make it real. Their methodologies can be frighteningly complex, yet the competition is as much fraternal as fractious.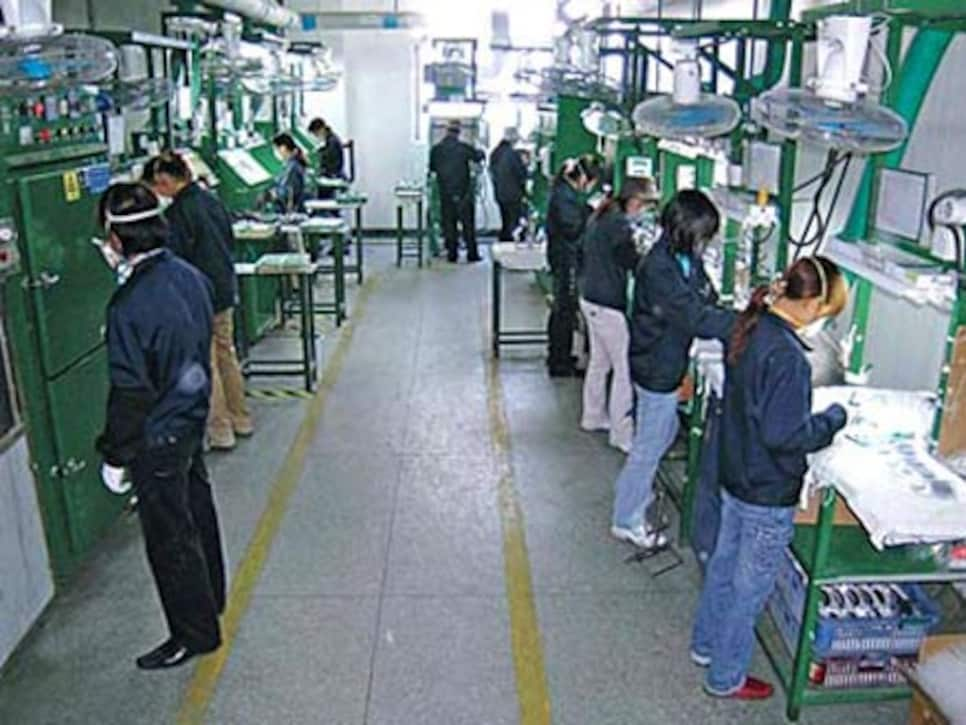 But above all things, it is highly evolved. For instance, it is one neat trick to develop the wax mold used in the titanium casting process for a new 460 cubic-centimeter driver head that has four intricate weight ports with a specialized screw-tightening mechanism, as in the TaylorMade r7 Superquad driver. But it's another thing to cast the wall thicknesses at 0.6 millimeters without three-quarters of the heads caving in after impact. Speeding the process is the presence of rapid prototyping machines. These high-tech scanning devices can produce a three-dimensional model of a computer drawing in minutes, and the most highly evolved can yield hittable versions of product ideas in only a few days.
To all this, add the tedious finishing component of the clubhead-manufacturing process, with its polishing, grinding and precision painting, the majority of which must be done by hand, and the role of China and its immense workforce can be understood.
"Of course, if you want to use specific new technologies, you need to develop them way ahead of time and prepare equipment and processes," says TaylorMade's chief technical officer, Benoit Vincent. "This is the work of our research department: prepare technologies with vendors years before we can use these processes to make new designs.
"Really, we split the cost of running the business: The vendors invest in equipment and manufacturing, and we invest in design, marketing and sales," says Vincent.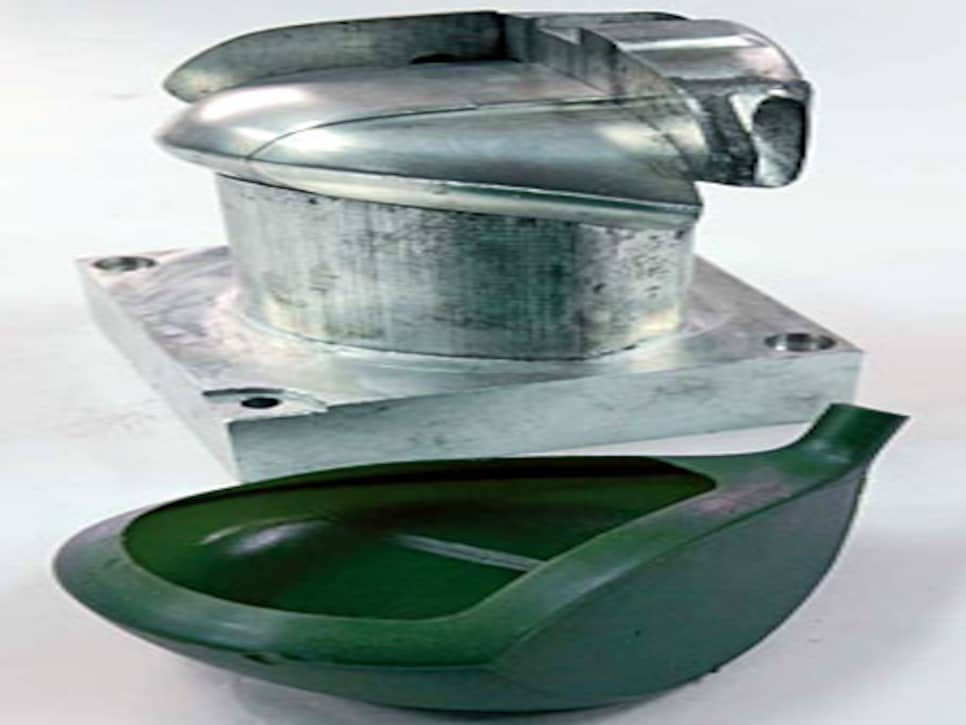 What's left unsaid, of course, is that once a unique process is developed -- say, thin-wall casting -- other companies begin using it. John Zeravica, an Illinois-based independent consultant to the equipment industry, says that cooperation has laid the foundation for China to become a behemoth.
"It's not that they suddenly figured out how to make golf clubs," Zeravica explains. "We taught them how to do it. It used to be that you were never quite sure what you were expressing because of the language difference. That gap has closed tremendously."
THE FIRST TIER: THE MANUFACTURING GIANTS
Fu Sheng's Wang-Ming Lee looks almost professorial in his military-cut hair, his fashionably frameless lenses and his measured demeanor as he walks through the company's massive Worldmark Sporting Goods factory in Zhongshan. He speaks as one who knows his company holds the key to any product a major U.S. manufacturer's R&D team might devise. He knows that key is all about dollars and cents. He knows not only because his company occupies some of the trendiest office space in Hong Kong's Tsimshatsui district, but because he has 14,000 workers under his command as deputy general manager at Worldmark. He knows with the wisdom of someone raised in the age of Chairman Mao.
"Our company culture is to never say no," he says through an interpreter, a wide-eyed junior salesman named Stone who is eager to try out his English. "Of course, everything any manufacturer can think of, we can do. But it has a price. We can show alternatives that maybe reduce the cost, but there have been cases where, because of us, the price point has meant a product was scrapped."
Fu Sheng's manufacturing bulk cannot be overstated. If you think producing more than a million clubheads a month sounds incredible, consider the workforce that makes it happen. In total, there are more than 16,000 Fu Sheng employees devoted to golf, with about 14,000 of them at Worldmark, Fu Sheng's 1.8-million-square-foot factory in Zhongshan. It is one of a handful of manufacturing mega-centers surrounding southern China's Pearl River Delta. And the business generates dollars nearly as jaw-dropping as its workforce. Fu Sheng's revenue has increased nearly tenfold since 1994, to more than $700 million in 2005. In fact, its business has grown most rapidly in the last five years, increasing more than 150 percent.
Fu Sheng's president, the man at the root of all this growth and dominance, is a broad-smiling Taiwanese national with dancing eyes named Ping-Zong Lin, or P.Z. to the major manufacturers in golf who rely on his business. He is as sinewy as he must have been as a teenager, and though his hands talk for him, there's a rhythm and intensity to his broken English that must leave even the most hardened American business executive fully engaged.
"I'm very lucky our chairman trust me," he says of the start of Fu Sheng's golf business in 1978 in southern Taiwan. "I knew I'd better keep the money coming in or the chairman, he would ask me to come back. In the golf business, quality is the most important thing for us. If you do good quality, people will be willing to pay more."
In addition to its titanium-casting operation in Taiwan, which features a core of engineers working to discover new ways of casting metal at thinner levels, the Fu Sheng approach under P.Z. has been to innovate the scattershot club-assembly process frequently found in Asian factories. By keeping products flowing in self-contained, U-shape sections--hundreds of these sections, it seems -- Fu Sheng has set the efficiency bar even higher.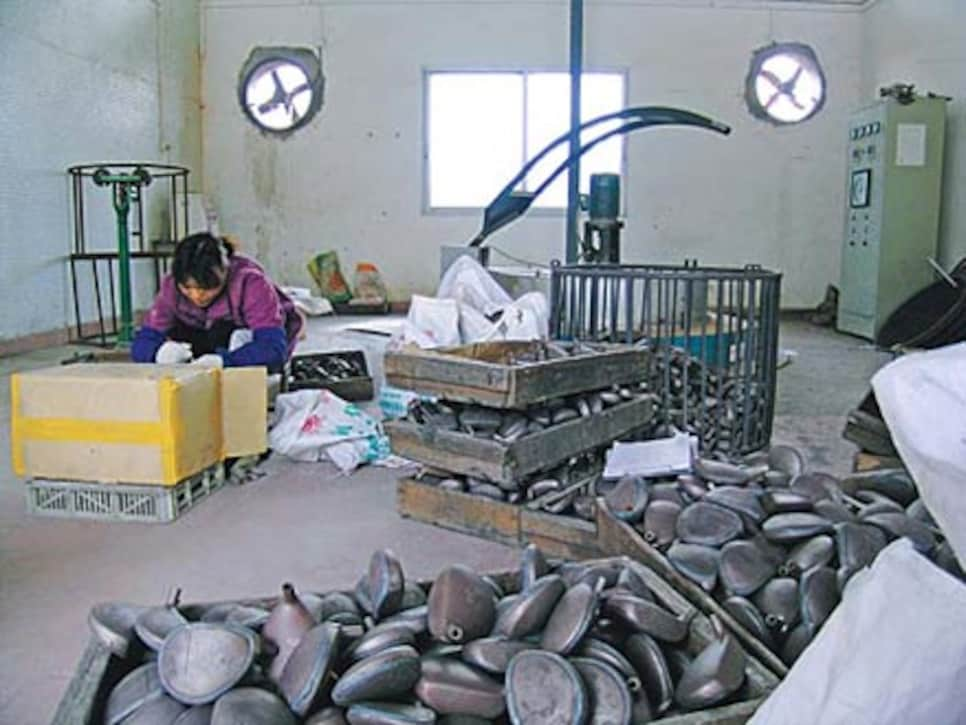 In China's valley of factories, Fu Sheng's facility is typical. Its young line workers (rarely older than 20) come from 10, 15, 20 or more hours away by train from rural China to live in Zhongshan. Three six-story buildings are devoted to housing thousands of them in spare, eight-to-a-room dormitories, next to a huge cafeteria where meals cost 3 Chinese RMB, or about 40 cents. Overtime is a way of life here, with so many customers wanting a piece of Fu Sheng's efficiencies. And though the $250 a month line workers earn seems laughably small by Western standards, Fu Sheng reportedly pays and cares for its workers better than the typical Chinese factory. More important, their reliability is unquestioned. "If Fu Sheng tells you you'll have finished product in 10 weeks, you'll have it in 10 weeks," says Nicklaus Golf's Clay Long.
Even more impressive is the speed with which an idea can matriculate through the system, making it possible for the biggest companies to launch two or three new drivers a year, just as TaylorMade and Callaway have done recently. Fu Sheng, for instance, devotes as many as 2,000 of its workers to Callaway projects.
The work for many of those laborers, though, seems endless, as rows of men stand shoulder to shoulder, 18 in a row, while grinding wheels roar in one room, torches spark away in another and shafts are tested in another, sometimes 25,000 shafts in a day. The hands-on work for a golf club is astonishing, as if we were dealing with intricate timepieces instead of implements routinely slammed to the ground in frustration. Every groove must be examined, every heel and toe of every iron and wedge ground to exact specifications, every paint-filled engraving mark precisely decorated.
"Overtime," Fu Sheng's Lee says blankly, walking by rows and rows of personal teapots that workers store in rickety shelving just off the factory floor, "is occasionally needed."
THE SECOND TIER: BEYOND THE ASSEMBLY LINE
Tim Reed is the vice president for research and development at Adams Golf. When he and his team are looking for a new way to think about design, they come to the Japan Golf Fair, the annual winter gathering of the Asian golf market in Tokyo's Big Sight Convention Center. Despite the intriguing displays of brands not often seen in the U.S. -- brands like PRGR, OnOff, Kitana, Fourteen--the real intrigue is off the show floor. It comes in a coffee shop looking down on the displays and the thousands of Japanese consumers clamoring for free tees and balls. There last February, Reed and a cadre of his engineers sat around a table, waiting for a wizard.
When Archer C.C. Chen, president of Performax Golf, shuffles up to the table, he brings no entourage, just a folder with some papers. But Chen, whose company has more than 150 worldwide patents, holds possibility in his head. His understanding of how to use maraging steel and other special metals, and mix them with other metals, helped launch the successful Orlimar Trimetal fairway woods in the late 1990s.
At the early stages Chen's suggestions can totally change a product's design. So when Reed and his team present their ideas, it is Chen who opens the door of possibility. He borrows a pen and draws the outline for a fairway-wood head, showing how he can make the face and crown of titanium and join them to a stainless-steel frame and sole, the brazing technique that his company has mastered. To their wide eyes, Chen chuckles. "No problem," he says. In the space of 15 minutes, Chen has changed the product direction, and nine months later, the Adams Insight fairway wood is launched.
Chen's Performax, which recently formed an alliance with Asian equipment giant O-TA, is an example of the burgeoning middle tier in the Asian-U.S. golf technology partnership. With some of these medium-size vendors, the entrepreneurial spirit is even greater, because they can contribute to a product's design, not just its manufacture. Gene Parente, president of San Diego-based golf research firm Golf Laboratories, has built and sold swing robots to Performax, Sino Golf and other Asian firms, and refers to these Taiwan- and China-based outfits as "boutique houses." "They can do more R&D than a lot of smaller U.S. companies can do on their own," says Parente.
Connecting even smaller U.S. firms to a competent Asian vendor is the world of independent consultants such as Zeravica, president of Illinois-based GlobalAcuity.
"When you're a big company and you're working with a Fu Sheng, you have a lot more resources at your disposal, and you probably have a staff of people on site working with the vendor," says Zeravica, who was employed by several U.S. manufacturers before going out on his own. "But once you move down the line, there's a quality difference. That's where you need to have someone like me watching things."
Adams Golf's Reed and his team are in Asia enough to not need a middleman. One reason is because of his company's close relationship with the likes of Performax and Sino Golf, a second-tier company that benefited from Adams' technical support in the early days and has grown from there. Led by brothers Augustine and Simon Chu, Sino combines a club-manufacturing and finishing operation, a shaft and putter-milling component, and a testing facility that might be as progressive as any in Asia. The company has less than one-fifth the employees of a Fu Sheng, but it has two swing robots, an immaculate test range on its own golf course, a putting tester, coefficient of restitution (COR) testers, spectrometers and a rapid prototyping machine that can produce a hittable sample from a computer file in less than three days. Scott Hribar, an American who serves as product-development manager, says the R&D capability strongly positions a company like Sino.
"You have to do things differently, provide different services," says Hribar. "We can work with a client and show them immediately how slight design changes impact performance because of our test center. We can become part of the design process right from the start of a product."
An escalator ride away from the upstairs coffee-shop meetings in Tokyo's Big Sight are girls in short skirts and go-go boots handing out brochures, tees and golf balls. It is all part of the atmosphere of the annual Japan Golf Fair, the largest golf merchandise show in Asia. But despite the sexist, boat-show feel, the ideas here can often be technologically sophisticated and remain distinct from those you see at its U.S. counterpart, the PGA Merchandise Show in Orlando. After all, at the Japan Golf Fair as recently as last year, nearly every big booth was home to at least one driver that had a face too hot to be used in the U.S.
Ten years ago, maybe even five, the Japan Golf Fair was the first place American golf companies would see strange innovations that would be years away from the U.S. marketplace. Now, that's rarely the case. What's mostly on display are wildly expensive technologies (the $800 driver and the $1,600 set of irons are not uncommon). The overriding sensation here is that golf clubs are like jewelry.
But that's not to say the inventiveness has diminished. Over here, Yokohama Rubber Company's golf division, known as PRGR, is debuting what it touts as a way to increase clubhead speed through a shaft and hand speed matching system. Golf company Fourteen has unveiled new drivers with different center of gravity locations designed to better match players with particular swing tendencies. Several companies are pushing the physical limitations of titanium by making the crowns of their drivers and other nonessential areas as little as 0.4 millimeters thick. Yamaha is attempting to improve ball speed with conjoined circles milled behind the face that it says maximize ball speed in two places.
COR, or spring-like effect, is still the big issue in driver faces. Asia (Japan and Korea, specifically) is the flashpoint for the sales of drivers with a COR above the 0.83 limit set by the USGA. The Royal and Ancient Golf Club of St. Andrews, which governs golf in Asia, has grandfathered high-COR drivers until 2008, but the question remains: Will players trade in their "hot" drivers for new, conforming models? Most companies are introducing only drivers that conform, and in Japan, where honor is inherent, the decision to play by the rules seems to already have been made. There are even rumors that shops in Tokyo have installed the USGA's pendulum device to test for conformance.
Says Seisuke Tomita, executive vice president of development for Bridgestone, "We expect that most golfers will play with conforming clubs. Most of the drivers being sold now are conforming. But there always will be players who won't, who want all the technology. But we're not making them anymore, and none of the other major companies is either, so that might end it right there."
THE THIRD TIER: HOME OF THE KNOCKOFFS
The final leg in China's club-manufacturing business can be seen in an unlit, unheated, garage-like outbuilding where burlap bags filled with unfinished clubheads arrive for the final steps toward completion. In the next room (cooled only by open windows and a single fan), there are nearly 100 grinding wheels, and the workers move through the clubheads at one every five seconds. The huge operations like Fu Sheng's and even smaller ones like Sino's incorporate a large portion of the hand-grinding, milling, polishing and painting of the clubs they produce, but plenty of work still trickles down to facilities like the Yongying Golf Goods Company in Nansha. At its best, Yongying is a good and necessary operation, well-meaning and efficient enough, and yet lingering in the dust is something less certain, less true.
It's called the knockoff, the clone and the counterfeit, and it pervades the thinking even at the most respected operations in China. It's why at Fu Sheng every one of the thousands of workers must pass through a metal detector every time he or she leaves the factory floor, even if only to go to lunch. It's why the windows at Sino are reinforced with metal bars. The vigilance is an effort to combat a culture that seems oblivious to the value of intellectual property, and yet decidedly practical when it comes to finding any way possible of putting food on the table, even if it means trafficking in illegal golf clubs.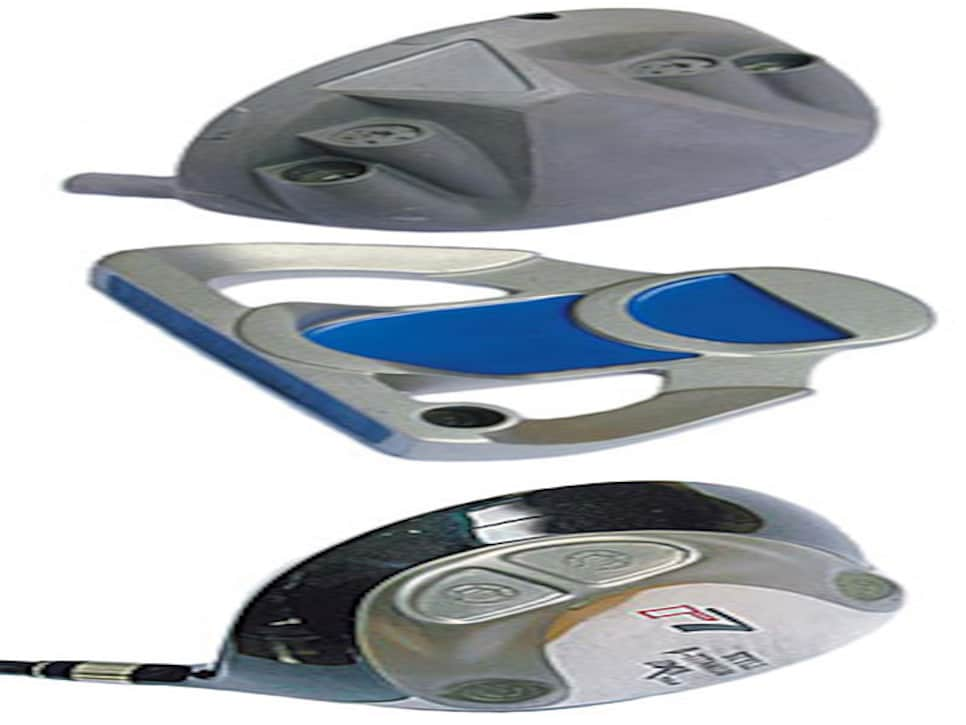 At Yongying Golf's stark Nansha plant, which seems about the size of a three-story elementary school, the workers provide clubhead-finishing duties for small brands like Orlimar, Hippo, Maxfli, Tiger Shark, and dozens of other brands that don't show up in U.S. stores. At the company's small headquarters building off a thoroughfare so new it's still unpaved in spots, the walls are lined with samples of products that the facility can make (its "open models"), some looking like knockoffs of TaylorMade's r7 drivers and putters like the Odyssey 2-Ball and the Ping Craz-E.
These open models at the plant in Nansha are hardly an aberration. Knockoffs and counterfeits are in hotel gift shops and on street-corner storefronts outside to entice the growing number of golfers visiting southern China. Traveling businessmen have frequently seen deals for full sets of "Callaway" clubs, including a bag and a travel cover, for $150. In terms of appearance, only a close examination would reveal differences between these cheap imitations and the real thing. This is the benefit of high-tech scanners that can copy the look of a three-dimensional object. Of course, real design and performance are determined by what lies inside the head, how thin the metal is cast and how it is internally weighted, so these counterfeits are not even the same species. And good luck trying to find two that perform the same. Yet through the global marketplace, these clubs are not only finding their way onto eBay auction sites, but even into the golf shop on Main Street, U.S.A.
Located just outside the toniest golf resort in China (the epic 10-course Mission Hills), an almost hidden storefront stands full of the best designs from TaylorMade, Callaway, Cleveland and Nike. None of them is legitimate, however. A few seem just slightly off (a grip is miscolored, a lie angle might be a little too upright, a shaft might be missing a brand-name band), but these clubs are practically indistinguishable from the original. An expert can see these are counterfeits, but when asked, store proprietor Ms. Hua just shakes her head blankly. "The head is real," she says through an interpreter, indicating the shaft is not as real. And like lightning, she waves to her husband, Mr. Wen, who is sitting at a desk scattered with papers and a baby bottle, to fetch the casting. He gives their 3-month-old son to grandma, and in a flash, Wen is proudly at Hua's shoulder, displaying the raw casting for a Nike CPR utility wood. Then, she produces the Callaway FT Hybrid head (not available in the U.S. at the time) and a pristine TaylorMade r7 425 driver head (also not available in the U.S. at the time). "Any shaft you want," she says.
Although the Asian influence has meant the greatest design opportunities and manufacturing efficiencies the game has ever known, it is not yet an entirely perfect system. Though the Chinese government has drawn universal praise for its crackdown of counterfeit operations (more than $1 million worth of counterfeit products was seized in a recent raid in Shanghai), the problem still exists. In large part, the technology that allows for the great efficiencies, the rapid prototyping and the consistent quality that the best firms are known for, it is also something of an enabler for those who know their way around. Fu Sheng and its peers exercise the most preventive measures, but with more than 30 million clubs a year being produced by firms in Asia, self-policing is still not enough. Fu Sheng's Wang-Ming Lee says the major vendors are very concerned, but powerless.
"We reward our workers for identifying a problem," says Lee. "But when it comes to counterfeiting, we don't own the trademarks, so we really have no power to enforce it ourselves. Indirectly, of course, it does hurt our business because there is a portion of golfers who are buying cheap copies instead of the real thing."
Still, Mrs. Hua stands in her family store proudly and offers a customer a telling, troubling finale. "If you let me know in advance, I can get you 10 at a time," she says. "I can e-mail you pictures what we have. Then the next time you come back, we'll have what you want."