News
Woods Expects Good Reception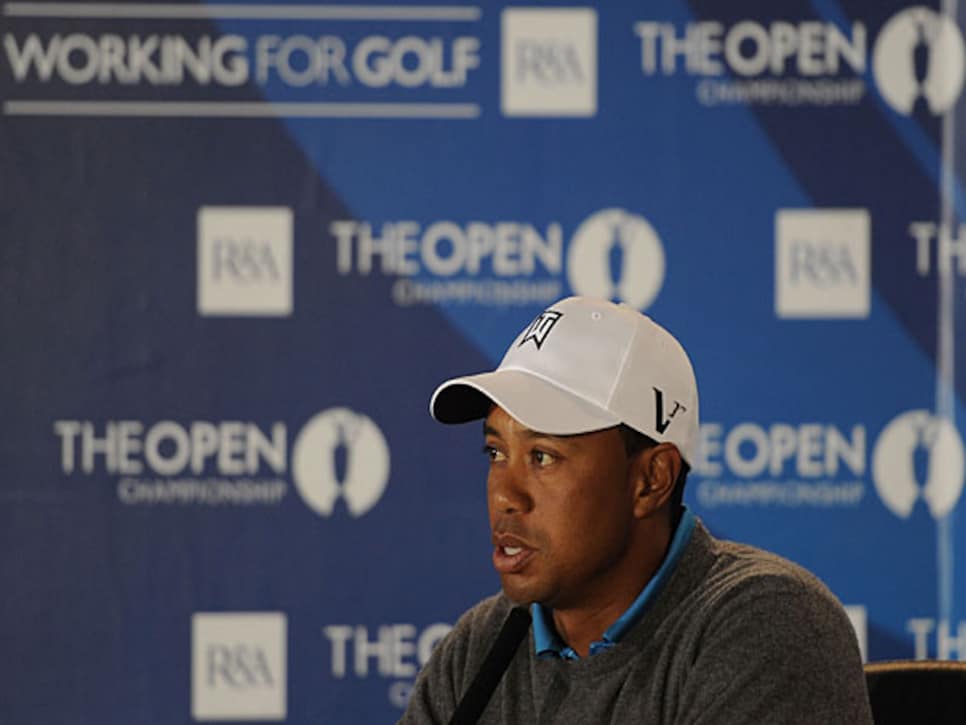 Woods has won the last two Opens at St. Andrews by a combined 13 shots.
ST. ANDREWS, Scotland (AP) -- Tiger Woods has won the British Open the last two times it was held at the birthplace of golf.
Still, he faced more grilling about his personal life than the state of his game Tuesday.
During a news conference looking ahead to the third major of the year, 18 of the 34 questions related to either Woods' marital woes or, to a lesser degree, his links to a Canadian doctor accused of distributing a performance-enhancing drug.
Woods reiterated that he's "just trying to become a better person," but refused to address reports that he's agreed to a divorce settlement with his wife, Elin. He also declined to go into any details about Dr. Anthony Galea, other than to confirm that he met with the FBI a couple of weeks ago.
"That's an ongoing case, so I can't comment," said Woods, who was treated by Galea after knee surgery but has repeatedly said he took no banned substances such as human-growth hormone.
The world's No. 1 golfer has been trying to rebuild his reputation after stunning reports that he cheated on his wife with numerous women. He entered rehab and took a five-month break from the PGA Tour before returning at the Masters.
Though he was in contention at both Augusta National and the U.S. Open, he has yet to win since the sex scandal broke last November. Now he's back at St. Andrews, where he won his first Open title a decade ago in an eight-shot runaway and followed up five years later with another dominating victory.
"I wouldn't say I have a specific advantage because there's a lot of guys who can hit the ball as far as I do," Woods said. "But this golf course requires placement. I mean, you really have to place the ball correctly."
His putting also was a major factor in those two wins. Woods has decided to go with a new putter at this Open, switching to a Nike in hopes that he'll improve some of the woes he's had on the green since his comeback.
"You're going to have some real long putts here no matter how you hit it, and you just have to get down in two," he said.
As for his personal life, Woods spoke mostly in generalities.
"I'm trying to become a better player and a better person," he said. "All that really matters is I have two beautiful kids, and I'm trying to be the best dad I can possibly be, and that's the most important thing of all."
Last week, Woods took a break from his Open preparations in Europe to return to the U.S. to spend time with his children, 3-year-old Sam and 1-year-old Charlie.
"That was an incredible experience, to hang out with my kids," he said. "Normally I don't come over here, play two days and then go back home. But the reason I did is obviously for my kids, and we had a great time."
As for persistent reports that he's agreed to a divorce from his wife, Woods was tightlipped.
"I'm not going to go into that," he said.