Srixon Z-series woods up speed with new titanium alloy, cupface design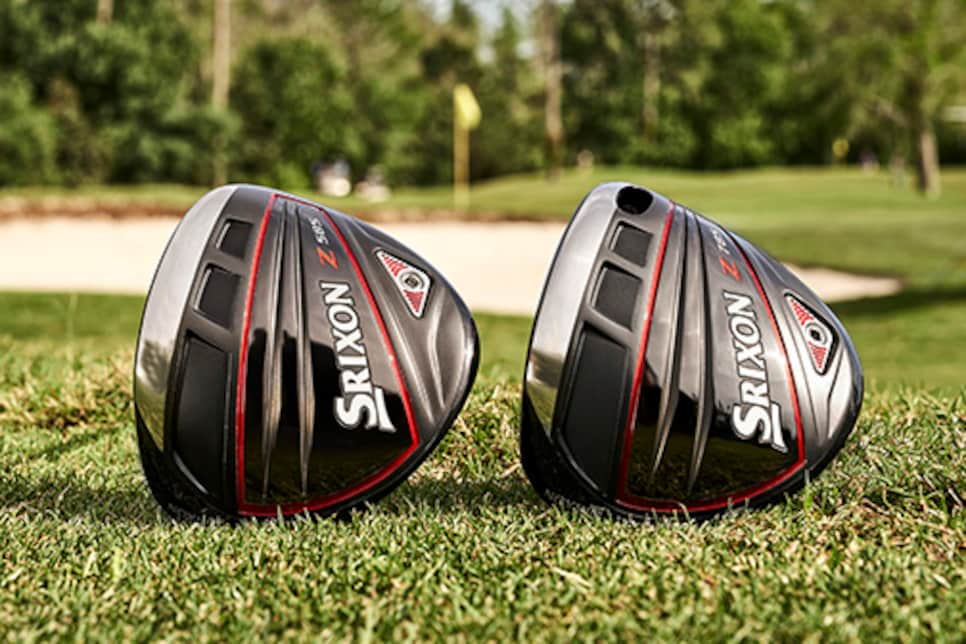 The new Srixon Z-series drivers show that the driver face, strictly regulated for its springiness for the past two decades, is still finding ways to add extra zip to our drives—especially the ones we thought we mis-hit.
Both new clubs from Srixon, the multi-adjustable Z785 and the fixed hosel Z585, benefit not merely from a wraparound cupface design to improve the way the face flexes at the perimeter, but also from a new titanium alloy in the cupface structure that wraps around the crown, skirt and sole. The so-called "super" titanium-51AF, first used by Srixon in some of its high-end XXIO drivers, had been developed for its high strength and lighter weight in automobile engine parts such as intake and exhaust valves and connecting rods. Its high strength results in Srixon's thinnest driver face ever.
Now, the super lightweight titanium making a driver face more flexible through its ability to yield a face with multiple thicknesses. Srixon's engineers tweak the thicknesses, based on their research on how often players make impact with various sections on the face. A spot that gets less frequent impact might be thinner because it experiences less stress, which in turn helps off-center areas flex more. The result is the largest area of the face that approaches the maximum flexibility allowed under the rules in company history.
"We've got regions of the face that are now sub-two millimeters, which in a driver is pretty rare," said Jeff Brunski, vice president of research and development for Srixon/Cleveland/XXIO. "We're definitely hitting thicknesses we haven't been able to get down to before."
Brunski said the goal is to raise what the company calls "the expected COR" [coefficient of restitution, or spring-like effect] of its drivers, an algorithm that assesses how the face flexes across its entire area, not just at its hottest point, combined with the frequency players make contact in that area. Perhaps not an easy formula to understand, it can be thought of in another way, said John Rae, Srixon vice president of research and development for operations and intellectual property: "We believe we're going to get more ball speed on more places across the face when more people hit more shots over time."
Another crucial component of the new Z-series woods in the use of a carbon composite crown that saves approximately five grams compared to a traditional titanium crown. Brought about by the carbon composite's 65 percent lower density vs. traditional titanium, that savings is used to improve perimeter weighting to make the clubhead more stable on off-center hits. That stability means mis-hits lose less ball speed. A series of grooves and ribs in the sole of each drivers also is designed to improve the way the cupface deforms at impact for better distance.
The Z785 ($500; 9.5-, 10.5-degree lofts) and Z585 ($400, 9.5-, 10.5-degree lofts) feature a similar shape but are designed to produce different ball flights. The Z585 features a little extra weight in the heel and produces a higher trajectory with a slight draw bias, while the Z785 is generally a neutral, flatter trajectory. The Z785's adjustable hosel features 12 settings between +1/-1 degree of loft, +1/-1 degree of face angle, and +2/-2 degrees of lie angle. An eight-gram weight chip in the sole is standard, but chips between four and 12 grams are available as custom options. The two drivers come with versions of the Project X HZRDUS shafts, Black in the Z785 and Red in the Z585.
The Z-series woods also include new fairway woods (F85) and hybrids (H85). Like the new Z-series drivers, the 3- and 3+-woods benefit from lightweight carbon crowns and a wraparound cup face construction. A dropdown step in the crown on both the fairway woods and hybrids helps to lower the center of gravity for less spin, optimal launch and better distance. Each features the Project X HZRDUS shaft (Red on the fairway woods, Black on the hybrids). The fairway woods (13.5-, 15-, 18-degree lofts) retail at $250, while the hybrids (16-, 19-, 22-degree lofts) will sell at $230 each.
The entire family of Z-series woods will be in stores in North America on Sept. 14.
You are using an unsupported version of Internet Explorer. Please upgrade to Internet Explorer 11 or use a different web browser.