The Loop
Spring training jacks up the prices, mostly because it can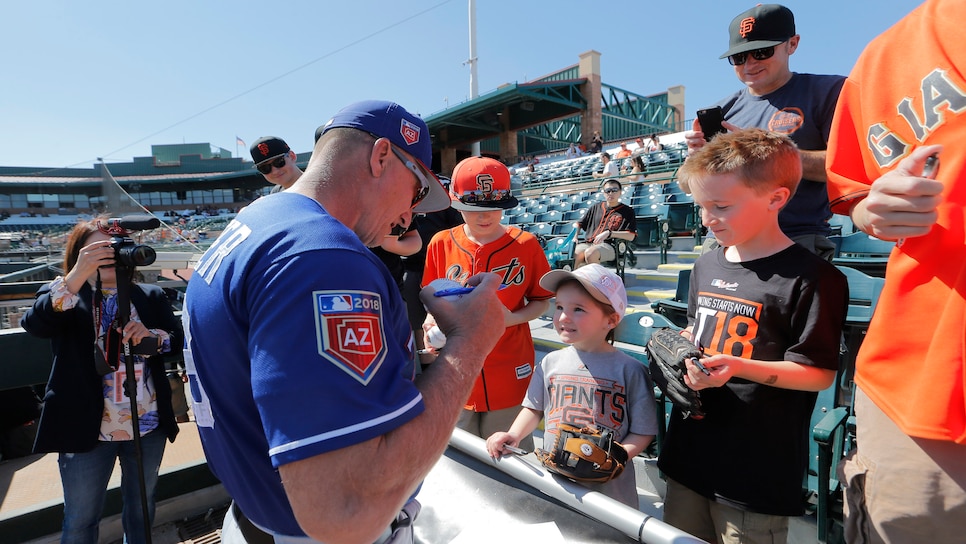 Chris Gouge was sitting in the warm Arizona sun while taking in the Giants late Sunday afternoon game against the Padres at Scottsdale Stadium. He wasn't sitting in a seat in the stands, though, but rather on a blanket on the grass berm (aka, lawn) beyond the left field fence.
And the cost of the tickets for he and his wife? Roughly $100. For each one. That sounds like a lot for a spring training game but Gouge was satisfied. "I wouldn't trade it for anything,'' he said. "It's been fantastic, this is exactly what I want.''
Others on the berm didn't pay that much but the prices still weren't cheap. Tony Patch says he paid $45 apiece for his ticket through StubHub, but he at least caught a home run that landed right where he was sitting. "I knew what I was getting into so I don't feel too bad about it,'' he said happily.
Karen and Bill Parks also were happy to be on the berm, where they were shaded by a nearby tree. "We'll take what we can get,'' Karen Parks said. "It beats the $70 or $80 for the tickets in the stands. I'd rather pay $40 and sit up here than pay to sit in the bleachers, especially on hot days when it can be miserable.''
Not every fan was satisfied with the prices, though. "This is the worst,'' Joe Virissimo said. "I'm not going to come back here.''
Spring training is a fun experience, particularly for fans from the north where there can be snow as late as March. The Cactus League is especially good because unlike Florida, teams are all within the Phoenix area. Regardless of whether you're in Arizona or Florida, it's enjoyable to sit in the stands and watch games with friends and family, getting to see promising young players and discuss who will have a great career or help the team.
It's just that it can cost you more to go than in the old days.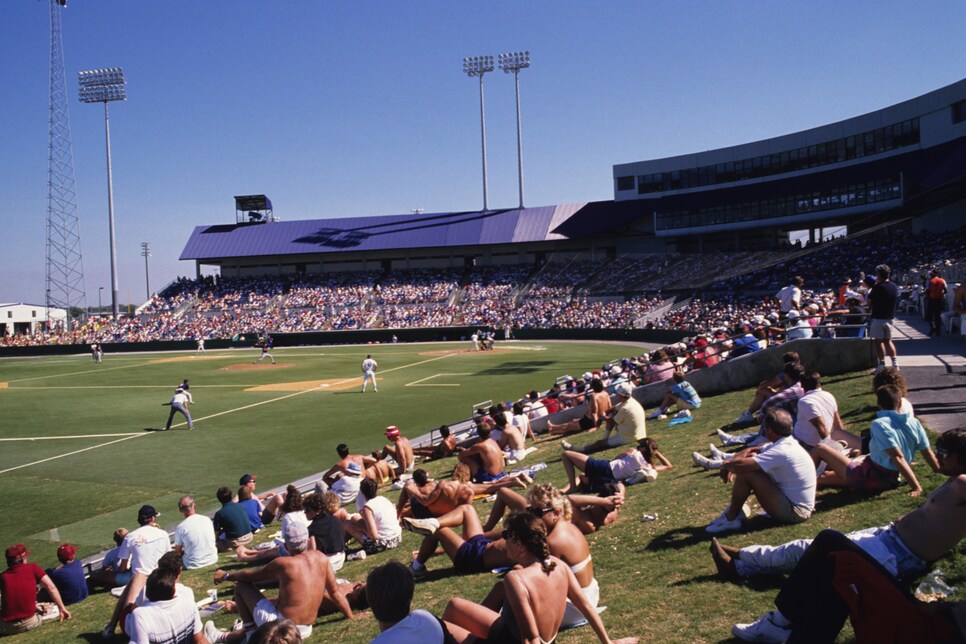 Ronald C. Modra/Sports Imagery
The price of spring training has been growing for many teams, especially if you're going to see the Giants or Cubs, who are the most popular in the Cactus League. On the Giants website earlier this week, the few remaining tickets still available for Saturday's game against Oakland ranged from $58 to $97 in the stands to $60 on the berm. Tickets on StubHub ranged from $40 to $200. Cubs seats on StubHub ranged from $32 to more than $75 for lawn seating, with many box seat tickets along the infield going for $75 to over $100.
These can sometimes be more than the listed price for regular season games.
(Plus, there are always "convenience'' fees for many tickets, which can add a little more to the price.)
"We've been coming for about 20 years. We still enjoy it but it is getting pricier and pricier,'' Sandy Chisholm said at the Giants-Padres game. "We don't come to Scottsdale all that much because this one is the most expensive… it's definitely gotten pricey.''
And sometimes hard to buy. Over in the Grapefruit League, the cheapest ticket for a March 18 Yankees game was $85 on their website earlier this week before they sold out. Pinstripe Pass tickets started at $27, which is not for a seat but general admission standing room only in the outfield (though it does include one free beer, soda or bottled water). Most tickets for the Red Sox remaining games were no longer available.
Tickets can sell out—or nearly sell out—quickly for the most popular teams, which sometimes drives up costs through the dynamic pricing system some clubs use. And then there are all the secondary ticket sites on the web. I talked to a fan a couple years ago who said he bought Giants spring training season tickets than resold them for two to three times the face value.
"I think the people must buy season tickets and then can sell them for even more,'' Chisholm said. "We have a really hard time getting tickets. Even the first day that they go on sale.''
And remember, these are for games that don't count for the regular season, where some of the team's best players are not in the lineup, and where those who do start the game leave are out by the sixth inning.
Fortunately, tickets for games at some other parks can be less expensive, particularly for some teams located to the west side of Phoenix. For instance, the Reds host the Giants in a split-squad game this Saturday in Goodyear, with tickets listed on the berm going for a mere $8 and seats down the lines ranging from $14 to $22.
Yet while spring training prices can be high these days, it still remains popular, which explains the increasing costs. (That includes hotels and rental cars as well. By the way, if you're going to Phoenix, it can be much cheaper to rent a car away from Sky Harbor airport, where taxes and fees drive the prices up substantially.)
"It's fun,'' Chisholm said. "We still love coming down here. Sometimes we extend our vacation and golf.''
And even though spring training prices are certainly higher now, it can be the way of life. As Jim White, who paid about $40 for his ticket on the berm at the Giants-Padres game, commented: "There's a lot of things that were cheaper in the past, right?''