Courses
Sophie Gustafson: Why I Hung Up My Spikes to Become a Caddie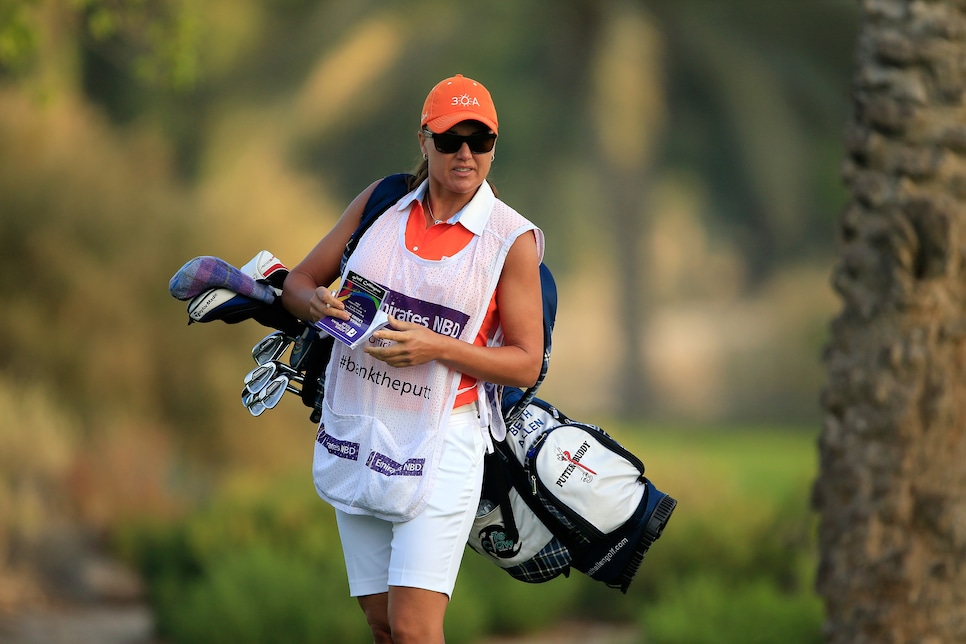 Professional golfers have a unique advantage over many other pro athletes—they get to have a constant "helper," a caddie, by their side as they compete. Ladies European Tour player Beth Allen has an even greater advantage: her caddie is former LPGA Tour player Sophie Gustafson, who won 28 professional titles and competed on eight European Solheim Cup teams before recently retiring to become Allen's caddie. The two ended up winning the first event they teamed up for, which also happened to be Allen's first LET title ever. Gustafson now loops full time for Allen (who has simultaneously risen to the top spot in the LET 2016 Order of Merit), and is one of the very few pro golfers in the world who has experienced both sides of the player-caddie dynamic.
A tour caddie is so much more than a hired hand who schleps a 35-pound bag and checks the wind; he or she is also part coach, part therapist and part comic relief. We caught up with Gustafson, 42, to find out her take on this ultra-important relationship.
GD: What made you decide to hang up your clubs and become a caddie?
Gustafson: I've wanted to caddie for a long time. In 2008, when I was struggling with my game, I was thinking about doing it. Thinking about doing something and actually doing it are two completely different things, though. But when my game had been bad for over two years, I was at my wit's end. I didn't want to play anymore.
When Beth and I were in Hainan, China, in 2015, having both missed the cut at the World Ladies Championship, I told her "I don't think I want to do this anymore." She asked me what I wanted to do and I mentioned caddieing. She hired me on the spot. We ended up winning our first event together. After that, it was hard to turn back.
GD: It's unusual for a tour player to become a caddie. How does your special expertise give Beth an advantage?
Gustafson: My experience—I know how she feels. That's a huge advantage in the mental department. Only if you've been there could you know how a player thinks and how she feels at crucial moments. I think that is a massive help. Just a few words here and there can mean the difference between a win and a so-so finish. I love the competition, and I have a lot to give as a coach. My strength as a player was ball striking, so I have a good feel for what kind of shot will work well in what situation. I'm involved in every shot selection she makes the competition. We talk it over and make a decision together.
GD: What are some of the duties you perform as a tour caddie?
Gustafson: Pre-round, I make sure I know where all the pins are so I know where we want to be on the green and where we want to be in the fairway to get a good angle into the green. If it's an event that means a lot to Beth, I might pay a little more attention to her warmup to make sure she is loose and happy and doesn't get stuck in her own thoughts. Post-round, we practice so she can leave the course happy with her game. If her putting was iffy, for example, we might spend 20 minutes on the practice green, or if the driver wasn't behaving, we might go hit a few drives. She mostly decides what felt good or bad and if I see something in her swing, I throw my two cents in.   GD: What are the best and worst parts of your new job as a caddie?
Gustafson: I love the fact that I'm so involved in playing good golf, even though I don't hit one single shot. It feels like I'm as much a part of the shots as Beth is. I see the shot, I feel the shot, but she executes it. The biggest challenge is to try to find the right clubs and the right shots when she doesn't quite have her game, to make sure the score doesn't run away from us. Picking clubs and shots when your player doesn't really have it is really hard. Nothing is consistent. On one shot, the 8-iron might go 155 yards and the next time, 140. Then it's hard to be confident in the club you're advising her to hit. Once in a while I just want to take the club and hit the shot for her—curve the ball around that tree or hit a massively high 9-iron over an oak—but that's rare. She's such a great all-around player that I am more than happy to have her hit the shots.   GD: Why is the caddie-player partnership so crucial at the professional level? How can weekend golfers benefit from taking a caddie?
Gustafson: Pros need to be incredibly accurate. They need someone who can tell them exactly where they need to be on their next shot within yards, feet, even inches. Then if you can find a caddie who can help you get in the right mindset and even get a few laughs out of you, you have a winner. I wouldn't say that tour professionals and happy weekend golfers would use a caddie the same way. If you're playing a new course, a caddie can help tell you where to go and where to aim, but not with such pinpoint accuracy, because they can't know your game as intimately as a professional tour caddie knows his or her player's game. I think the biggest benefit to a caddie when you're playing for fun is that they carry your bag. It's always nice to have someone else carrying your bag when you're walking.