Solheim Cup-date
Solheim Cup-date: Both squads starting to take shape for September matches in Spain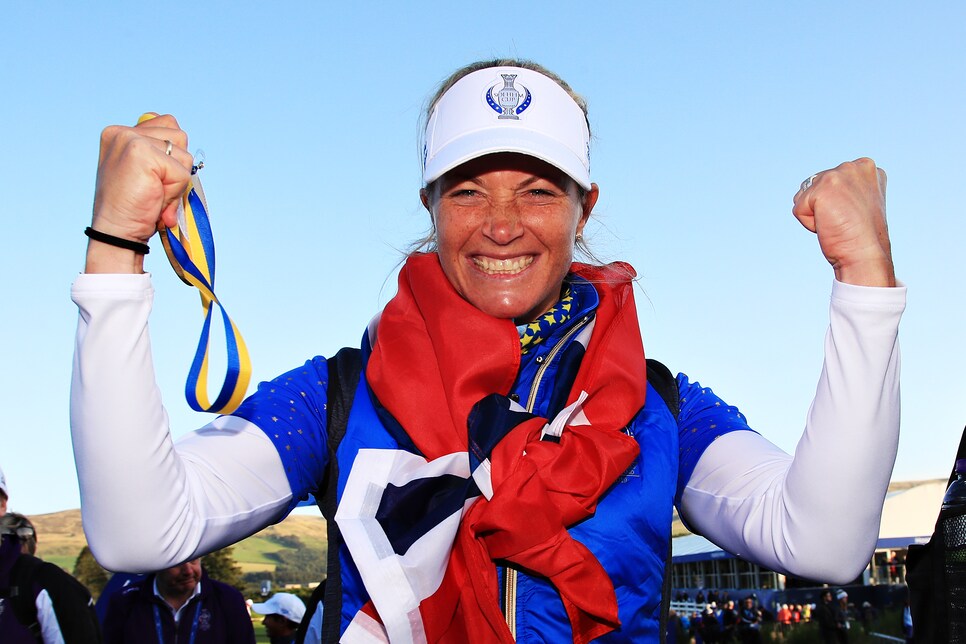 Following a flurry of four majors over seven weeks, the next biggest deadline on the LPGA's calendar is finalizing the Solheim Cup rosters ahead of the trip to Finca Cortesín, Andalucía, Spain, on Sept. 22-24. Europe will post its squad after this week's ISPS Handa World Invitational and the United States will select its team following the end of the CPKC Women's Open on August 27.
With some spots already finalized and limited time before captains Stacy Lewis and Suzann Pettersen file their rosters, here's a preview of what's on the line after sorting through statistics and each squad's experience just over a month before the Solheim Cup begins.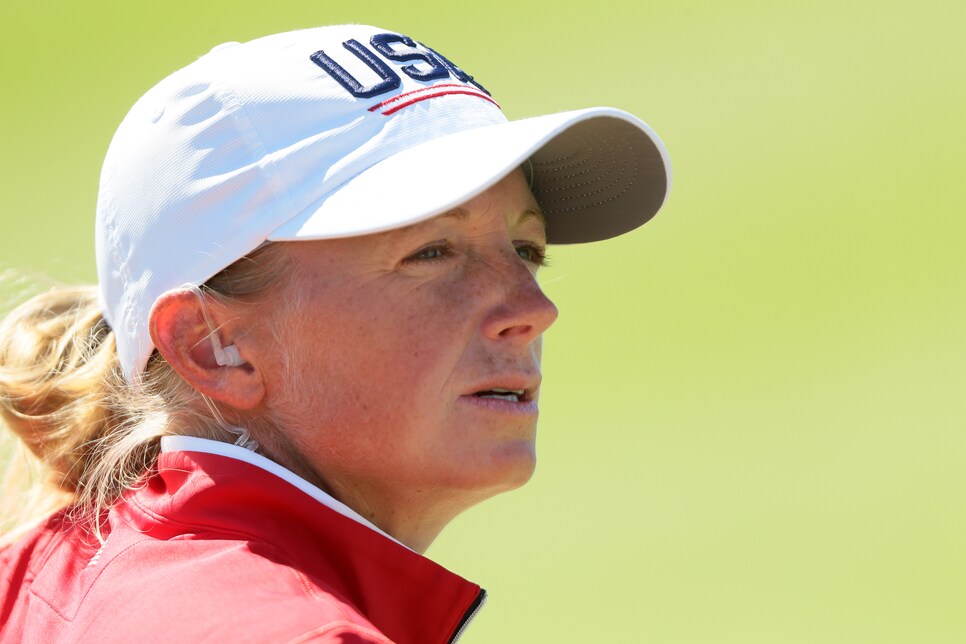 Selection format: For the second straight Solheim Cup, the Americans have nine automatic qualifiers, with seven coming from the points list and two coming from the Rolex Women's World Rankings, leaving Lewis three captain's picks. (Current standings here.)
Automatically qualified and definitely in: Lilia Vu, Nelly Korda, Allisen Corpuz
Winning majors will virtually guarantee a spot on a Solheim roster and the Americans are fortunate to have two such players this year in Vu and Corpuz. This top-10 in the world triumvirate, including current No. 1 Vu and former No. 1 Korda, guaranteed their spots nearly a month ago.
Would take a miracle not to automatically qualify: Megan Khang
If the U.S. had the same qualifying deadline as Europe, Khang would be in the group above. It'd take some zany outcomes for her not to make it to Spain, as she's in fourth of the seven U.S. points spots. While she's winless for her career, Khang posted top 10s in three majors this year—a T-9 at the Chevron Championship and Amundi Evian Championship, alongside a T-3 at the KPMG Women's PGA Championship.
Didn't earn any points for their victories, in regardless: Rose Zhang, Cheyenne Knight
Highlighting a hole in the American selection process, both Zhang (Mizuho America's Open) and Knight (Dow Great Lakes Bay Invitational) earned zero Solheim Cup points for their respective titles. Zhang didn't accumulate any as she was not a member at the time of her victory, and Knight's was due to the Dow being a team event. Lewis will want both on her roster and will potentially need to expend captain's picks to do so. Zhang is qualified through the Rolex Rankings (31st), but Knight isn't exempt.
Currently qualified, definitely in: Jennifer Kupcho, Danielle Kang
Sitting in fifth and sixth, respectively, on the U.S. points list, it'd involve Andrea Lee winning the Canadian Women's Open plus others in order to take either out a qualifying position. Even if that happened, Lewis would want to spend picks on them—Kupcho was the dominant scoring engine for the U.S. at Inverness, going 2-1-1, and Kang's three years of experience is one year shy of everyone in the categories above combined. Speaking of lack of experience …
Likely need at least one of these veterans: Lexi Thompson, Lizette Salas
Thompson and Salas have been on the team for the last five Cups. The most likely of these two to make the team is Thompson, currently qualified with a tenuous hold on the seventh points position. Andrea Lee and Ally Ewing are within striking distance of overtaking Thompson's spot in Canada. Thompson slipped from first in Solheim points at the start of the year to seventh, as she's yet to earn a single point in 2023. If either Lee or Ewing pass Thompson, the veteran still would likely make it through the world rankings, as Thompson sits in 21st, which would be the first position of two available.
If Thompson falls out, Salas might be necessary for experience's sake traveling to Spain. Salas is dealing with a back injury that's kept her out since a T-20 at the U.S. Women's Open in early July. That kept Salas from defending her Dow title last month with Jennifer Kupcho, a tandem that also went 2-0-1 at the 2021 Solheim Cup. Even if Thompson makes the roster, a healthy Salas is an asset for the green American squad.
Good side of the bubble: Angel Yin, Ally Ewing, Andrea Lee
All three have shown good form over the year, and if form is the top consideration, all three could make the team. Currently, Yin is qualified through the second Rolex Ranking position at 32nd, moving up 106 spots from the beginning of the year to earn consideration for her third Solheim Cup. She punctuated her case with a T-6 at the AIG Women's Open, alongside a runner-up at the Chevron in April.
Ewing held the 36-hole lead at the British, and while the American settled for a T-6, it still was her fourth top-11 finish over Ewing's last six starts. The 2022 Kroger Queen City Championship winner also brings two previous Cup starts of experience to the table as a possible pick.
Lee turned around a slow 2023 with a crucial showing over the European swing, posting back-to-back T-9s at the British and the Scottish to put the 2022 Cambia Portland Classic winner back into the conversation. Going against Lee, however, is that she'd be the fifth rookie on the roster.
Bad Side of the Bubble: Alison Lee, Marina Alex
Lee and Alex are both past Solheim veterans, an important box for Lewis to check with such an inexperienced group, but they haven't given a recent reason to earn a selection. Lee, who played in the 2015 Solheim Cup, has had a steady-handed season with only one missed cut, placing her 10th in points. Her T-11 at the British got overshadowed by other possible captain's selections from Lee (T-9) and Ewing (T-6).
Alex, a member of the 2019 roster, won the Palos Verdes Championship but has yet to post a top 10 this year, including her last three starts from the Evian through the British, where she bogeyed the final hole on Friday to miss the cut by a shot.
Automatically qualified and definitely in: Nelly Korda, Allisen Corpuz, Lilia Vu
Would take a miracle not to automatically qualify: Megan Khang
Didn't earn any points for their victories, in regardless: Rose Zhang, Cheyenne Knight
Currently qualified, definitely in: Danielle Kang, Jennifer Kupcho
Likely need at least one of these veterans: Lexi Thompson, Lizette Salas
Good side of the bubble: Andrea Lee, Ally Ewing, Angel Yin
Bad side of the bubble: Alison Lee, Marina Alex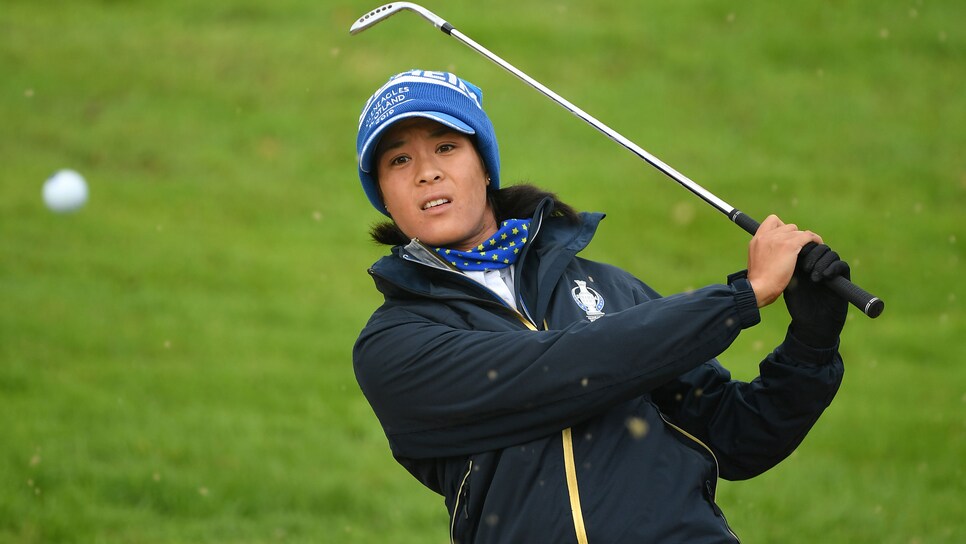 Celine Boutier has been the hotest player in women's golf and also provides needed Solheim Cup experience.
Stuart Franklin
Selection Format: There is a new selection format for the Europeans in 2023. They have two lists—the European Points and World Rankings. Two players qualify from Ladies European Tour points, and six qualify from World Rankings, up from four in 2021. Europe's captain, Suzann Pettersen, will have four picks to complete her roster. (Current standings here.)
Automatically qualified from the LET points: Celine Boutier, Maja Stark
The only notable here is the quality of players coming from LET points. Full-time LPGA members can only earn LET points at co-sanctioned events, such as the Evian and Women's British. With Boutier winning the Evian and Stark winning the 2022 ISPS Handa World Invitational, Europe gets two players that would've otherwise made the team in Boutier (fourth) and Stark (40th). In 2019, when the team had three players from the LET points list, it had Carlota Ciganda (13th), Anne van Dam (95th), and Caroline Hedwall (116th).
Locks from Rolex World Rankings: Leona Maguire, Georgia Hall, Charley Hull, Linn Grant
With only one event left before finalizing the team, it is hard to see scenarios where any of the four past LPGA winners fail to make the roster. Maguire, Hall and Hull are Solheim buzzsaws, going a combined 22-10-5, with all three having a year of earning at least four points. Grant's addition rounds out the talented rookie Swedish duo.
Currently qualified from World Rankings, would take a miracle not to qualify: Carlota Ciganda, Anna Nordqvist
It's conceivable that Nordqvist gets passed in the Rolex Rankings at 37th, but it's inconceivable to see either veteran not make the team. Ciganda has five years of experience and will play a Solheim in her home country for the first time. Nordqvist, a vice captain, is a seven-year veteran, the most of anyone potentially in the Cup.
First three in: Madelene Sagstrom, Jodi Ewart Shadoff, Gemma Dryburgh
It feels like the first three picks are in a tier of their own. Sagstrom, by the narrowest of margins, missed being in the last World Rankings position spot. The two-time Solheim veteran punctuated her case with a T-9 at the Women's Scottish.
Ewart Shadoff and Dryburgh differentiated themselves by breaking through for their first career LPGA victories late last year at the LPGA Mediheal Championship in October and Toto Japan Classic in November, respectively. Ewart Shadoff brings three years of Solheim experience, plus posted a T-3 at the Dow. Dryburgh, who also finished eighth at the Evian, would be the team's third rookie.
Final spot options: Mel Reid, Matilda Castren, Celine Borge, Albane Valenzuela, Emily Kristine Pedersen
The 12th spot for Europe is the most challenging part of the list to parse through. Which direction does Pettersen want to lean toward? The team has more Solheim experience than the Americans, and if she wants to lean that way (which certainly paid off with Catriona Matthew's selection of her in 2019), Reid's four previous Cups give a solid choice on top of her in-form midsummer of five consecutive finishes in the top 27. However, Reid has only made one cut over her last four starts.
Castren finished runner-up at the Dow team event after a T-12 at the Dana Open and earned the winning point at the 2021 Solheim. However, with the door open to build a case for a spot, Castren didn't make a cut over the LPGA's three-tournament European swing.
If recent form is the most crucial selection criteria, Pettersen's fellow Norwegian Borge holds a hot hand right now with top-three finishes at the Dow and the Evian over the last month. Valenzuela has cooled off after a solid beginning to the year, featuring a T-4 at the Chevron in April, advancing to the final eight of the LPGA's match play in May and a T-6 at the Shoprite in June. These two would be another rookie to Europe's squad.
Pedersen could force the issue with a strong performance at the ISPS Handa World Invitational, bringing two years of Cup experience and a 3-1-0 record in 2021.
Automatically qualified from the LET points: Celine Boutier, Maja Stark
Locks from Rolex World Rankings: Leona Maguire, Georgia Hall, Charley Hull, Linn Grant
Currently qualified from World Rankings, would take a miracle not to qualify: Carlota Ciganda, Anna Nordqvist
First three in: Madelene Sagstrom, Jodi Ewart Shadoff, Gemma Dryburgh
Final spot options: Mel Reid, Matilda Castren, Celine Borge, Albane Valenzuela, Emily Pedersen