The Loop
Sergio Garcia's green jacket wedding, Rory McIlroy's big breakup, and a controversial gimme
Welcome to another edition of The Grind, where we're proud of Sergio Garcia for nailing the No. 1 rule of wedding planning: Hire a great live band. Of course, an addendum to that rule is that if you have a chance to get Kenny G, you damn well get Kenny G. This saxophone shredding, plus-handicap playing, is a bad, bad man. If you've never seen his "Regulate" duet with Warren G on Jimmy Kimmel, prepare to have your face melted off:
Sergio G also established a new wedding rule that if you win the Masters that year, you at least wear your green jacket to your reception.
It doesn't get more baller than that. And it doesn't get more romantic than a honeymoon in . . . Akron? Oh, right. Sorry, Angela, but Sergio still has a couple big tournaments coming up. Let's get to that and everything else.
Jhonny Vegas: How crazy is golf? Vegas defended his Canadian Open title on a Jack Nicklaus course that even Jack himself couldn't win on. And Vegas did it despite having missed the cut in eight of his past 10 starts. Not to mention, he won thanks to an 8-iron that hit the grass above the lip of a fairway bunker – and still cleared the water and found the green to set up the winning birdie. #ItWasJustHisWeek
Bernhard Langer: The ageless wonder continued his assault on the PGA Tour Champions record book with his 10th senior major at the Senior British Open. That gives Langer four more wins this year, including three majors. Apparently, those anchoring accusations from his fellow players are only fueling him. Real smart, guys.
Golfers named Jordan: A week after Jordan Spieth won the British Open for his third career major, another 24-year-old with the same first name, Jordan Smith, won his first European Tour title at the Porsche European Open. Here's what we know about Smith: He's from England, he's a Euro Tour rookie, and he drove a par 4 with a 3-iron earlier this season.
Dude's got some serious pop.
U.S. Girls' Junior semifinal finish: I'm going to sound like Frank Costanza at Festivus, but "I've got a lot of problems with you people, and now you're going to hear about it!" Elizabeth Moon shouldn't have raked away her golf ball so quickly. Erica Shepherd shouldn't have said anything (she was lucky to be alive in the match at all). Her coach/caddie shouldn't have said anything. And if the rules of golf allow for a concession of a putt, why does it matter when it's conceded? Congrats to Shepherd for winning the title the next day, but this whole situation was tough to watch.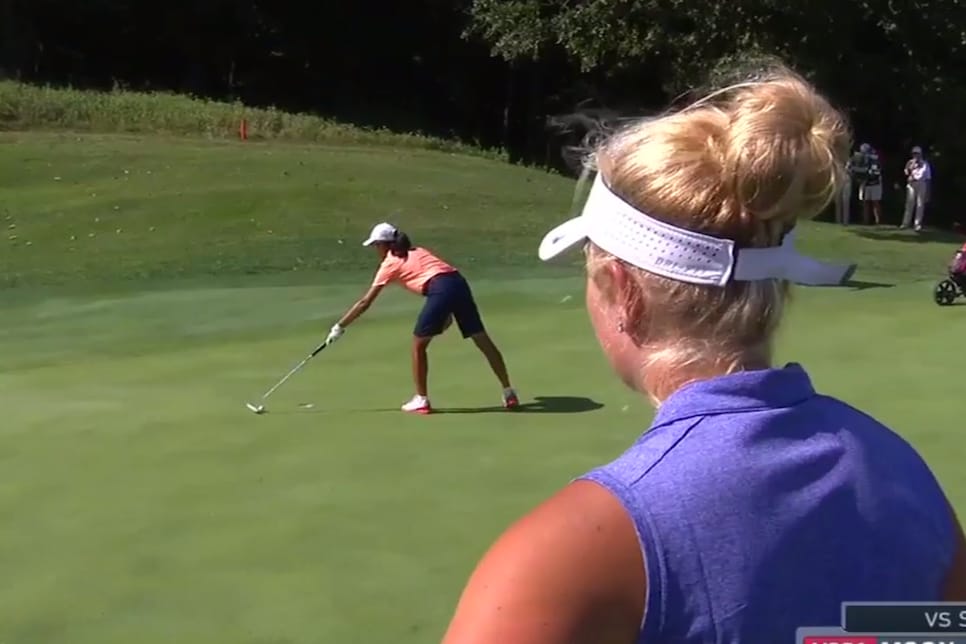 Glen Abbey's Par 5: We're not so much selling the finishing hole as much as how modern equipment has changed the way it plays. The amount of short-iron approaches and eagles on Sunday at the Canadian Open were absurd and had traditionalists up and arms about how far the golf ball goes. Yes, it was pointed out that Tiger Woods played the hole with a driver and a sand wedge in 2000, but that was TIGER WOODS. Now everyone tears it apart.
Rory's big break-up: No, not with his new wife! They're doing just fine, but McIlroy's longtime caddie, J.P. Fitzgerald got the boot. Sometimes you just need to shake things up, but I hope Rory's not blaming his disappointing season on a man who lugged five different putters around for him just a couple weeks ago. McIlroy has had other problems this year from the putting to the rib injury to not booking Kenny G for his wedding. And regardless of how Rory plays going forward, this move is sure to get overanalyzed, so we're selling that too.
The PGA Tour heads to Akron's Firestone Country Club for the WGC-Bridgestone Invitational and to Reno for the Barracuda Championship. Oh, and the LPGA has its British Open, while Stephen Curry will make his Web.com Tour debut at the Ellie May Classic in the Bay Area. In other words, there's a LOT on tap.
Random tournament fact: According to Golf Channel's Justin Ray, athletes from other sports are 0-for-23 in making the cut in Web.com Tour events and have a scoring average of 79.4. Good luck, Steph.
RANDOM PROP BETS OF THE WEEK
-- Romeo from "Tin Cup" will by Rory's next caddie: 500-to-1 odds (Actual bet)
-- Romeo caddying for Steph this week would break golf Twitter: LOCK
Drinking isn't the only thing you can do with the claret jug. Jordan Spieth also proved the trophy works as a birthday cupcake holder:
OK, so it's still best used for drinking.
VIRAL VIDEOS OF THE WEEK (ON-COURSE DIVISION)
How about this hilarious exchange between Charley Hoffman and Kevin Chappell over a ruling at the Canadian Open?
And then there was this priceless reaction from a photographer after Alex Levy missed a three-footer for the win at the European Open.
VIRAL VIDEOS OF THE WEEK (OFF-COURSE DIVISION)
Check out this PGA pro trying to fill up a pool at his club – and taking an accidental dip instead:
And I proudly present my directorial debut from the British Open: Gary Player scolds fans for unhealthy eating.
Gary was a total diva on the set. Just kidding, he couldn't have been more of a pleasure to work with.
"I was forearm shivering guys in the crowd there initially in the fescue. I mean, there were 500 people, we can't find the ball, and I'm thinking someone could grab it. It was just absolute chaos." – Michael Greller on that wild 13th hole at the British Open for his boss, Jordan Spieth. We're still talking about that? Yep. We're going to be talking about that for a long time.
THIS WEEK IN DUSTIN JOHNSON-PAULINA GRETZKY SERGIO GARCIA-ANGELA AKINS PUBLIC DISPLAYS OF AFFECTION
Another couple photos from the newlywed couple's beautiful affair at the Akins family ranch in Texas:
THIS WEEK IN BE CAREFUL WHAT YOU DO AROUND ME
I'm pretty quick whipping out my phone camera. You've all been warned.
It took two years, but Tom Brady finally gained membership to The Country Club in Brookline, where he has a "house" off the fourth fairway. Phew. I was wondering when the guy was going to catch a break. . . . . Danny Willett has turned his golf bags into barstools. Brilliant.
A manhunt delayed a member-guest golf tournament in Ohio. No, it wasn't golf fans looking for Danny Willett. . . . Congrats to Dou Zecheng on becoming the third-youngest Web.com Tour winner and becoming the first Chinese golfer to earn a PGA Tour card. Apparently, he thrives at tournaments that feature walk-up music. . . . And finally, with the announcement that Coca-Cola is going to pull the plug on Coke Zero, I didn't waste anytime loading up on this glorious concoction at Costco.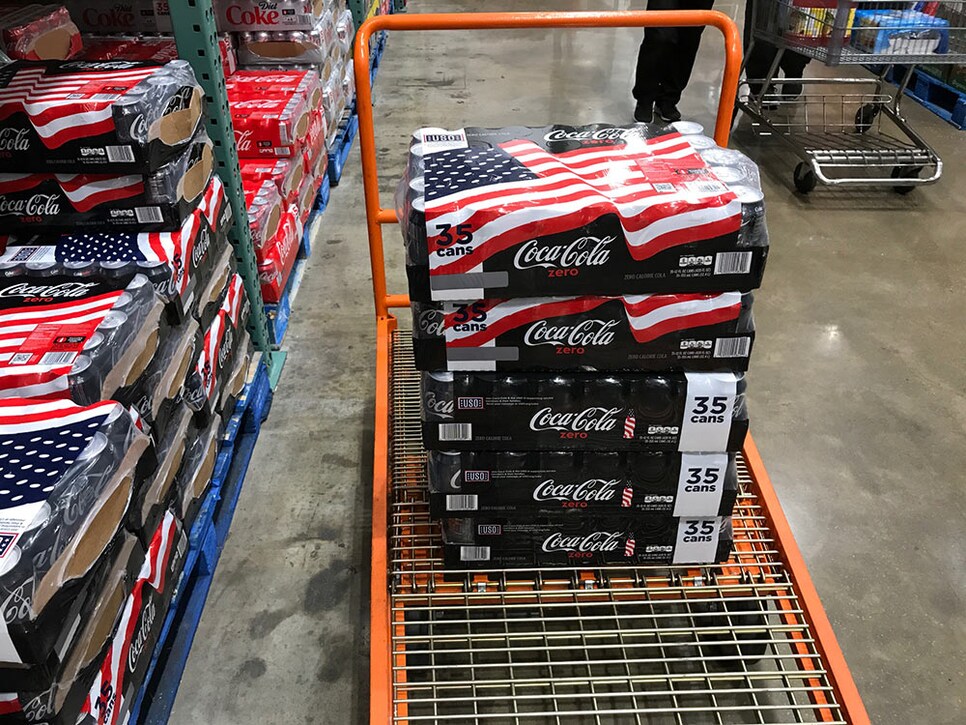 Desperate times call for desperate measures.
RANDOM QUESTIONS TO PONDER
Did Kenny G play the Masters theme song at Sergio's wedding?
Is Rory McIlroy still taking caddie applications for next season?