FedEx Cup
It was a costly Sunday but still a season of riches for Scottie Scheffler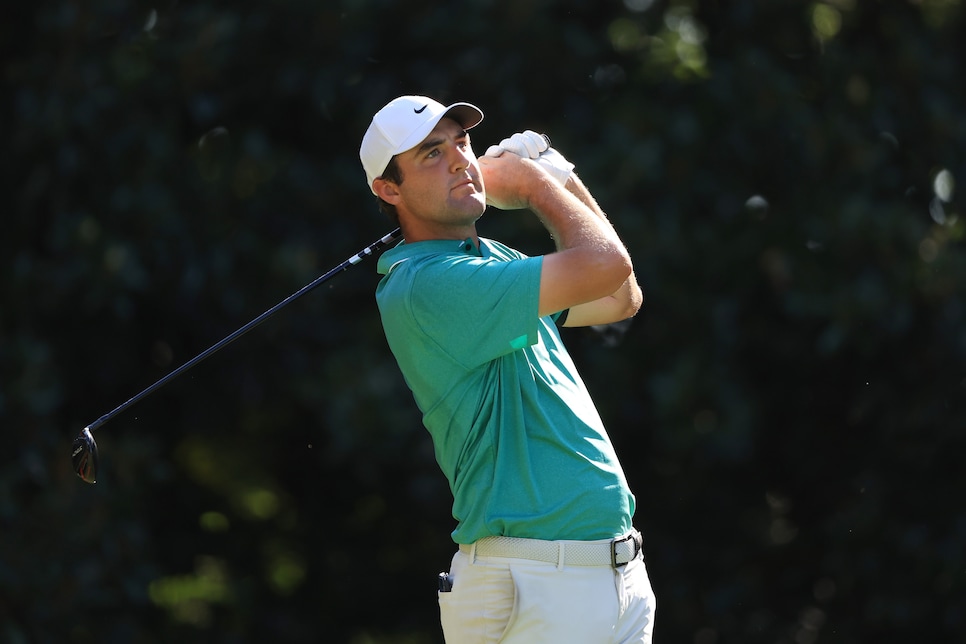 It was a costly Sunday for Scottie Scheffler, and by "costly" we mean roughly to the tune of $12 million. Still, it was a season of riches for Scheffler, a sentiment not lost on the man following a rough final round at the Tour Championship.
"I hit the ball really well today. I just for whatever reason, I couldn't get enough looks," Scheffler said after falling a shot short of Rory McIlroy, giving the Ulsterman the FedEx Cup. "Maybe if I could take a few shots back … But outside of that, I really fought hard today. Rory just played a really good round of golf. He made some key putts there at the end, and he definitely deserved to win."
With all respect to Scheffler, that might be a bit of revisionist history. He hit just nine greens in the fourth round, losing a whopping 2.608 to the field in SG/approach. Scheffler was one-of-four on sand saves and the flat stick wasn't much better (-1.650 SG/putting). No need to put lipstick on this pig: Scheffler's final 18 holes at East Lake were a rough watch.
Beginning the round with a six-shot advantage over McIlroy, Scheffler saw that lead evaporate by the seventh hole, playing the opening stretch in three over while McIlroy erased an opening bogey with four birdies. Scheffler regained the lead at the eighth with a birdie of his own, but that was the lone red figure on his card. McIlroy again tied things up with a birdie on the 12th, and though he gave one away with a bogey at the 14th, a 30-footer for birdie at the 15th made things even between the two with three holes to go.
Scheffler proceeded to make a mess of the 16th, unable to get up-and-down from a greenside bunker to give McIlroy the lead, and Scheffler missed a 10-footer for birdie at the 17th. Needing something good on the par-5 18th, Scheffler instead found the sand and walked away with 5.
"I tried to ride the wind with a 4-iron coming into the green, and I just pushed it a little bit, Scheffler said about the 18th. "I still thought it would come back, and it ended up in that bunker, and then hit the bunker shot exactly how I wanted to and there was no sand in the bottom of that bunker.
"I put myself in position to win this tournament when I wasn't playing my best today, and so I'm proud of how I fought."
For Scheffler's efforts he still walked away with $5,750,000, which is not a bad season-ending bonus. But dropping from first (with an $18 million prize) into a tie for second with Sungjae Im was a difference of $12,250,000. That is not the easiest of swallows.
While he stumbled at the end, it does nothing to diminish what he did to reach this point. Scheffler captured his first PGA Tour victory in February at the WM Phoenix Open and proceeded to ride a heater that bequeathed three more victories in the following two months, winning the Arnold Palmer Invitational, the WGC-Dell Match Play and grabbing his first major title at the Masters. He posted four runner-ups this season—including at the U.S. Open—and rose to World No. 1 in the OWGR, a position which he's held since late March. He is a lock for PGA Tour Player of the Year.
"There's no doubt about that," McIlroy said of Scheffler. "He deserves this maybe more than I deserve it. He played an unbelievable season. Hell of a player, hell of a competitor. Even better person."
He also added a lot of dollar signs to his bank account, winning $14 million in on-course earnings and another $5 million from finishing first in the the Comcast Business Tour Top 10 and Aon Risk/Reward challenge to go along with his FedEx Cup bonus. Throw in a likely finish in the revamped Player Impact Program, it was a profitable campaign.
However, as Scheffler noted afterwards, the big money means very little to him.
"Yeah, the money is great, obviously. Playing professional golf for a living is such a gift. For me, I don't play golf for money," Scheffler said. "I play to win tournaments and I play to have fun and do my best and see where the game can take me. Today the money definitely didn't creep into my mind. I wanted to win the season-long title. I've had a really great year and I wanted to finish it off with a win here, and unfortunately I wasn't able to do that.
"But at the end of the day it's such a gift to be out here playing golf for money, and I can't—I'm just so thankful to be out here."
Scheffler will appear for Team USA at the Presidents Cup in late September. As for worrying about any lingering doubt from Sunday in Atlanta, it sounds like Scheffler has already put the round in the past.
"It's one of those deals," Scheffler said. "But It's just golf. You get good ones and bad ones.
"I put myself in position to win this tournament when I wasn't playing my best today, and so I'm proud of how I fought."