Takeaways
Augusta native has shot at first Masters berth, Cam Champ stays hot and Kevin Na continues to be human highlight machine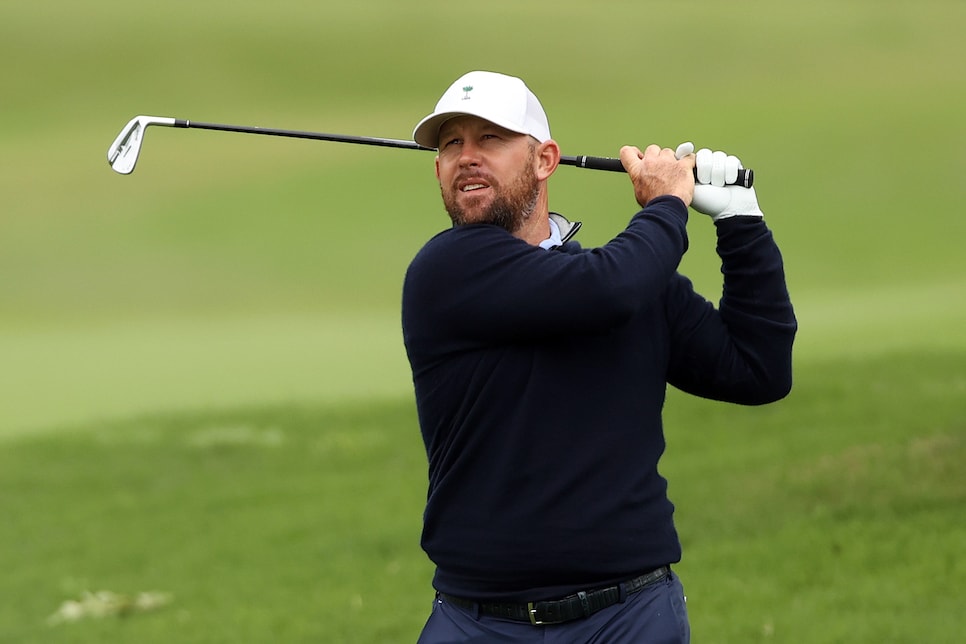 Scott Brown plays the AT&T Byron Nelson at TPC Craig Ranch in May 2021.
Matthew Stockman
Scott Brown was born in Augusta, Ga., but the 10-year vet has never played the Masters. He's damn close to making that dream a reality.
Brown made nine birdies on Saturday for an eight-under 63, a performance that moved him from middle of the pack to near the top of the board in the John Deere Classic.
"Drove it really well to start off with and then was able to hit the ball close with my irons and capitalize on the putting," said Brown who sits at 14 under for the week. "Kind of a momentum carrying over from last week a little bit on Sunday's round. Started to see some putts go in, and just carried it over to this week a little bit."
While the Masters is the pot of gold at the end of this rainbow, Brown's been more focused on getting out of the rain. It's been a rough season for the 38-year-old, missing the cut in 15 of 25 starts and entering the week 180th in the FedEx Cup, placing Brown in massive danger of losing his card. It's a standing that Brown is trying to use to his advantage. "At this point my FedExCup position, I kind of need to win, so it kind of frees me up in a way," Brown said Saturday afternoon. "I have one goal, and it's to come in here and win."
This tournament has been palliative to Brown in the past, posting six top-25s in eight career starts, and Saturday proved to be an analgesic. Despite losing strokes to the field off the tee, Brown gained over four shots on his competition on the greens and another three in approach, a combo that allowed Brown to paint the course red. Impressive as those nine birdies were, it was an up-and-down out of a greenside bunker on the 18th for par that was the exclamation point on his day.
That par has him on the precipice of a life-changing walk. It won't be easy, not with a crowded board of viable opponents. Brown's lone win on the PGA Tour came at the alternate-event Puerto Rico Classic in 2013, and with over 260 career starts under his belt no one has to tell him how rare such opportunities are. There's a heck of a lot on the line for Scott Brown Sunday. He's waited 38 years for this moment. What's another 18 holes?
"It's been a tough year, but I've been trying to stay positive. I've got a good team around me saying just keep doing what you're doing," Brown said. "You just never know when it's your time."
Three other takeaways from Saturday at the John Deere Classic.
Since TPC Deere Run took over as this event's venue in 2000, no course on tour has surrendered more birdies. Should that trend continue Sunday … strap in, folks.
Sebastian Munoz sits in the lead at 16 under thanks to a four-under 67. There are a whopping 11 guys three shots or closer to Munoz. That pack includes Brandon Nagy at 15 under; Brown, Adam Long, Ryan Moore and Cam Champ at 14; Maverick McNealy, Chez Reavie, Luke List and Jhonattan Vegas at 13. Even major winners in Jason Dufner and Lucas Glover at 12 under are close enough to make a run.
Sunday's forecast calls for rain, which should leave the course extremely vulnerable. Expect a shootout, and perhaps sudden death. There have been back-to-back playoffs heading into the John Deere Classic, and Saturday's board has the trappings for a third.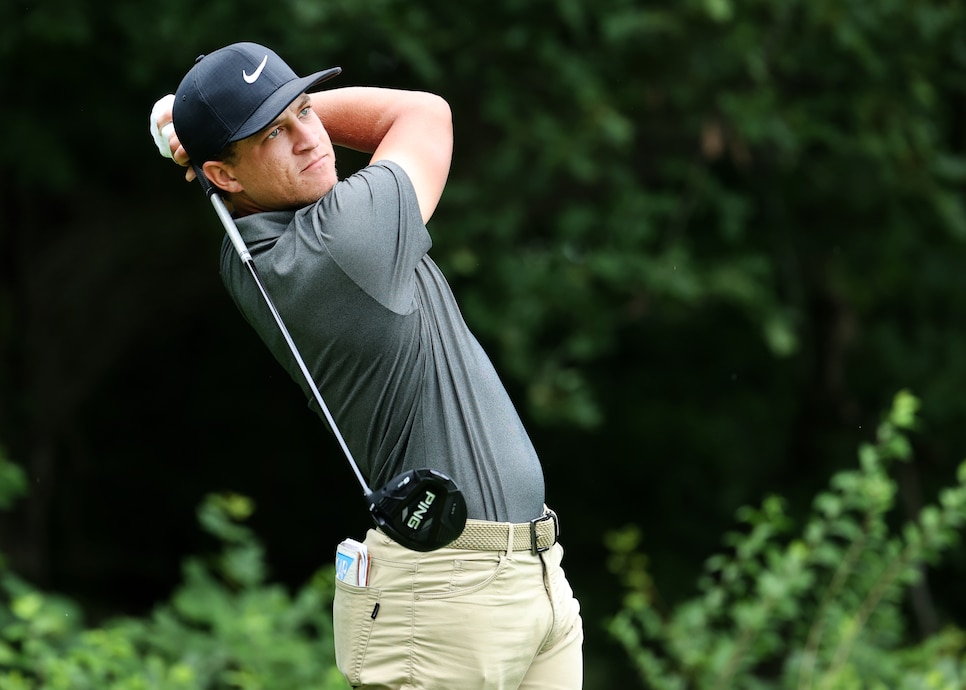 Cameron Champ plays his shot from the second tee during the third round of the John Deere Classic.
Andy Lyons
Champ back from the wilderness
Fans and media tend to embellish or hyperbolize when a player is in a slump. That's not the case for Cam Champ, whose struggles—especially against his immense talent—have gone somewhat under the radar.
The two-time tour winner has not posted a top-25 finish in 2021 and entered the week 149th in the FedEx Cup. Worse, the woes were not just one facet of the game but systemic; Champ ranks 163rd in approach, 199th in SG/around-the-green and 206th in SG/putting. His driving remains prodigious (seventh in SG/off-the-tee), but even in today's modern game, that will only take you so far.
However Champ has emerged from the wilderness, making five birdies in his first six holes on Saturday and is in the mix heading into the final round.
"I got off to a great start, obviously I would want to keep that momentum going, but I hit a few squirrely shots and I made some great pars and great putts," Champ said after a 65. "So for a Saturday in kind of getting me up there close within a few shots, obviously there's guys finishing, it could be, I could have, I could be done one, two, three, who knows, but at least I'm within reach."
He hasn't been flawless through three days in Silvis; his second shots leave much to be desired, as does his wedge work around the green. Yet his putter has been lights-out and he's managed to keep the big numbers at bay, highlighted by a bogey-free round on Saturday.
Champ is not in danger of losing his card thanks to his win at the 2019 Safeway Open. In that same breath, he seemed to be on the verge of big things after contending at the 2020 PGA Championship last August, and the returns since TPC Harding Park have not lived up to the billing. He also alluded to off-the-course matters that have made him focus on his mental health.
"One of our purposes is to win, to win golf tournaments, to be the best as we possibly can, but for me, coming to the realization of a lot of things; I have many other purposes I want to achieve," Champ said. "For me it's not all about golf. Obviously as a kid and coming out here trying to get on tour it had to be because that was my situation and I had no other choice.
"But now that I'm out here and I got married, I'm maturing in levels, I'm starting to kind of figure out myself and what works for me. So obviously I'm going to put a hundred percent effort into this game, I love it, it's given me so much. But also I have my family, I have other things that mean more to me than this game. So for me it's just kind of balancing that and figuring that out and how I can manage both of those to have my ultimate success. ... I talked to my wife, I talked with my coach, and just try to have a more open-minded process and enjoy the game more, not be so hard on myself and as long as I put the work in, then results will come."
No matter what happens Sunday, this week has underlined that those results are near, and that Champ can return to that big-time trajectory.
Kevin Na remains a human highlight machine
We suppose there might be fans who are tired of Kevin Na's walk-in celebrations, similar to how there are people who think a hot dog is a sandwich. But just because these heathens exist does not mean we have to acknowledge their foolish opinions.
Which is a long way of saying: Kevin Na was dropping premature celebrations again on Saturday, and it was a delight:
Our only qualm is it's time for Na—whose Saturday 66 has him in contention—to take his act to the next level. Whip his hat to the ground like Tiger Woods at Bay Hill. Turn to the crowd and twirl his hand to his ear, letting the roar that ensues be his signal. Go full Incredible Hulk and tear his shirt into two.
Should these suggestions come to pass … please, Steve Stricker, give the man a captain's pick on the Ryder Cup.